It's Official: Disney to Acquire Fox Film and TV Arms in $52.4 Billion Deal
Photo via The Walt Disney Company
Movies
News
Disney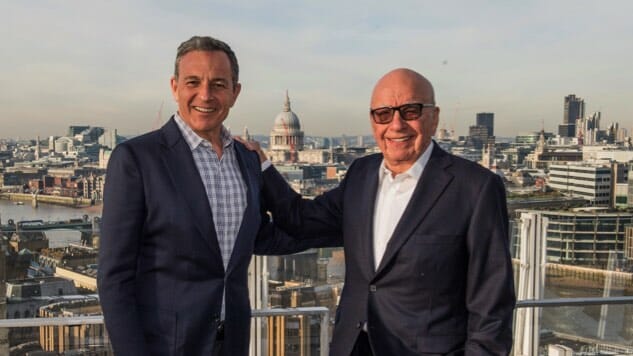 The Walt Disney Company has made their mega-deal with 21st Century Fox official, acquiring the company's film and television studios in a massive acquisition valued at $52.4 billion.
The companies also announced that Disney boss Bob Iger has extended his contract as chairman and CEO through 2021. Iger, who also oversaw Disney's acquisitions of Pixar ($7.4 billion), Lucasfilm and Marvel ($4 billion each), had previously been set to depart his post in 2019, per THR. Now, he will stick around to oversee the company's biggest get yet.
Fox's film offshoots that now fall under the ever-expanding Disney umbrella include Twentieth Century Fox, Fox Searchlight Pictures and Fox 2000, which are home to movies like Avatar (and its many forthcoming sequels), X-Men, Fantastic Four and Deadpool—all of which can now be absorbed into Disney's Marvel Cinematic Universe—as well as more critically acclaimed fare like The Grand Budapest Hotel, Hidden Figures, Gone Girl, The Shape of Water and The Martian. On the TV side, Disney is now the proud owner of Fox's Twentieth Century Fox Television, FX Productions and Fox21, bringing shows like The Americans, This Is Us, Modern Family and The Simpsons into the fold. Disney also acquires FX Networks and National Geographic, as well as Fox's interests in Hulu and much more.
"The acquisition of this stellar collection of businesses from 21st Century Fox reflects the increasing consumer demand for a rich diversity of entertainment experiences that are more compelling, accessible and convenient than ever before," said Iger in a statement. "We're honored and grateful that [Executive Chairman of 21st Century Fox] Rupert Murdoch has entrusted us with the future of businesses he spent a lifetime building, and we're excited about this extraordinary opportunity to significantly increase our portfolio of well-loved franchises and branded content to greatly enhance our growing direct-to-consumer offerings. The deal will also substantially expand our international reach, allowing us to offer world-class storytelling and innovative distribution platforms to more consumers in key markets around the world."
"We are extremely proud of all that we have built at 21st Century Fox, and I firmly believe that this combination with Disney will unlock even more value for shareholders as the new Disney continues to set the pace in what is an exciting and dynamic industry," added Murdoch. "Furthermore, I'm convinced that this combination, under Bob Iger's leadership, will be one of the greatest companies in the world. I'm grateful and encouraged that Bob has agreed to stay on, and is committed to succeeding with a combined team that is second to none."
The deal still has regulatory hurdles to clear, as the companies noted in their announcement:
The Boards of Directors of Disney and 21st Century Fox have approved the transaction, which is subject to shareholder approval by 21st Century Fox and Disney shareholders, clearance under the Hart-Scott-Rodino Antitrust Improvements Act, a number of other non-United States merger and other regulatory reviews, and other customary closing conditions.
The closing process is expected to take 12-18 months, per THR.
Fox stock was trading at $25 per share as recently as a month ago. After reports of the company's potential deal with Disney went wide, that number shot up—the company's stock had risen to $32.75 by Wednesday. Their deal with Disney values Fox shares at $40 each.
This deal was not a particularly well-kept secret. CNBC was on it from the start, reporting initial talks between Disney and Fox in early November, then following up last week to report an imminent agreement. Time will tell whether the deal is permitted by antitrust regulators, who are unlikely to be swayed by the prospect of a Fantastic Four movie that doesn't suck.