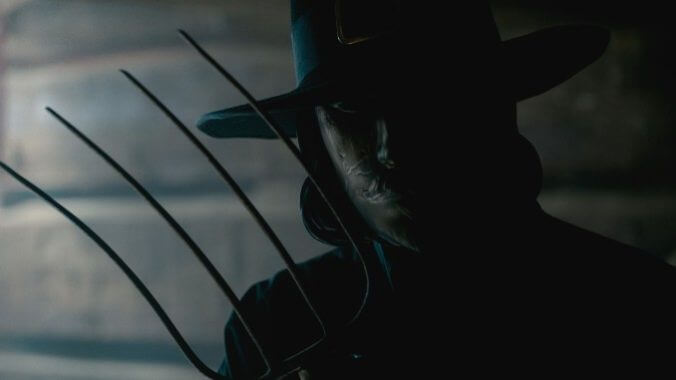 After veering off course from his generally recognized milieu with a documentary about shark extinction in 2021, and the baffling family film The House with a Clock in its Walls in 2018, mixed-bag horror director at large Eli Roth returns in 2023 with a crowd-pleasing slasher film that takes a stab at an untapped genre for holiday horror: Thanksgiving. Thus, the obviously titled Thanksgiving (in bloody font) imagines the historic Massachusetts town of Plymouth as the site of a Black Friday massacre, which has created a vengeful, cosplaying murderer out of its bloodshed. 
On Thanksgiving eve one year prior, a frothing hoard of shoppers (the kind that funnily doesn't even exist anymore in 2023, because online shopping) are riled into a feeding frenzy when a group of teens, led by the store owner's daughter, manages to sneak into the back of the Right Mart and start shopping before the crowds are even allowed in. Incensed, egged-on and already thirsting for blood, the mob barrels its way into the store, taking no prisoners as each member reaches furiously for its precious waffle maker. 
Among the downed civilians is Amanda—a perilously early death for a character played by Gina Gershon—the wife of one of the store managers forced to go into work on Thanksgiving for the early Black Friday access. Rising young baseball star Bobby (Jalen Thomas Brooks) suffered a career-ending injury when a shopper's foot mangled his hand; the security guard was crushed to death by the trampling mob; one guy splits his neck open on broken glass from the entrance and still hobbles over to retrieve his waffle maker before it's snatched out of his hands. It's a gruesome spectacle, one which, a full year later, has not yielded any arrests due to curiously missing camera footage. Meanwhile, the owners have been completely exonerated and still plan to open early on Thanksgiving again. Thus, the scene is set for revenge in this slasher whodunnit, where a John Carver mask-donning killer is out to murder those complicit in last year's massacre. 
The killer's eyes are set chiefly on the group of taunting teenagers who escalated the situation. This is in addition to doing away with others who acted out of self-interest while their fellow citizens perished that night, perpetrating the greed of mindless individualism—like the second security guard (played by comedian Tim Dillon) who ran off and left his partner to die under a mass of storming feet. The killer's first victim (a particularly ravenous woman at the massacre), has her head dunked in water before being stuck to an icy fridge door; she peels her cheek off to free herself. Another has corn cob stickers plunged into her ears. One man is impaled through the face with a wooden pole. The kills in Thanksgiving are not just fun and creative, but shockingly brutal; the kind of crunchy, touchable horror-movie brutality that feels far too sparse in mainstream American horror—even noticeably CGI blood fountains look perfectly acceptable. The impact is bolstered by some impeccable sound design, atmospheric tension and misdirection—as in the case of Security Guard #2, whose gutting-by-electric knife catches you off-guard in a well-earned jump scare.
One of the teens on the night of the massacre, Jessica (Nell Verlaque), the daughter of Right Mart owner Thomas Wright (Rick Hoffman), becomes the central sleuth in unraveling the case as one of the main targets of the John Carver killer. Her top suspects are her ex-boyfriend, Bobby, resentful over their massacre-inciting break-in leading to the premature conclusion of his sports career; and her current boyfriend, Ryan (Milo Manheim), who has no real motive other than that he's kind of a wet blanket and no one likes him. Assisting her investigation is the town sheriff, Eric Newlon, played by 2023's Sexiest Man Alive Patrick Dempsey, doing his best damn Bawston accent. But as the killer closes in on Jessica, her friends and her family, the clock starts running out on keeping them all from being turned into participants in the most gruesome Thanksgiving dinner ever.
Quite charmingly, Thanksgiving is a feature-length expansion on Roth's fake trailer which preceded screenings of Quentin Tarantino and Robert Rodriguez's Grindhouse double feature back in 2007. Growing up in Newton, Massachusetts (not terribly far from the film's, and the Mayflower's, location of choice) and loving horror and slasher films, Roth and his childhood friend Jeff Rendell (who wrote the screenplay) always wished for a Thanksgiving-themed horror film to finally roll out and make Massachusetts proud. It's incredibly sweet, then, that Roth's wish finally came to fruition 16 years after that Thanksgiving trailer—and that the film it turned into is handily Roth's best since 2015's Knock Knock. 
Thanksgiving's premise doesn't reinvent the wheel by any means. It's reminiscent of the later-franchise Scream installments that are less about satire than just being slasher whodunnits, and there are confusing jumps in editing that occasionally make the sequence of events unclear. There are also hilarious logical improbabilities that aren't actually a detriment but an asset, such as the town agreeing to continue to hold their annual Thanksgiving parade despite the presence of an active serial killer who is murdering people in particularly demented ways. 
The real trailer for the real Thanksgiving looked ridiculous and clearly in on the joke to some extent. And while the film in its entirety very much is, it also plays the material earnestly. Roth and Rendell find the perfect balance of humor and horror, understanding the absurdity of their premise while still making their characters buy into the world. What that creates is a film embracing its own silliness, free of irony, while avoiding the pitfalls of oversentimentality. The characters are scared shitless of a guy dressed up as a pilgrim hacking peoples' heads off and, somehow, we are a little bit, too.
Director: Eli Roth
Writer: Jeff Rendell
Starring: Patrick Dempsey, Addison Rae, Milo Manheim, Jalen Thomas Brooks, Nell Verlaque, Rick Hoffman, Gina Gershon
Release Date: November 17, 2023
---
Brianna Zigler is an entertainment writer based in middle-of-nowhere Massachusetts. Her work has appeared at Little White Lies, Film School Rejects, Thrillist, Bright Wall/Dark Room and more, and she writes a bi-monthly newsletter called That's Weird. You can follow her on Twitter, where she likes to engage in stimulating discussions on films like Movie 43, Clifford, and Watchmen.