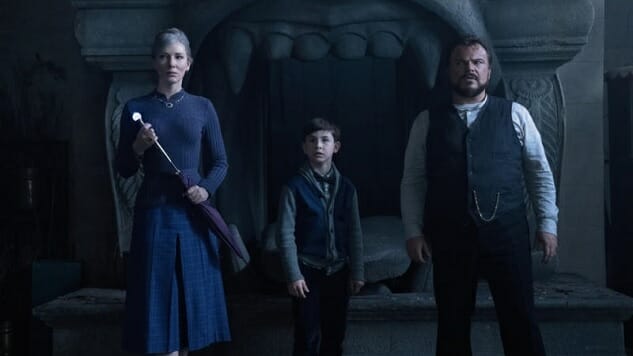 Each of the following statements are true: 1) Eli Roth made a film based on a 1973 children's novel. 2) The film stars Jack Black. 3) It's a blast. Who knew? Roth's adult-oriented horror projects read as the product of a guy who loves the genre and has a powerful need to let everyone around him know it. With exceptions (specifically Hostel 2), Roth's movies echo horror mores but lack any soul. If they work, they work in the heat of the moment and fall apart like so much necrotic flesh once the experience ends.
Not so with The House with a Clock in Its Walls. Here, Roth sinks his teeth into material that exudes a joie de vivre for the horror that's central to his work: It's a movie very much in love with skeletons, spirits and haunts, with the titillating fear they instill in audiences, and the distinct pleasure found in getting spooked out. It's not scary, per se, though meeker members of its core demographic may find a few of its pieces genuinely frightful. (Leering hobo demons with forked tongues and curved, overlong fingernails can have that effect on people.) Think of the movie as akin to a funhouse, because who doesn't like fun, especially when "fun" is defined as "Kyle MacLachlan plays a zombie wizard" and "Black bickers and banters with Cate Blanchett like an old married couple in a 1940s screwball comedy"?
Caught between them is Owen Vaccaro, playing lonesome Lewis Barnavelt, recently orphaned and shipped off to Michigan to live with his estranged (and also just strange) uncle, Jonathan (Black). Jonathan makes for an eccentric figure, wearing kimonos in public, forgoing the luxuries of television ownership, practicing his cacophonous jazz orchestrations in the wee hours (to the irritation of his neighbors). But if kids' lit has taught us anything, it's that practitioners of magic hew to the strange, not just Jonathan but his best friend, Florence (Blanchett). He's a warlock, she's a witch, and so Lewis—declared a weirdo by all who make his acquaintance—feels right at home in Jonathan's enchanted manse, where stained glass windows rearrange themselves, suits of armor and armchairs have a literal life of their own, and the griffin topiary in the backyard craps rotten leaves with the force of gusting wind.
The House with a Clock in Its Walls feels low stakes to start, but that's okay. The conflict stems from Lewis' grief, which, it turns out, is the film's universal language. Everyone is grieving for one reason or another, even if their grief isn't immediately visible. Lewis mourns his mother, of course, but he's nursing deep-rooted alienation, too, having moved to a whole new town and school (though Roth makes it plain that he didn't have a friend at his old school, either). His relationship to Jonathan and Florence gives him a taste of the belonging he's craved for most of his life, plus a glimmer of contentment with his identity. Maybe being weird isn't all bad if it means staying up to all hours learning prestidigitations and eating chocolate chip cookies with nuts in the batter.
After all, it's the nuts, Florence tells Lewis, that make things interesting, and what a couple of nuts Roth has mixed together here. Blanchett and Black give the wide-eyed and lovable Vaccaro a structure to operate within, bouncing quips and japes back and forth at one another like tennis pros on the court: Most of his job is to react to them, whether in amusement or disbelief that two adults would spend so much time digging their claws into each other. That's what makes Black such a great casting choice—he's the very picture of exaggerated adulthood, a man cloned from the DNA of Orson Welles and Oliver Hardy. Blanchett, of course, is Blanchett. With her trademark knowing smiles and smirks, she trades insults with Black as easily as she plays surrogate mother to heartbroken Lewis. (She's aces at slinging spells, too, not that many actors could wield an umbrella like a magic machine gun with her level of gravitas.)
The film's at its best when focused on this dynamic, but eventually, a Big Bad™ must rise and a battle must be fought. Here the plot stays lively, too, especially with MacLachlan hamming it up as Jonathan's former friend-turned-nihilist with bad designs for mankind. (We learn that he saw some shit in World War II, which takes us back to a mutation of the movie's grief element—PTSD changes a person.) But as delightful as relentless CGI monster mayhem is—and there's plenty to go round as The House with a Clock in Its Walls rolls through its final act—it's the lovely character work that makes the story memorable. Roth and his cast pack a surplus of exuberance into a children's fantasy mold that's by now grown musty. Maybe putting that mold in the hands of a horror auteur is the best way to abate it.
Director: Eli Roth
Writer: Eric Kripke
Starring: Owen Vaccaro, Jack Black, Cate Blanchett, Kyle MacLachlan, Renée Elise Goldsberry, Sunny Suljic, Colleen Camp, Lorenza Izzo, Vanessa Anne Williams
Release Date: September 21, 2018
---
Boston-based culture writer Andy Crump has been writing about film and television online since 2009 (and music since 2018). You can follow him on Twitter and find his collected writing at his personal blog. He is composed of roughly 65% craft beer.