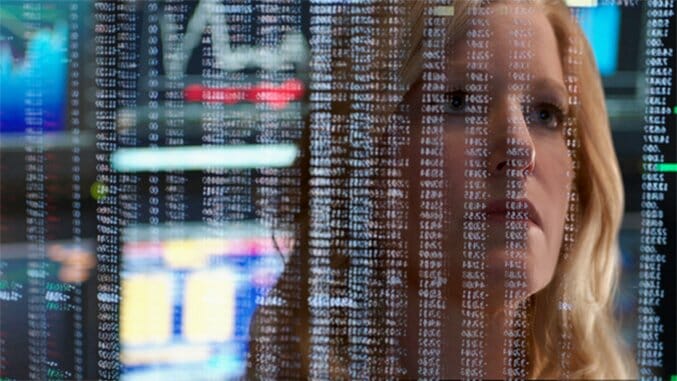 There are too many damn Wall Street movies: male-dominated, power-hungry dramas in which any empathetic character development is lost in the singular vision for money.
Now that the obvious has been stated, Equity can be assessed both within and outside of this framework. The new Wall Street film starring Anna Gunn as senior investment banker Naomi Bishop plays off some of these old tropes of control and capital. Yet, Equity differs in its portrayal of the people living out these competitive dreams. There's Bishop herself, a single woman who has earned a reputation for securing investment capital for start-ups. There's Bishop's VP Erin Manning, played by Sarah Megan Thomas, who gets bullied by her superior, but furtively tries to secure her own professional ascent, even at the expense of others. And finally, there's Alysia Reiner as Samantha Ryan, an investigator in the Justice Department trying to sniff our white-collar crime and the corruption within Bishop and Manning's schemes.
Though the main conflict in Equity is that Bishop must lead a security-centric social tech company to a financially strong opening day on Wall Street, it's the film's subplots which actually hold more relevance in today's socio-political culture. Bishop, who has led a monumentally successful career (with one less-than-fruitful campaign), has been stymied and rejected for a promotion multiple times because of her attitude—and one mistake. Manning discovers she is pregnant and tries to hide it from her boss. She also can't seem to achieve any sort of work-life balance, as she irritably, desperately takes phone calls even during her ultrasound. Ryan is a lesbian legal counsel who must balance her career with her wife's and share responsibilities of raising their children in a predominantly gender-binary society. While it's important to share these business realities that affect too many women professionals, these character foibles are frustrating in that it renders them inherently unlikable.
Throughout its flaws, the Equity succeeds in its very existence, supporting women in all facets of the film industry. The leads are female; the director, screenwriter, and producer are all women; and lady leaders in finance backed the entire production. And so, with just an extra "l"—a line like the second vertical slash in a dollar sign—Equity does its part to work toward "equality."
Director: Meera Menon
Writer: Amy Fox
Starring: Anna Gunn, James Purefoy, Sarah Megan Thomas, Alysia Reiner
Release Date: July 29, 2016