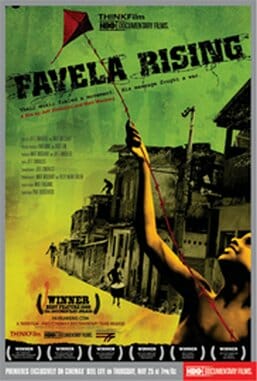 Directors: Matt Mochary, Jim Zimbalist
Studio info: THINKFilm and HBO/Cinemax Documentary Films, 80 mins.
Redemption through reggae
Set against the magnificent coastal landscape of Rio de Janeiro, documentary Favela Rising explores the darker side of Brazilian paradise—the oppressing gloom of life in the slums. Like the fictional City of God, Favela explores with grit and candor the damage the drug trade has inflicted on the youth of impoverished Brazil, frequently confronting viewers with stomach-turning images. But hope arrives in the form of one extremely charismatic former drug trafficker, Anderson Sa. Having seen his share of violence and brutality, Sa strives to find for the young people in his favela (shantytown) an alternative to teen-drug armies. With makeshift drums and very few resources, Sa and his colleagues form the reggae/hip-hop Grupo Cultural AfroReggae, proving that music can be an alternative to a life of crime. Favela Rising tells the story of a real-life hero—and an equally real revolution—with poignancy and artistry. As AfroReggae gains positive momentum, so does the community from which it was born.