Bryan Singer Shares New Photo of Rami Malek as Freddie Mercury
Photo by Pascal Le Segretain/Getty
Movies
News
Freddie Mercury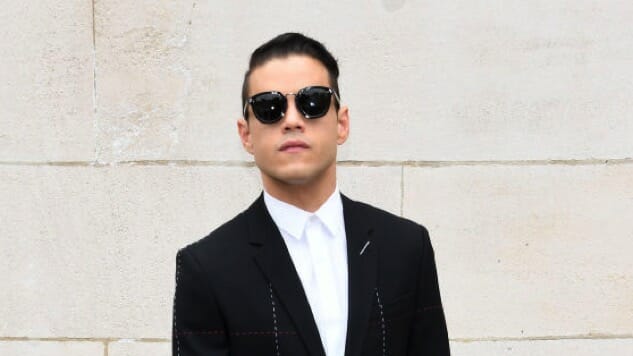 When Bryan Singer's Freddie Mercury biopic Bohemian Rhapsody was first announced, many would-be audience members had a hard time seeing Rami Malek as the legendary Queen vocalist. The slight young Mr. Robot star is far easier to picture in a hacktivist's hoodie, bathed in the ghostly glow of a laptop screen, rather than mustachioed and shirtless, under the blinding lights of stage and fame. But with each new glimpse of Malek's Mercury that we get, he looks better and better in the role of the rock star (the most pressing question being, how does he sound?).
Singer provided just such a glimpse via Instagram yesterday, sharing a photo of a shirtless, singing Malek mid-performance. "Couldn't help myself and had to post this iPhone pic," Singer wrote in his post. It's understandable: Malek looks every bit the king of Queen here.
Bohemian Rhapsody is due out on Dec. 25, 2018. See Singer's Instagram post and listen to a 1983 interview with Mercury below, revisit our first look at Malek's take on Mercury here and peruse Paste's ranking of the 15 best Queen songs right here.