Get Out Submitted for Golden Globes Consideration as a Comedy
Image via Universal
Movies
News
Get Out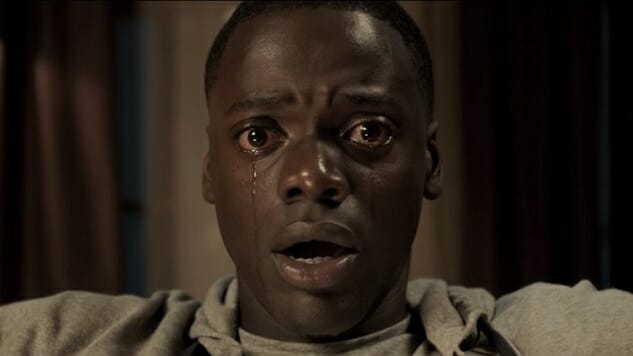 The division by the Golden Globes awards for drama and comedy has long been a confusing and nebulous entity, and it seems that this will continue this year with films such as Get Out. Universal Pictures confirmed to EW that the social thriller/horror movie from Jordan Peele will compete in comedy/musical categories at the Golden Globes.
While we don't recall any rousing musical numbers in the horror film, it did have a satirical edge to it with how the film handled modern-day racial relations in America. But even with some funny moments with supporting characters like Lil Rel Howery's Rod, it isn't a film that most would classify as a comedy.
Almost two years ago, The Martian created some controversy when it took home the Golden Globe for Best Picture, Musical or Comedy. While the sci-fi film was highly acclaimed and featured Matt Damon as a wise-cracking astronaut, actual comedy films were left out in the cold, provoking the ire of comedy filmmakers such as Judd Apatow. Though a rule change disqualified such "dramas with comedic overtones" from the category, Get Out somehow still slipped through. Long before that, the Johnny Depp-Angelina Jolie bomb The Tourist received a nomination for the same award, despite blatantly being an action thriller, leading host Ricky Gervais to joke that the Hollywood Foreign Press Association just wanted to invite the two stars. "They also accepted bribes," Gervais added on.
The drama and comedy division has allowed the Golden Globes to honor twice as many films, television shows and performers, but with the attempt to give all the films their due, anomalies such as Get Out and The Martian will occur. With that, expect Get Out to compete with the likes of The Big Sick, Downsizing, Battle of the Sexes and The Disaster Artist.
Peele had this to say about the news:
'Get Out' is a documentary.

— Jordan Peele (@JordanPeele) November 15, 2017
Nominations for the Golden Globes will be announced on Dec. 11, with the awards ceremony broadcasting on NBC on Jan. 7.