New on HBO Now: All the Movies and TV Coming in December
Photo courtesy of Warner Bros. Inc./HBO
Movies
Features
HBO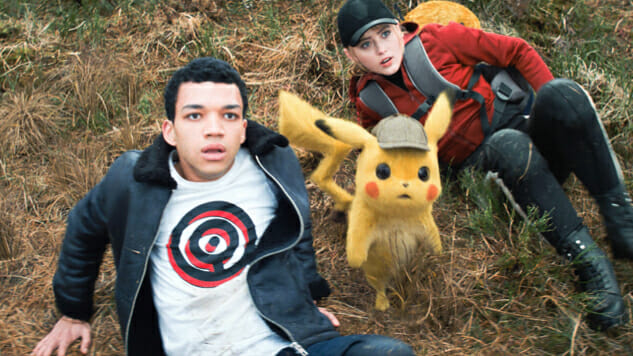 Even HBO is in the giving mood this holiday season: The not-TV network is adding a number of movies and TV for which it's worth being thankful, from popcorn blockbusters to prestige dramas. Our gift to you, without any further ado, is the breakdown below, detailing all the most notable titles coming to HBO Now this December.
HBO's marquee film addition is one of 2019's strangest blockbusters: Pokémon Detective Pikachu, the live-action adaptation of a lesser-known Pokémon spinoff videogame centered on the titular mystery-solving Pikachu, who's voiced in the film by, of all people, Ryan Reynolds—Justice Smith, Kathryn Newton, Ken Watanabe and Bill Nighy lead its human cast. One of the best-reviewed videogame movies ever made, Pokémon Detective Pikachu was also one of 2019's biggest hits at the global box office, and now you can catch it at the Home Box Office. Also worth looking out for is writer-director Alex Ross Perry's acclaimed rock drama Her Smell (Dec. 30), starring Elisabeth Moss as self-destructive musician Becky Something, a past-her-prime punk-rock superstar forced to reckon with her inner demons. Elsewhere among HBO's theatrical premieres for the month, we find Seth Rogen/Charlize Theron odd couple rom-com Long Shot (Dec. 7), quietly acclaimed horror sequel Unfriended: Dark Web (Dec. 1), Yara Shahidi-starring YA adaptation The Sun Is Also a Star (Dec. 21) and that Hellboy (Dec. 14) reboot we all collectively hallucinated. And don't miss HBO's older films on the way, including The Diving Bell and the Butterfly, Bridesmaids (Extended Version), Rise of the Planet of the Apes, Closer, Empire of the Sun and Unfriended, all of which arrive Dec. 1.
There's a momentous month ahead in the TV department, as well: As the year comes to an end, so do HBO shows new and old, whether wrapping up their seasons or their series. The biggest development on the docket is the end of HBO's Emmy-winning, acid-tongued tech world satire Silicon Valley, the Season 6 and series finale of which airs Sunday, Dec. 8. Richard Hendricks (Thomas Middleditch) and his merry band of Pied Piper code jockeys are bigger than ever, but still stuck in the same old Silicon Valley, the foremost frontier of Machiavellian ruthlessness masked by digital gibberish and phony altruism. Speaking of masks, TV's best show going—none other than Damon Lindelof's Watchmen, starring Regina King, Don Johnson, Jean Smart, Tim Blake Nelson, Jeremy Irons and others—wraps its first season on Dec. 15, and may there be many more. The mind-bending adaptation of Alan Moore, Dave Gibbons and John Higgins' monumental story of masked vigilantes has delivered one hell of a debut season, as evidenced by its near-constant presence on Paste's TV Power Rankings, and we'll be sorry to see it end. Other series finales set for December include the conclusion of half-hour limited series dramedy Mrs. Fletcher (Dec. 8), starring Kathryn Hahn as the title character, an empty nester who undergoes a sexual re-awakening after dropping her only son off at college, and the Season 1 finale of His Dark Materials (Dec. 23), the epic series adaptation of Philip Pullman's fantasy novel trilogy of the same name, starring Dafne Keen, Ruth Wilson, James McAvoy and Lin-Manuel Miranda.
Don't lose sight of what's leaving HBO in December, either, though thankfully not much of consequence is on its way out: Films shuffling off the service at the end of the month include Halloween (2018), Night School, Early Man, Boy's Don't Cry, The Predator (2018), Funny Games, I, Robot, My Big Fat Greek Wedding, Sex and the City 2, Holes, Beer Fest, Annie Hall, Shanghai Knights and The 15:17 to Paris, while a handful of flicks exit stage wherever earlier in the month, the earliest being 12 Strong on Dec. 8. If any of those were on your wishlist, unwrap 'em while you can.
Check out HBO's complete slate (and sizzle reel) below.
Theatrical Premieres:
Unfriended: Dark Web, 2018 (12/1)
Can You Keep A Secret?, 2019 (12/1)
American Woman, 2018 (12/4)
Long Shot, 2019 (12/7)
Hellboy, 2019 (12/14)
The Sun Is Also a Star, 2019 (12/21)
Pokémon Detective Pikachu, 2019 (12/28)
Her Smell, 2018 (12/30)
Series Premiere:
Umbre, Seasons One and Two (12/2)
HBO Latino Presents: A Tiny Audience, Part 1 (12/6)
Series Finales:
Mrs. Fletcher, Limited Series Finale (12/8)
Silicon Valley, Series Finale (12/8)
Watchmen, Season Finale (12/15)
His Dark Materials, Season Finale (12/23)
Santos Dumont, Season Finale (12/16)
La Vida Secreta de las parejas, Season 2 Finale (12/20)
Original Programming:
24/7 Kelly Slater (12/3)
HBO Latino Presents: A Tiny Audience, Part 1 (12/6)
Dan Soder: Son Of A Gary (12/7)
Belichick & Saban: The Art of Coaching (12/10)
Moonlight Sonata: Deafness in Three Movements (12/11)
Mel Brooks Unwrapped (12/13)
HBO First Look: 1917 (12/13)
Well Groomed (12/17)
Finding The Way Home (12/18)
Estrenos:
Esta Es Tu Cuba (AKA This Is Your Cuba) (12/1)
Yuli (12/6)
En Tu Piel (AKA 7:20 Once A Week) (12/13)
Entre Nos: About Last Night (12/13)
Coyote Lake (12/20)
El Baile de la Gacela (AKA The Gazelle's Dance) (12/27)
Starting December 1:
The Abyss, 1989
Being Julia, 2004
The Beverly Hillbillies, 1993
Big Mommas: Like Father, Like Son (Extended Version), 2011
Bridesmaids (Extended Version), 2011
Buena Vista Social Club, 1999
Cedar Rapids, 2011
Closer, 2004
The Diving Bell and the Butterfly, 2007
Empire of the Sun, 1987
Grandma's Boy, 2006
Heaven & Earth, 1993
Hoop Dreams, 1994
Jersey Girl, 2004
Justin Bieber's Believe, 2013
Mr. Popper's Penguins, 2011
Primeval, 2007
Rise of the Planet of the Apes, 2011
Sucker Punch, 2011
The Ringer, 2005
The Woman in Red, 1984
Unfriended, 2015
Unknown, 2011
Van Helsing, 2004
What About Bob?, 1991
Ending December 8:
12 Strong, 2018
Ending December 26:
The A-Team (Extended Version), 2010
We Are Your Friends, 2015
Ending December 28:
Wall Street: Money Never Sleeps, 2010
Ending December 31:
The 15:17 to Paris, 2018
A Fantastic Fear of Everything, 2019
A Midsummer Night's Sex Comedy, 1982
A Nightmare on Elm Street, 2010
Annie Hall, 1977
Away from Here, 2007
Beer Fest, 2006
Boy's Don't Cry, 1999
By the Sea, 2015
Conspiracy Theory, 1997
Dead Man on Campus, 1998
Early Man, 2018
Funny Games, 2008
Halloween, 2018
Halloween II, 1981
Halloween II: Season of the Witch, 1982
Hannah and Her Sisters, 1986
High Crimes, 2002
Holes, 2003
I, Robot, 2004
Joe Somebody, 2001
Little Fockers, 2010
Miracle At St. Anna, 2008
Mr. Right, 2016
My Big Fat Greek Wedding, 2002
Night School (Extended Version), 2018
The Predator, 2018
The Ring Two (Extended Version), 2005
Sex and the City 2, 2010
Shark Tale, 2004
Shanghai Knights, 2003
The Siege, 1998
Term Life, 2016
Titan A.E., 2000
Without a Paddle, 2004