New on HBO Now: All the Movies and TV Coming in November
Image via Universal Pictures
Movies
Features
HBO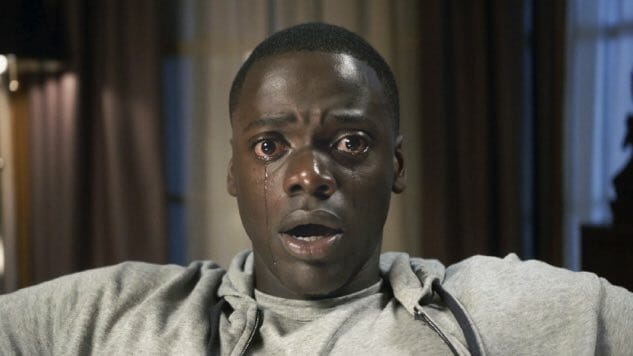 There is plenty to be thankful for on HBO Now, including this November's slate of new movies and TV shows headed to the streaming service. Just in time for the onset of the holiday season, here's our breakdown of everything that HBO subscribers will be able to feast their eyes on—who are we kidding … "nod off during" is far more likely—after their Thanksgiving smorgasbords.
HBO Now's first and foremost addition is Jordan Peele's brilliant directorial debut Get Out, Paste's pick for the best film of 2017 so far. The must-see social horror movie, making its HBO debut on Nov. 4, "happens to be smart and keeps its tongue glued to its cheek. It's more a wonder that it's so well made to boot, a polished effort threaded together with impressive, varied degrees of craft (particularly close-ups, here used to make our skin crawl right off our flesh)," as Andy Crump wrote in his review. Appropriately so, Get Out has been one of the year's most popular and profitable films, raking in over $175 million on a production budget of just $5 million, so if you were somehow among those who missed it in theaters, now's the time to rectify that egregious oversight. Until then, you can stay in the Sunken Place and reflect on your failings.
Get Out may be the clear crown jewel of November's theatrical additions, but it's far from the only noteworthy blockbuster coming next month. Chris McKay's delightful farce The Lego Batman Movie, another one of our favorite movies of the year so far, hits HBO Now on Nov. 11, followed by Zhang Yimou's wrongly maligned fantasy actioner The Great Wall, which is beautiful to look at it if nothing else, premiering on Nov. 18. Rounding out the end of the month are Jordan Vogt-Roberts' over-the-top popcorn creature feature Kong: Skull Island on Nov. 25 and Duncan Jones' "dumb, lumbering, colorful fantasy epic" Warcraft on Nov. 26—these flicks may not goose your I.Q., but they're damn sure to entertain you through your turkey-induced stupor. And speaking of dumb fun, The Fast and Furious, 2 Fast 2 Furious, and Fast and Furious (What, no Tokyo Drift?) are all coming to the streaming service on Nov. 1, as well, so buckle up.
November will see the season finales of four HBO original comedy series, the most noteworthy of which is undoubtedly Last Week Tonight with John Oliver—Oliver's indispensable talk show, fresh off a couple of Emmy wins and currently sitting pretty in Paste's TV power rankings, concludes its fourth season on Nov. 12. Dark, Danny McBride-starring comedy Vice Principals will air its season two (and series) finale on that same date, the recently renewed Real Time with Bill Maher will wrap its 15th season on Nov. 18, and sketch-comedy series Tracey Ullman's Show airs its season two finale on Nov. 24. Also included among next month's TV offerings is the Jon Stewart-hosted all-star benefit Night of Too Many Stars: America Unites for Autism Programs, streaming live on HBO Now on Nov. 18 in partnership with nonprofit NEXT for Autism.
As for documentaries, Emmy-winning filmmaker Alex Gibney's (Going Clear: Scientology & the Prison of Belief) "two-part visual and musical experience" Rolling Stone: Stories from the Edge will delve into the history of the eponymous magazine, debuting Part 1 on Nov. 6 and Part 2 on Nov. 7. Executive producer Channing Tatum's War Dog: A Soldier's Best Friend debuts on Nov. 11, followed by The Wire star Sonja Sohn's documentary Baltimore Rising on Nov. 20.
And lest we forget, November will also spell the end of a number of notable films' tenures on HBO Now, including a trio of Oscar-winning dramas in The Deer Hunter, Good Will Hunting and Shakespeare in Love, as well as James Mangold's sophomore effort Cop Land, the Cameron Crowe-penned teen comedy classic Fast Times at Ridgemont High, Todd Phillips' gun-running crime dramedy War Dogs and apocalyptic crowd-pleaser Independence Day.
You'll find the full list of HBO Now's incoming and outgoing November programming below.
Original Programming:
Rolling Stone: Stories from the Edge, Part 1 (11/6)
Rolling Stone: Stories from the Edge, Part 2 (11/7)
War Dog: A Soldier's Best Friend (11/11)
The Magical Wand Chase: A Sesame Street Special (11/11)
Night of Too Many Stars: America Unites for Autism Program (11/18)
Baltimore Rising (11/20)
Meth Storm (11/27)
HBO First Look: The Shape of Water (11/28)
Season Premieres:
Sesame Street: A Sesame Street Thanksgiving, Season 48 Premiere (11/18)
El Hipnotizador, Season 2 Premiere (11/10)
Season Finales:
Vice Principals, Season 2 Finale (11/12)
Last Week Tonight With John Oliver, Season 4 Finale (11/12)
Real Time with Bill Maher, Season 15 Finale (11/18)*
Tracey Ullman's Show, Season 2 Finale (11/24)
*Episodes available on HBO NOW the morning after their linear debuts
Theatrical Premieres:
Get Out, 2017 (11/4)
The Lego Batman Movie, 2017 (11/11)
A United Kingdom, 2017 (11/13)
The Great Wall, 2017 (11/18)
Mechanic: Resurrection, 2016 (11/19)
Kong: Skull Island, 2017 (11/25)
Warcraft, 2016 (11/26)
Estrenos:
A Prueba (AKA On Trial), 2016 (11/1)
El peso de la ley (AKA The Weight of the Law), 2017 (11/3)
Inseparables, 2016 (11/10)
Cuentas Por Cobrar (AKA Achilles' Redemption), 2016 (11/17)
Starting November 1:
2 Fast 2 Furious, 2003
Along Came a Spider, 2001
Bachelor Party ('84), 1984
Bird on a Wire, 1966
Bride of Chucky, 1998
Broken Lizard's Club Dread (Extended Version Available), 2004
The Day the Earth Stood Still, 2008
Fast & Furious, 2009
The Fast and the Furious, 2001
Good Morning, Vietnam, 1987
Ice Age: Dawn of the Dinosaurs, 2009
Pale Rider, 1985
The Sum of All Fears, 2002
Sweet November, 2001
Terminator Salvation (Director's Cut Available), 2009
Volunteers, 1985
W., 2008
Zoolander, 2001
Ending November 30:
Alvin and the Chipmunks: The Road Chip, 2015
Be Cool, 2005
Cop Land, 1997
Doctor Dolittle, 1967
Dr. Dolittle 3, 2006
Dragnet, 1987
Fast Times at Ridgemont High, 1982
Get Smart, 2008
Good Will Hunting, 1997
Independence Day, 2016
Kicks, 2015
Legend, 2015
Monsters vs. Aliens, 2009
On Deadly Ground, 1994
Panic Room, 2002
Parenthood, 1989
Rush Hour 3, 2007
Shaft, 2000
Shakespeare in Love, 1998
The Deer Hunter, 1978
War Dogs, 2016