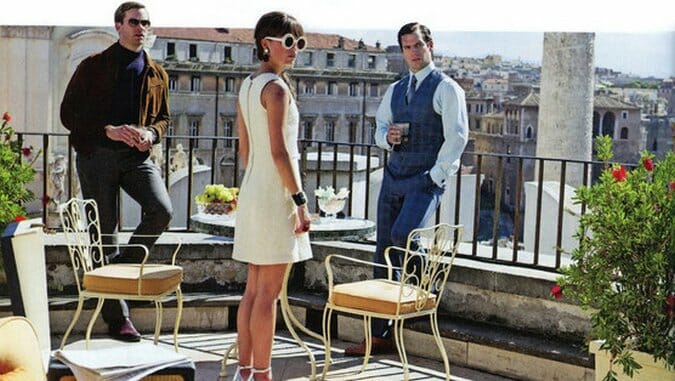 The first trailer for Guy Ritchie's modern day take on Man from U.N.C.L.E. is here and it has all the charisma and suavity of a Cold War James Bond. The film is based on the original series, which ran for four seasons on NBC between 1964-1968.
Armie Hammer (The Social Network, The Lone Ranger) and Henry Cavill (Man of Steel) lead the cast as Illya Kuryakin and Napoleon Solo, one a KGB agent and the other CIA, who are tasked with a joint mission to take down a secret criminal organization working to proliferate the use of nuclear weapons. Cavill's dignified American accent is top notch and Hammer appears to be having a blast playing the silent Russian.
The synopsis from Warner Bros. can be read below:
"Set against the backdrop of the early 1960s, at the height of the Cold War, The Man from U.N.C.L.E. centers on CIA agent Solo and KGB agent Kuryakin. Forced to put aside longstanding hostilities, the two team up on a joint mission to stop a mysterious international criminal organization, which is bent on destabilizing the fragile balance of power through the proliferation of nuclear weapons and technology. The duo's only lead is the daughter of a vanished German scientist, who is the key to infiltrating the criminal organization, and they must race against time to find him and prevent a worldwide catastrophe."
We have to admit Guy Ritchie is pulling out all the stops to bring his personal style to the project. His panache and penchant for outlandishly clever action sequences fits right at home in the Cold War setting. The trailer promises a fun time at the theater.
Man from U.N.C.L.E. opens Aug. 14.