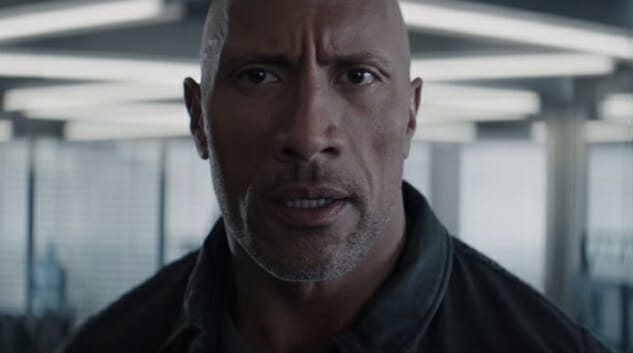 Well, looks like you don't need to wait for the Super Bowl after all to receive your next Dwayne Johnson fix—we've got it right here. The first trailer for Fast & Furious spin-off Hobbs & Shaw, which is literally titled Fast & Furious Presents: Hobbs & Shaw, has debuted and immediately set the internet ablaze with macho anticipation. Has there ever been a more appropriate action team-up than Dwayne Johnson and Jason Statham?
This trailer is stupid, don't get us wrong—GLORIOUSLY stupid. It sees the eponymous Luke Hobbs and Deckard Shaw coming together to battle, and I quote, "the cyber-genetically enhanced international terrorist known as Brixton." Oh, and Brixton just happens to be played by Idris Elba, which ratchets up the awesome factor a few levels higher.
In the end, you can't help but be suckered in by the off-the-charts charisma possessed by each member of this pair, particularly in their moments of verbal sparring in the nearly three-minute trailer. Their differing approaches are perfectly encapsulated in the action scene that involves Hobbs (Dwayne Johnson) jumping off a building while Shaw (Statham) casually rides an elevator down beside him. Truly, stuff like this is what mindless popcorn entertainment is all about.
Hobbs & Shaw is fated to be a summer blockbuster, and is scheduled to arrive Aug. 2, 2019. Hopefully there's enough currency circulating in the American economy to handle the massive influx of box office that this movie is surely going to generate. Check out the trailer below.