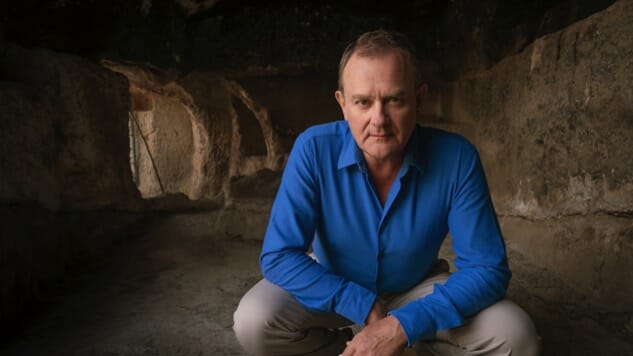 It may be a little far off from the holiday season, but Netflix is already giving us an early Christmas present.
Hugh Bonneville is joining the cast of Jingle Jangle. No, that's not like the hallucinogenic party drug from Riverdale. It's actually Netflix's first-ever original musical, set for release in 2020.
The Downton Abbey star will star alongside Forest Whitaker, who's work on Bird, The Crying Game, Platoon and Black Panther has earned him a pretty esteemed reputation for his character study.
The holiday-themed flick will center around a toymaker and his magical invention. Set in a whimsical, cobblestone-lined world, the film stars Whitaker as the skilled toymaker and newcomer Magdalen Mills as his precocious young granddaughter. Sounds like a pretty typical formulaic, magic of Christmas kind of movie.
But with a cast including Bonneville, Whitaker, Key and Peele's Keegan-Michael Key, A Raisin in the Sun's Phylicia Rashad and Caroline's Tony-winning Anika Noni Rose, it seems like this may be a bit more than the typical holiday movies we get from the likes of Hallmark.
The holiday musical tale will be produced by John Legend's Get Lifted Film Co (Yes, we're still cringing at the name). The company will join forces with 260 Degrees Entertainment's David E. Talbert and Lyn Sisson-Talbert, Burr! Productions' Kristin Burr, and Brillstein Entertainment Partners' David McIlvain.
Talbert has had is fair share of holiday fare with Almost Christmas and El Camino Christmas, so he'll likely add some Christmas flick prowess to the team.
Ty Stiklorius, of La La Land fame, and Vicki Dee Rock, known for the just-OK, mindless adventure flick Sahara and the forgettable sci-fi fantasy Project Almanac, are set to executive produce.
Most recently featured in heartwarming family tale and surprising critical darling Paddington 2, Bonneville can also be seen in the forthcoming Downton Abbey film.