Tap a Toe to the First Trailer for Lin Manuel Miranda's In the Heights
Photo via Warner Bros.
Movies
News
in the heights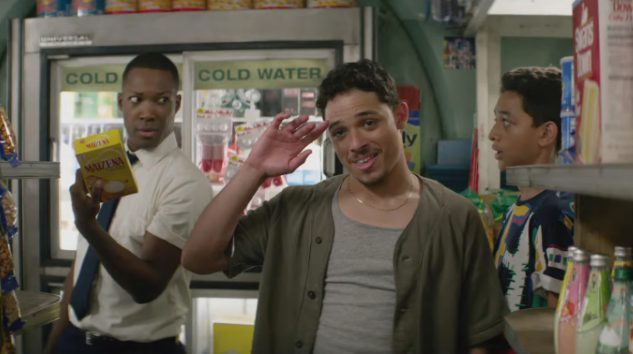 Crazy Rich Asians director Jon M. Chu will give life to the first real screen adaptation we're seeing of a Lin-Manuel Miranda musical—not the ubiquitous Hamilton, which is still making far too much money in amphitheaters around the country, but In the Heights instead. The latter is Miranda's first Broadway musical, in which the writer-performer originated the lead role of Usnavi de la Vega, a hustling urban shopkeeper with big dreams.
In the Heights takes place in the Hispanic-American neighborhood of Washington Heights in NYC over the course of several days, as members of the community grapple with their positions in life and the shrinking nature of the neighborhood itself, thanks to gentrification. In the center is Usnavi, a bodega owner who maintains one of the lifebloods of the local community. That role is being played by Anthony Ramos, who also portrayed Philip Hamilton in Miranda's most famous creation. He's joined by Melissa Barrera, Corey Hawkins, Leslie Grace, Stephanie Beatriz, Dascha Polanca, Daphne Rubin-Vega, Jimmy Smits, and Miranda in the expected cameo as "the Piragua Guy."
The film was written by Quiara Alegria Hudes, who also wrote the book for the musical, suggesting that it will hew as closely to the "source material" as she wishes. The first trailer certainly looks full of bombast, projecting the same energy as many of Hamilton's cherished musical numbers. Check it out below, while you wait for In the Heights to make its June 26, 2020 debut in theaters everywhere.