Mandy Moore and Kumail Nanjiani Are Going to The Further in Thread: An Insidious Tale
Photo by Charley Gallay/Getty Images for Audemars Piguet and NBC
Movies
News
Insidious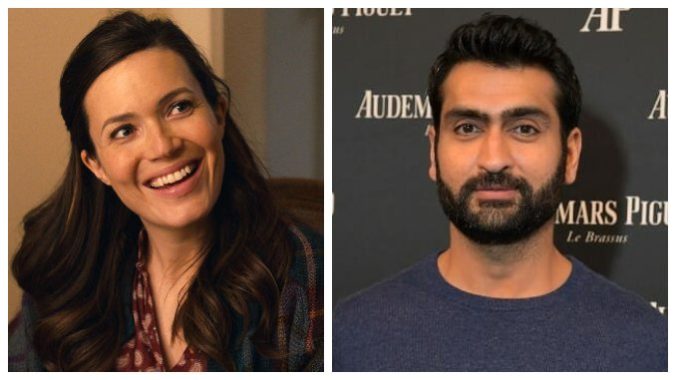 If audiences thought they were finally escaping The Further this summer after the release of Insidious: The Red Door, the belated third mainline entry to the series, they're gravely mistaken—and this time Mandy Moore and Kumail Nanjiani are coming with them. The two are set to star in a brand new entry to the franchise entirely separate from the rest of the series: Thread: An Insidious Tale, a title that seems to set up an endless parade of possibilities for more stories in the spooky ghost world of Insidious. Scared yet?
For now, the universe retains a family focus, its plot, reported by Deadline, as being concerned with "a husband and wife (Nanjiani and Moore) who enlist the help of a spell to travel back in time, such that they can prevent the death of their young daughter." The space-time possibilities of The Further have only been briefly touched on in other entries, most memorably in Chapter 2 with the nutty reveal that Patrick Wilson's character was haunting himself in a key scene in the first film. The franchise seems to be leaning into all the possibilities that come with that implication. Maybe Nanjiani has to avoid the past version of himself like in Back to the Future and then that version thinks he's being haunted, but it's been himself all along. It writes itself!
Insidious was a massive hit when it initially released in 2010, sending writer/director James Wan into superstardom as far as horror filmmakers go. He continues to produce the extended universe films for this franchise as well as those of The Conjuring series, while other filmmakers attempt to prove their chops behind the camera. This time around Jeremy Slater will be acting as writer and making his feature directorial debut, fresh off the heels of creating and writing for Marvel's Moon Knight. He's paid some dues in the horror realm in the past, having scripted both 2015's The Lazarus Effect and 2017's Death Note.
How of a piece with the other Insidious films Slater will attempt to make this is yet to be understood. We're surely a ways out from release given we still have The Red Door in the pipeline, but will continue to report more details as they come in.