Familiar Faces Are Menaced in First Trailer for Insidious: The Red Door
Photos via Sony Pictures Entertainment
Movies
News
horror movies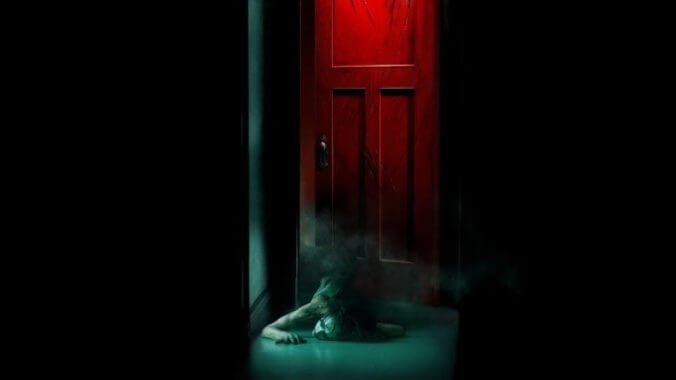 There's something oddly funny about the idea of a modern horror franchise effectively making a "legacy sequel" to itself, directed by the star of the original film, and starring a young man who was a grade schooler in footie pajamas the first time audiences saw him. And yet, that's what we have in Insidious: The Red Door, the fifth and presumably final installment in the long-running series that first began with James Wan's Insidious in 2010. After two entries that sidetracked into following supporting character Elise Rainier (the lovely Lin Shaye) throughout her life, most recently 2018's Insidious: The Last Key, The Red Door is taking a back-to-basics approach, reuniting the Lambert family seen in the original film and its first 2013 sequel, as they probe deeper into the mysterious "Further" than ever before. Or as the official synopsis puts it:
Set 10 years after the end of previous first two films, Josh Lambert heads east to drop his son Dalton off at an idyllic, ivy-covered university. However, Dalton's college dream becomes a nightmare when the repressed demons of his past suddenly return to haunt them both.
Scream king Patrick Wilson returns not just as star, but is also making his directorial debut in The Red Door, a film with a story from series mainstay Leigh Whannell, but a rather more concerning screenplay credit from Halloween Kills writer Scott Teems. Also returning: Rose Byrne as wife and mother Renai Lambert, and the stalwart Lin Shaye, at least in cameo form as the trailer below makes clear. The feeling of nostalgia here is clearly pretty strong–great pains are being taken to evoke scenes and elements of the original film in the series, such as the inclusion of "Tiptoe Through the Tulips," and the red-faced demon that has dotted the series with numerous appearances over the years.
Insidious: The Red Door will presumably close out the story of the Lambert family when it creeps into theaters on July 7, 2023, unless this entry spawns yet another series of spinoffs. In the meantime, check out the first full trailer below.