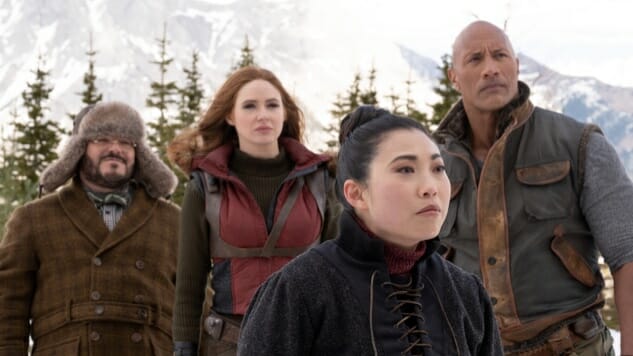 Jumanji: The Next Level joins the ranks of Die Hard 2, Home Alone 2, and The Hangover Part II as a sequel that clones the structure, story beats, jokes and popular moments of the box-office hit that preceded it. Anything new that it brings to the table is so minimal that it rides the fine line between a sequel and a remake. 2017's Jumanji: Welcome to the Jungle, a soft sequel/reboot of 1995's Jumanji, was a surprise hit. It was a family-friendly fantasy/adventure about a magical videogame that sucked real people into its exotic and dangerous world, and forced them to finish it. The real people enter the bodies of four playable characters: Smoldering action hero literally named Smolder Bravestone (Dwayne Johnson), zoologist/inventory holder Mouse (Kevin Hart), Lara Croft knock-off Ruby Roundhouse, and antsy cartographer Professor Sheldon (Jack Black). Each of these avatars gets three lives. After that, you're dead in both the game and in real life. The avatars need to use their unique abilities to pass each dangerous level, until one of them snatches an all-powerful jewel from a generic bad guy and everyone goes home.
All of this describes both Welcome to the Jungle and The Next Level. There are only two noticeable additions in the sequel: As opposed to the jungle-only setting of the previous film, it offers various changes of scenery, from desert vistas to snow-covered mountains. (There isn't any organic reason for their use in the plot.) The second is the inclusion of three new characters. Two of them are actually given a relatable and heartfelt sub-plot while the other character is a midpoint surprise, but the actor's vast talents are underutilized.
It's been two years since our quartet of movie high school stereotypes survived Jumanji. The neurotic Alex (Alex Wolff) and the nerdy Martha (Morgan Turner) became a couple at the end of Welcome to the Jungle. They are now separated, thanks to the tired trope in many Hollywood action/adventure sequels that require the protagonists to rediscover their mutual feelings in lieu of fresh character arcs. In comparing his nine-to-five retail existence to Martha's exciting new college life, Alex feels inadequate and decides to go back into Jumanji. He does this to once again become his in-game avatar, Smolder Bravestone.
We're told that his motivation is to feel desirable and tough again, to regain his confidence. But is that enough of a reason to return to a fantasy world where death lurks around every corner? Writers Jake Kasdan—who also directed—Jeff Pinkner, and Scott Rosenberg provide a flimsily constructed inciting incident, which makes it harder to further connect with the plot's forward momentum. Martha and the fitness-obsessed Fridge (Ser'Darius Blain) enter the game to help Alex finish it. But because of a glitch, it turns out that Alex didn't end up possessing Bravestone after all. On top of that, Alex's cranky grandfather, Eddie (Danny DeVito) and Eddie's estranged friend, Milo (Danny Glover), are pulled into the game. (Eddie and Milo's arcs represent the only substantial character development in the script.)
As the avatar for the valley girl archetype Bethany (Madison Iseman), Black provided the standout performance in Welcome to the Jungle. This time a black character enters his avatar because of the glitch. This leads to the sequel's most cringe-worthy moments, as Black does a second-rate '80s open-mic schtick of a white guy doing a black guy voice.
Just like with Welcome to the Jungle, the action is serviceable, but lacks genuine thrills. There's one set-piece that's inventive on paper, centered on an ever-spinning series of bridges hanging over a cliff, but it's undercut by the lackluster CG work found throughout the film. (There's a scene where torches lit by CG fire look like a Snapchat filter.) Rory McCann, Game of Thrones' The Hound, looks genuinely intimidating with his Viking man-bear of a villain, Jurgen the Brutal. But he's not given anything to play with, other than looking and acting mean. The end credits tease for the next installment promises a move in a new direction. Skip The Next Level and hope for some form of originality in the next one instead.
Director: Jake Kasdan
Writer: Jake Kasdan, Jeff Pinkner, Scott Rosenberg
Starring: Dwayne Johnson, Kevin Hart, Karen Gillan, Jack Black, Awkwafina, Danny DeVito, Danny Glover, Nick Jonas
Release Date: December 13, 2019
---
Oktay Ege Kozak is a screenwriter, script coach and film critic. He lives near Portland, Ore., with his wife, daughter, and two King Charles Spaniels.