Kevin Spacey Has Been Hit with Another Sexual Assault Lawsuit (Updated)
Photo by Pool/Getty
Movies
News
kevin spacey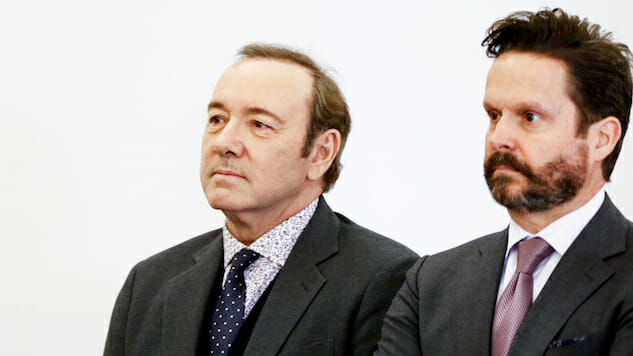 Actor Kevin Spacey is facing yet another lawsuit for alleged sexual misconduct, the Associated Press reports.
The son of former Boston TV anchor Heather Unruh is suing Spacey for "severe and permanent mental distress and emotional injuries" in connection with Spacey allegedly groping the young man at a Nantucket bar in 2016.
This is the second course of legal action taken by Unruh's son, who was 18 at the time of the incident. Alleging Spacey bought him alcohol, unzipped his pants and groped him for three minutes after he approached Spacey for a photo, the young man filed criminal charges of indecent assault and battery in December 2018, to which the actor pleaded not guilty in January. The actor will face up to 2.5 years in jail if he is convicted.
The December 2018 suit was the first criminal charges filed against the House of Cards actor after a landslide of allegations accusing him of sexual misconduct surfaced that fall.
Attorney Alan Jackson claimed Spacey's "status as a public figure" gave the accuser and his family members "a significant financial motive to fabricate the instant allegations," according to court documents filed in the criminal case.
The civil suit explains the alleged incident led the young man to seek therapeutic care and caused a loss of income.
The Nantucket court is relying on text messages extracted from a phone the young man used the night of the alleged incident to support the accusation, but as of last week, the accuser has been unable to locate it. The Nantucket District Court Judge set a deadline of July 8 to turn over the phone to the defense.
Update, July 5: Spacey's attorney Mitchell Garabedian announced that the civil suit against the actor has been voluntarily dismissed, per Deadline. He offered no further details, nor any further comment.