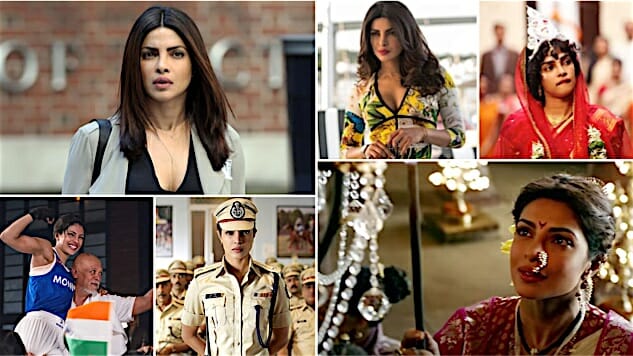 You know you've made it in Hollywood when TMZ does an explainer of a roka ceremony after official photos of Priyanka Chopra and Nick Jonas' engagement party in Mumbai, India, started popping up on social media. For the record, a roka ceremony is peculiar to Punjabi wedding traditions, a low-key affair between immediate families of the bride and groom, making it official that the couple intends to marry. Unlike the western tradition of an engagement ceremony that's between the two people getting betrothed, a roka ceremony is a family affair, involving an exchange of sweets, dried fruits and gifts, as well as a small prayer ceremony.
Clearly, there was nothing low-key about the couple's to-do in Mumbai, where the small gathering of immediate family and friends included Mama and Papa Jonas decked out in Indian outfits along with their son, as well as Bollywood starlets Parineeti Chopra (Priyanka's cousin) and Alia Bhatt (Bollywood's current it girl) in chic non-Indian dresses.
The happy event was covered by media across the world, cementing Chopra's rise to fame beyond Bollywood. While other Indian film stars such as Irrfan Khan (Puzzle, The Amazing Spider-Man, Life of Pi) and Anupam Kher (Sense8, The Big Sick) have broadened their acting borders outside of India, Chopra is the only Indian actor so far truly dividing her worlds between Bollywood and Hollywood, coming a long way from the small town girl from Bareilly, Uttar Pradesh, with stars in her eyes.
"The amazing fact about Priyanka is that she became a star twice over—once in India, and the second time in America," says Aseem Chhabra, film journalist, festival director of the New York Indian Film Festival and author of Priyanka Chopra: The Incredible Story of a Global Bollywood Star. When asked by his publisher to write a book on one of India's most bankable female movie stars, Chhabra, who had previously written a biography of veteran Indian actor Shashi Kapoor titled Shashi Kapoor: The Householder, The Star, balked at first. He wasn't interested in writing a gossipy, tell-all book.
The more he looked into her life, however, the more he became convinced hers was a story worth telling. Chopra, 36, was born to two army doctors in Jamshedpur, Bihar. An army brat, she grew up across small towns and big cities in India, and also spent three years attending a high school in Newton, Massachusetts, in her teens.
After winning a community beauty pageant called May Queen in Bareilly in 1999, she participated in 2000 in Femina Miss India, a national beauty pageant famous as a launchpad for glamorous careers in modeling and film. Months after placing second in Femina Miss India, Chopra participated in the Miss World beauty pageant and won.
"The process in which these girls, you know, 16- 17-years-old, are groomed to win pageants is fascinating," says Chhabra, talking about the rigorous training that contestants undergo for the Femina Miss India pageant. "How to speak, how to act—it has helped Priyanka beyond becoming a Bollywood star. And it's a fascinating journey from being a teenager to a woman to a fine actress, to then a star in America … She kind of came out of nowhere. She wasn't like a Julia Roberts or a Nicole Kidman. She was a star in India in a very different way. She wasn't a very good actress to begin with. She wasn't trained. But she has evolved."
In fact, her Bollywood debut was an entirely forgettable spy film called The Hero: Love Story of a Spy (2003), which was partially shot in Toronto. After getting noticed in rom-coms such as Andaaz (2003) and Mujhse Shaadi Karogi (2004), she played the antagonist in Aitraaz (2004), which got critics paying attention to her growing capabilities as an actor. A series of love-interest characters followed. Subsequent roles, such as that of a martial-arts kicking Roma who seeks revenge for her brother's death at the hands of a mobster in Don (2006), showed Chopra's willingness to work hard for a role. (Don was a remake of an iconic 1978 film of the same name, and starred Bollywood superstar Shah Rukh Khan.)
Her prolific career in Bollywood includes other critically acclaimed portrayals such as an ambitious model in Fashion (2008), an autistic young woman in Barfi (2012) and an Indian boxing champion and Olympic bronze medallist in the biopic, Mary Kom (2014).
"Her role in Dil Dhadakne Do is really quite good. To play the role of an educated woman who is unhappy in her marriage, this is not common for Bollywood cinema," says Chhabra of the 2015 film with an ensemble cast that featured Anil Kapoor (Slumdog Millionaire, Mission Impossible, 24) among other Bollywood heavyweights such as Ranveer Singh, Farhan Akhtar and Anushka Sharma. "Or playing the second wife in Bajirao Mastani, the hurt she feels. She's really become quite good as an actress."
In the middle of a successful career in Bollywood, Chopra decided to give Hollywood a chance. At first, she tried to break into the music industry, recording a few singles, including one called "Exotic" with Pitbull. When that didn't work out, she turned to TV, securing the lead role in the ABC series Quantico in which she played Indian-American FBI agent Alex Parrish. The series premiered on September 27, 2015. In America, she makes the rounds on day-time talk shows and the late-night TV circuit, appearing regularly on The Tonight Show Starring Jimmy Fallon, where she has bobbed for apples, taken part in a wings-eating contest and a Skittles challenge. (Quantico was cancelled earlier this year, after a run of three seasons.)
"She took a completely different approach than previous actors like Aishwarya Rai [Bachchan], who did Pink Panther and Bride and Prejudice," says Chhabra. "She actually put her life in Mumbai on hold and moved to America. Because TV requires you to do 22 episodes through the year … And it clearly paid off. I mean, when you become an item in Page 6 in the New York Post, it's a whole different ball game."
Besides her association with Meghan Markle and her appearances on red carpets, Chopra has recently been in tabloid news because of her relationship with Nick Jonas. A year after appearing at the Met Gala, both wearing Ralph Lauren and reportedly in a platonic relationship, Chopra and Jonas started dating. Their engagement after two months of dating have earned them comparisons with the likes of Ariana Grande and Pete Davidson and Justin Bieber and Hailey Baldwin. (No word as to a wedding date, as yet.)
Meanwhile, Chopra has announced her next film projects. In India, she has signed on for director Shonali Bose's film The Sky Is Pink, a biographical drama in which she and Farhan Akhtar will play parents of teenage motivational speaker Aisha Chaudhary, who died of pulmonary fibrosis. She's also set to star opposite Chris Pratt in a Universal's Cowboy, Ninja, Viking in the near future. For American audiences who only know Chopra via her engagement to Jonas, it's a good opportunity to gain a better appreciation of an impressive career spanning two huge film industry hubs and multiple continents.
---
Aparita Bhandari is an arts and life reporter in Toronto. Her areas of interest and expertise lie in the intersections of gender, culture and ethnicity. She is the producer and co-host of the Hindi language podcast, KhabardaarPodcast.com You can find here on Twitter and here. Along with Bollywood, Toblerone bars are one of her guilty pleasures.