New on Redbox: All the Movies Coming in February
Photo by Merrick Morton/20th Century Fox
Movies
Features
redbox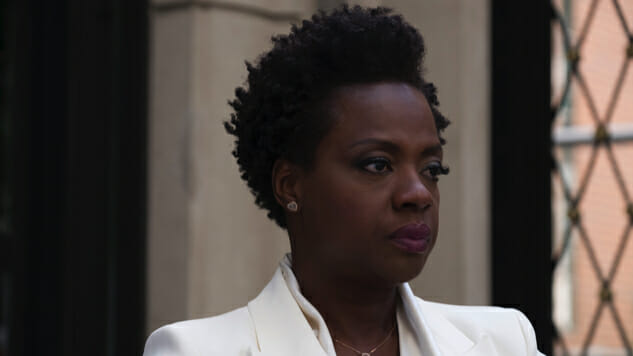 February is upon us, and with it comes a fresh batch of feature films on Redbox, that distinctive red movie machine awaiting you right now outside your local store, be it convenience, drug or grocery. That red machine has an online component, too, and we're here to highlight the best of what's hitting Redbox next month, be it physical or digital.
One of Redbox's first February additions is also one of its finest: Widows, the star-packed heist thriller from Oscar-winning writer-director Steve McQueen, coming to kiosks and VOD on Feb. 5. Tim Grierson called the film "a mature, exciting, utterly engrossing heist film that proves to be far more than just a crime drama" in his review for Paste, adding that Widows "hums with menace while also being clear-eyed about its characters and their milieu." Said characters are portrayed by an eye-popping cast: Viola Davis, Liam Neeson, Michelle Rodriguez, Elizabeth Debicki, Cynthia Erivo, Colin Farrell, Brian Tyree Henry, Daniel Kaluuya, Carrie Coon, Robert Duvall, Jon Bernthal, Garret Dillahunt, Lukas Haas … the list goes on and on. Another highlight hitting kiosks and VOD on Feb. 5 is The Sisters Brothers, the Jacques Audiard-directed 2018 Western starring Joaquin Phoenix and John C. Reilly as the titular siblings, Charlie and Eli Sisters, who encounter characters played by Jake Gyllenhaal, Riz Ahmed, Allison Tolman, Rebecca Root, Rutger Hauer and Carol Kane. As Paste's own Dom Sinacola writes, the cast "takes to their role[s] with philosophical seriousness but are well-tuned to the hints of humor Audiard lets occasionally shine (especially Reilly and Phoenix, rightly celebrated for their versatility), rebuilding the myth of the West through the absurdity of hyper-violence rather than through the triumph of masculinity." Both Widows and The Sisters Brothers were excluded from this year's Oscar nominations, a decision you can second-guess for yourself come Feb. 5.
Feb. 12, however, brings to Redbox a trio of films that did not go unrecognized by the Academy—quite the contrary, in fact. Bohemian Rhapsody, the box-office smash Queen biopic directed (mostly) by alleged sexual predator Bryan Singer, received five Academy Award nods, which is at least four more than many critics would argue it deserves. Few would argue against Rami Malek's Oscar-nominated lead performance as Freddie Mercury, at least, which Oktay Ege Kozak called "the film's obvious piece de resistance" in his review for Paste, later adding, however, that "Bohemian Rhapsody's formulaic approach may prove far duller than Mercury ever was," as the biopic is "basically Walk Hard without the parody." As aforementioned, the divisive film comes to kiosks and VOD on Feb. 12, as does another, far more acclaimed biopic: Julian Schnabel's At Eternity's Gate, starring Willem Dafoe in an Oscar-nominated turn as legendary artist Vincent van Gogh. But Redbox's best addition on this date, coming only to VOD, is Hirokazu Kore-eda's Shoplifters, one of Paste's best movies of 2018. The film, representing Japan in 2019's best foreign-language film race at the Oscars, finds Kore-eda "wrapping the story of a family on society's fringes around a moral curveball thrown down the middle during Japan's economic recession," resulting in a family drama that is ultimately "held up by the strength of its ensemble and Kore-eda's gifts as a storyteller," as Andy Crump wrote in his Paste review.
Another of Paste's top 2018 films follows on Feb. 19, with the arrival of Bradley Cooper's 2018 directorial debut A Star Is Born in kiosks and VOD. The cyclically remade show-business classic landed eight Oscar nominations of its own earlier this month, issued in recognition of Cooper and Lady Gaga's stellar starring turns, as well as Sam Elliott's supporting, the film's adapted screenplay (written by Cooper, Will Fetters and Eric Roth), original song (we're never far from the "Shallow," now), cinematography and sound mixing. "Bradley Cooper's A Star Is Born reminds us that clichés exist for a reason—because they embody a whiff of universal truth that can hit us right between the eyes when it becomes our reality," Grierson wrote in his Paste review. And speaking of writers, Melissa McCarthy was Oscar-nominated for her turn as one in Marielle Heller's Can You Ever Forgive Me?, coming to kiosks only on Feb. 19. The film is "the tale of Leonore Carol "Lee" Israel (McCarthy), celebrity biographer, who in the 1990s found herself broke and so in need of work that she turned to forgery, penning fake letters by dead authors and selling them off to a tidy sum per piece," as Crump summarizes for Paste's list of 2018's best films, on which this title also lands. And the last incoming Redbox addition we'll highlight here, arriving in kiosks and VOD on Feb. 26, is Mary Queen of Scots, the 2018 period piece starring Saoirse Ronan and Margot Robbie as royal 16th-century rivals. The Josie Rourke-directed, Beau Willimon-scripted film received two Oscar nominations (for its costume design, and makeup and hairstyling), and earned a 62 percent score on Rotten Tomatoes—one point higher, ahem, than Bohemian Rhapsody's 61.
See Redbox's complete February slate below, and be advised that movies in the On Demand section may be available to rent, buy or both, depending on the title—more details here.
What's New & Streaming at Redbox: On Disc and On Demand—February
At The Box
February 5
Dr. Seuss' The Grinch
Widows
The Girl in the Spider's Web
The Sisters Brothers
A Private War
All The Devil's Men
The Long Dumb Road
Grand-Daddy Day Care
February 12
Bohemian Rhapsody
Nobody's Fool (2018)
Norm Of The North: Keys To The Kingdom
The Front Runner
At Eternity's Gate
Scooby-Doo! and the Curse of the 13th Ghost
The Bouncer
The Appearance
February 19
A Star Is Born (2018)
Robin Hood (2018)
Overlord (2018)
Can You Ever Forgive Me?
Backtrace
Scarecrows
The Brawler (2019)
The Golem
Iceman: The Time Traveler
February 26
The Possession of Hannah Grace
Mary Queen of Scots (2018)
Between Worlds
Gosnell: The Trial of America's Biggest Serial Killer
Bernie The Dolphin
The Guilty (2018)
On Demand
February 1
Then Came You
Piercing
February 5
Dr. Seuss' The Grinch
Widows
The Sisters Brothers
A Private War
All The Devil's Men
Scooby-Doo! and the Curse of the 13th Ghost
Bernie The Dolphin
Patient 001
February 12
Bohemian Rhapsody
Norm Of The North: Keys To The Kingdom
At Eternity's Gate
Shoplifters
February 17
The House
February 19
A Star Is Born (2018)
Robin Hood (2018)
Backtrace
February 26
Between Worlds