The best movies on Redbox include many films of Paste's Best Movies of 2021 and 2022. Redbox remains a bit slow to add new films to its selections, mostly because studios have been equally slow as the theaters have come back into action. Those that've made streaming deals are making the most of things, but as far as physical rentals go, things'll start picking up the pace as 2023 begins.
Our guide to the best movies to rent right now at Redbox includes Oscar winners, kids movies, comedies, indie film, musical biopics and horror. And all of the movies top Redbox movie rentals listed here are available on DVD for $1.80 ($2 if you want Blu-Ray) right now. If you're more inclined to spend nothing and watch a few commercials, you can also read our picks for the best movies on Redbox's free On Demand service.
In addition to new releases on Redbox, you can also check out our guides to the best movies on Netflix, Amazon Prime, HBO, Hulu, Showtime, YouTube, on demand and in theaters. Or visit all our Paste Movie Guides.
Here are the 30 best new movies at Redbox:
---
1. Candyman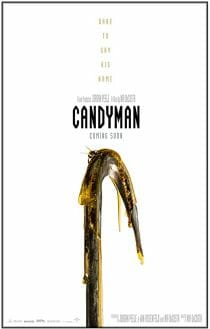 Release Date: August 27, 2021
Director: Nia DaCosta
Stars: Yahya Abdul-Mateen II, Teyonah Parris, Colman Domingo, Tony Todd, Vanessa Estelle Williams
Rating: R
Runtime: 91 minutes


The problem with writing about Candyman is that you will inevitably have to write "Candyman" five times. What if my monitor suddenly craps out, leaving me to see a paranormal entity rocking a full-length shearling behind my dark reflection? Unlike many of the white Chicagoans in writer/director Nia DaCosta's slasher sequel, I'm not foolish enough to tempt the Bloody Mary of the Near North Side. I am, however, still drawn to her update of the legend, which manages to pick up the original film's pieces and put them back together in a compelling, reclamatory collage. Ignoring the rest of the Candyman series in favor of a direct follow-up to Bernard Rose's allegory-rich 1992 slasher, DaCosta introduces fancy-pants artist Anthony (Yahya Abdul-Mateen II) to the same urban legend that consumed lookie-loo grad student Helen Lyle. The original story adapted Clive Barker to U.S. racism and wealth inequality—particularly in Chicago, and even more particularly in Chicago's Cabrini-Green projects. Now its homes and high-rises have been demolished or abandoned. A massive Target overlooks its northwest border, where you can buy athleisure and grab an in-house Starbucks before heading to Panera Bread. Gentrification may have neatly plastered over history, but that history cannot be so easily erased. "A story like that—a pain like that—lasts forever," says Colman Domingo's long-timer laundryman Burke. "That's Candyman." DaCosta makes it clear that Anthony's pulled by the legend, by history, more intimately than Helen ever was, and updates her scares in turn. The nightmarish apartments and putrid bathrooms Helen crawled through and photographed neatly reflected the entity haunting them; but the projects have been paved over, and Candyman persists. DaCosta shoots the city accordingly, either in dividing straight lines, or fully warped: You never notice how Marina City's towers look like beehives until they're flipped upside-down. Spurred on by Anthony's interest, Candyman's now an inevitability in every reflective surface. You can't look away from DaCosta's inspired compositions and layouts, your eyes led from one dark corner to the next with an Invisible Man-like mastery of negative space. One of these days, you think, she's going to run out of ideas about how to shoot a mirror kill. Not so, especially in her world of omnipresent, physically and psychically painful self-reflection. While the kills, perpetrated by a being mostly just seen in mirrors, are sometimes a bit too obfuscated by their gimmick to be viscerally satisfying, they slot in perfectly with the film's themes and aesthetic even when they're not dumping cascades of blood. The power of martyrdom, the cycles of economic exploitation, the blood price expected for progress—even if these ideas are imperfectly engaged with, they're so compellingly introduced as to solidify Candyman as a must-see horror and a must-discuss tragedy.—Jacob Oller
---
2. Dune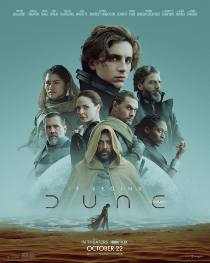 Release Date: October 22, 2021
Director: Denis Villeneuve
Stars: Timothée Chalamet, Rebecca Ferguson, Oscar Isaac, Zendaya, Josh Brolin, Stellan Skarsgård, Dave Bautista, Jason Momoa
Rating: PG-13
Runtime: 155 minutes


Both technologically innovative and narratively faithful to the original text, Denis Villeneuve's Dune is bolstered by its seamless special effects and starpower above all else. Considering the director's previous work in these arenas—namely Enemy, Arrival and Blade Runner 2049—he should be totally adept for the challenge. Yet there exists a nagging query that begs to be quelled: How much of this film is predicated on the sheer fact that cinematic advancements have finally rendered Dune an attainable possibility? Though it remains true to the first part of the text's unhurried pace and detailed world building, Villeneuve's adaptation feels overlong and void of subtext. It's important to note that the film only adapts the first part of Herbert's novel, which is notoriously kind of a slog. Much of the plot is focused on worldbuilding and creating an incremental immersion into the immaterial political hierarchies that shape this unknown yet familiar world. Admittedly, Villeneuve evokes and embraces this unhurriedness—a choice that just might predicate Dune's future fortune. By limiting the scope to Part I, Villeneuve's Dune maintains a consistent tone and sense of time—though it invariably drags over the course of two and a half hours. However, the meandering pace may perfectly suit fans of the original novel, which captures a certain pensive density indicative of the text. To be fair, there is a plain reason as to why Villeneuve opts for a subdued and sedated Dune. With so many failed attempts at adapting Herbert's novel preceding it, how could the project ever fully embrace auteur-driven artistic risk? It translates as Villeneuve playing it safe, expending all of his energy on ensuring that his remake can't possibly flop. Though Dune is faithful and fantastical in vision, its existence is merely proof that the enduringly popular novel can, in fact, be adapted into a box office hit.—Natalia Keogan
---
3. The Suicide Squad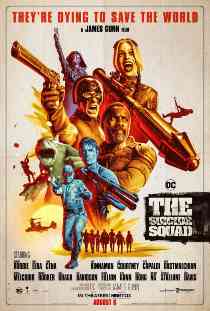 Release Date: August 6, 2021
Director: James Gunn
Stars: Margot Robbie, Idris Elba, John Cena, Joel Kinnaman, Jai Courtney, Peter Capaldi, David Dastmalchian, Daniela Melchior, Michael Rooker, Nathan Fillion, Steve Agee, Sylvester Stallone, Viola Davis
Rating: R
Runtime: 132 minutes


How is James Gunn one of the only people that actually seems to know how to make a comic book movie feel like it was built out of a comic book? Sure, the excellent Spider-Man: Into the Spider-Verse did it, but it took making one of the most impressive animated movies in years. Writer/director Gunn, who's hopped over to DC after making a pair of Guardians of the Galaxy movies for Marvel, achieves some of the same delirious multimedia fidelity in live-action with The Suicide Squad, his bombastic, silly and self-aware revisionist take on the super-group of screw-ups coerced into jobs too tough, dangerous and/or undesirable for the conventional wetworkers of our humble government. Gunn's action has such a clear and confident tone that it can pepper in filmmaking winks—like quick Bourne-like zooms when Task Force X director Amanda Waller (Viola Davis) plays God with the lives of costumed crooks from the safety of her command center—to add a little more visual flavor to its already over-the-top, R-rated, downright enjoyable adaptation. Part of the joke is the sheer quantity of goofball Legion of Doom rejects shoved into the mix. Sure, you've got the familiarly chaotic clown-about-town Harley Quinn (Margot Robbie, who's by now thoroughly made the role her own), Captain Boomerang (Jai Courtney) and straight-laced military man Rick Flag (Joel Kinnaman) alongside the new A-listers (John Cena's Captain America pastiche, Peacemaker; Idris Elba's gruff sharpshooter Bloodsport). But there's a Golden Corral buffet of questionable riffraff introduced as well, including but not limited to: King Shark (Sylvester Stallone, channeling a dumber and hungrier Groot), Polka-Dot Man (David Dastmalchian), Ratcatcher 2 (Daniela Melchior), Blackguard (Pete Davidson) and a human-sized weasel (Sean Gunn). They're all distinct and most of them are distinctly, joyfully hateable. And over the course of The Suicide Squad's solid tropical island action movie—one that's politics are almost as sharply cynical as its true-to-source treatment of its protagonistic supervillains—Gunn isn't afraid to dole out the kind of consequences that have mostly been relegated to the fun-poking, franchise-flouting realms of TV superhero meta-critiques like The Boys and Invincible. These aren't unfamiliar to Suicide Squad readers, but they're increasingly shocking, strange and bracing (not to mention fun!) to find in AAA studio movies. As the team moves from FUBAR beach operations on Corto Maltese to sabotaging its local lab's super-science, actual tension develops—a rarity among The Suicide Squad's contemporaries. Whatever power its additional The gave it couldn't completely divorce it from some expected genre limitations, but it's helped continue and solidify the way Warner Bros. is responding to Marvel's utter dominance of the form: Not by getting more serious, but by seriously investing in the idiosyncrasies of its comics.—Jacob Oller
---
4. The Green Knight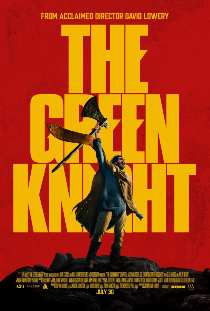 Year: 2021
Director: David Lowery
Stars: Dev Patel, Alicia Vikander, Sarita Choudhury, Sean Harris, Ralph Ineson, Barry Keoghan, Joel Edgerton
Rating: R
Runtime: 130 minutes


When Sir Gawain departs Camelot, he rides past a scene of desolation. A once-prosperous forest stripped of its lush greenery by human hands, only splintered wood and dust remain. Through his journey, Gawain (Dev Patel) is greeted by similar, if not entirely equal imagery, constantly evocative of mankind's awkward, unwanted presence within the natural world. One year prior, the Green Knight (Ralph Ineson) approached King Arthur (Sean Harris) and his Knights of the Round Table, conjured up by Gawain's mother, Morgan Le Fay (Sarita Choudhury), seeking a participant for his Christmas Game. Should one of Arthur's knights land a blow against him, the knight shall receive his mighty axe, but must seek him out exactly one year later to receive an equal blow in return. When Gawain, reluctant to accept though eager to bring honor to his name, agrees to the Green Knight's terms, the humanoid creature only drops his axe and lowers his head to reveal an oaken neck, offering it to Gawain freely. Naturally, Gawain succeeds, but at what cost? The Green Knight retrieves his head and rides off into the night. Gawain understands he cannot do the same. Foliage sprouts in the stone cracks on the hall floor where the Green Knight's blood has been spilt. David Lowery's The Green Knight is a modern reckoning with a medieval fable. It's a haunting, confounding, surprisingly erotic fantasy epic; a confrontation between man and nature, nature and religion, man and himself. Adapted from the anonymously authored Arthurian poem Sir Gawain and the Green Knight, Lowery's austere yet spellbinding take on the simple 14th century legend evokes the same questions as the original work, interrogating the cost of one's life for the sake of one's honor when there is only certainty that they will die. "Greatness? Why is goodness not enough?" pleads Esel (Alicia Vikander), Gawain's lover, a sex worker, whom he holds at arm's length. But the film and Gawain's quest carry a message that stretches far beyond the fantastical world of King Arthur, one about humanity's inherent frailty in the face of far-reaching environmental destruction and what gods they have foolishly chosen in place of nature. Obscurities are what anchor The Green Knight as Lowery leans into the ambiguity that defines the original text and replaces it with his own equally mystifying visual interpretations. By blending his abstract sensibilities seen in 2017's A Ghost Story with the grand fantasy of his live-action Pete's Dragon, Lowery has crafted a breathtaking, titillating adaptation of folklore with a denouement that carries real-world weight.—Brianna Zigler
---
5. The FabelmansRelease Date: November 25, 2022
Director: Steven Spielberg
Stars: Gabriel LaBelle, Michelle Williams, Paul Dano, Seth Rogen, Judd Hirsch, David Lynch
Rating: PG-13
Runtime: 151 minutes


Embodied by Sammy Fabelman (Gabriel LaBelle), Spielberg's story is one of sacrifice and selfishness—at least, that's how he tells it as a man in his mid-70s, wistfully looking back. Structured to simultaneously track his relationship with movies and his parents' relationship with each other, The Fabelmans' memoir flickers and jumps. Its drama is deeply intimate and the vignettes well-remembered. Whether Sammy is played by the young Mateo Zoryon Francis-DeFord (perhaps the biggest- and bluest-eyed child to have ever lived) and recreating The Greatest Show on Earth with toy trains, or by LaBelle, whose snide teenage edge makes the prodigy relatable, he has the same dissociation and intimacy to the events and people around him as a filmmaker does to his subjects. Even as a child, Sammy is both the main character of his life and the orchestrator of others'. Except for his parents. Mitzi (Michelle Williams) and Burt (Paul Dano), the pianist and the computer pioneer. Their separation would influence some of America's biggest blockbusters, but how they approached their own callings would dig even deeper under their first child's skin. Williams, often dressed in ethereal whites and always on the cusp of succumbing to the vapors, embodies artistry set aside for family—suppressed in a way that is slowly killing her. Mitzi's a flashing warning light as red as her fingernails and lips. Don't bottle up your needs, creative or romantic, or it'll lead to heartbreak. Dano stuffs his feelings just as deeply, burying them beneath Burt's professional achievements: Innovation and ambition dictating the life of his family, keeping the trivialities that make it worth living at arm's length. He's as serious as the short-sleeves and ties that NASA employees wore getting us to the Moon, but with enough geeky giddiness that it's easy to forgive him. At least he's doing what he loves. One of The Fabelmans' greatest pleasures is its devotion to the filmmaking process and its playful relationship to putting that process through the paces. Sammy, running off to his room after another hard day of growing up, finds the same beauty in his snapshots of the everyday as we do when Spielberg presents them to us throughout Sammy's life. A procession of delinquent shopping carts, blown through the intersection by a tornado. Sammy's tipsy mom dancing in the headlights, her translucent nightgown revealing her to her children, seated around the campsite's fire, as a woman. These are the images that make up a life, the touchstone sounds (rattling, misaligned wheels on asphalt) and shadows (the dark curves of leg beneath gauzy fabric) that linger over the decades. As Sammy discovers—-on his own and with conversations with his sister (Julia Butters), bully (Sam Rechner) and two scene-stealing old-timers of the industry (Judd Hirsch's great-uncle Boris and David Lynch's phenomenal John Ford)—observing your own life not just as someone living it, but as an artist intent on using it, is a lonely way to go. But sometimes you don't have a choice. There is a terrible cost to dedicating your life to something, an understanding that everything and everyone else is inherently bumped down on your list of priorities. Even in The Fabelmans' most meandering digressions, Spielberg is reckoning with the central contradiction of his medium. How can someone who sweats over his own memories, frame by frame, be at a remove from them? How can someone be anything but a perfectionist workaholic when they know they're shutting out their loved ones in favor of their craft? It'd be disrespectful to those left behind if you gave your art anything but your best shot. The Fabelmans makes the bargain look painful, self-centered and utterly joyful—a genius embracing his regrets and in so doing, reminding us of how lucky we are that we all pay some version of this price, for ourselves and for one another.—Jacob Oller
---
6. Pig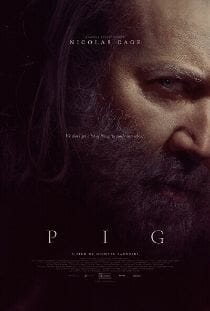 Year: 2021
Director: Michael Sarnoski
Stars: Nicolas Cage, Alex Wolff, Adam Arkin
Rating: R
Runtime: 92 minutes


In the forest outside Portland, a man's pig is stolen. Rob (Nicolas Cage) is a witchy truffle forager that we learn used to be a chef—a Michelin-starred Baba Yaga, a gastronomical Radagast—who sells his pig's findings to sustain his isolated life. What follows is not a revenge thriller. This is not a porcine Taken. Pig, the ambitious debut of writer/director Michael Sarnoski, is a blindsiding and measured treatise on the masculine response to loss. Featuring Nicolas Cage in one of his most successful recent permutations, evolving Mandy's silent force of nature to an extinct volcano of scabbed-over pain, Pig unearths broad themes by thoroughly sniffing out the details of its microcosm. The other component making up this Pacific NW terrarium, aside from Rob and the golden-furred Brandy's endearingly shorthanded connection, is the guy Rob sells his truffles to, Amir. Alex Wolff's tiny Succession-esque business jerk is a bundle of jagged inadequacies, and only Rob's calloused wisdom can handle such prickliness. They're exceptional foils for one another, classic tonal opposites that share plenty under the surface of age. Together, the pair search for the pignapping victim, which inevitably leads them out of the forest and back into the city. There they collide with the seediest, John Wick's Kitchen Confidential kind of industry underbelly you can imagine, in a series of standoffs, soliloquies and strange stares. It's a bit heightened, but in a forgotten and built-over way that feels more secret than fantastic. The sparse and spacious writing allows its actors to fill in the gaps, particularly Cage. Where some of Cage's most riveting experiments used to be based in manic deliveries and expressionistic faces, what seems to engage him now is the opposite: Silence, stillness, realist hurt and downcast eyes. You can hear Cage scraping the rust off Rob's voice, grinding the interpersonal gears much like the dilapidated truck he tries (and fails) to take into town. Wolff, along with much of the rest of the cast, projects an intense desperation for validation—a palpable desire to win the rat race and be somebody. It's clear that Rob was once a part of this world before his self-imposed exile, clear from knowing gazes and social cues as much as the scenarios that lead the pig-seekers through basements and kitchens. Part of Pig's impactful, moving charm is its restraint. It's a world only hinted at in 87 minutes, but with a satisfying emotional thoroughness. We watch this world turn only slightly, but the full dramatic arcs of lives are on display. A sad but not unkind movie, and certainly not a pessimistic one, Pig puts its faith in a discerning audience to look past its premise.—Jacob Oller
---
7. The Paper Tigers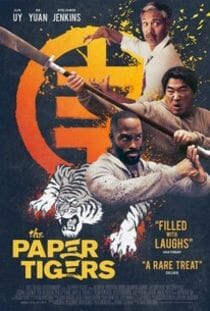 Year: 2021
Director: Bao Tran
Stars: Alain Uy, Ron Yuan, Mykel Shannon Jenkins, Roger Yuan, Matthew Page, Jae Suh Park, Joziah Lagonoy
Rating: PG-13
Runtime: 108 minutes


When you're a martial artist and your master dies under mysterious circumstances, you avenge their death. It's what you do. It doesn't matter if you're a young man or if you're firmly living that middle-aged life. Your teacher's suspicious passing can't go unanswered. So you grab your fellow disciples, put on your knee brace, pack a jar of IcyHot and a few Ibuprofen, and you put your nose to the ground looking for clues and for the culprit, even as your soft, sapped muscles cry out for a breather. That's The Paper Tigers in short, a martial arts film from Bao Tran about the distance put between three men and their past glories by the rigors of their 40s. It's about good old fashioned ass-whooping too, because a martial arts movie without ass-whoopings isn't much of a movie at all. But Tran balances the meat of the genre (fight scenes) with potatoes (drama) plus a healthy dollop of spice (comedy), to similar effect as Stephen Chow in his own kung fu pastiches, a la Kung Fu Hustle and Shaolin Soccer, the latter being The Paper Tigers' spiritual kin. Tran's use of close-up cuts in his fight scenes helps give every punch and kick real impact. Amazing how showing the actor's reactions to taking a fist to the face suddenly gives the action feeling and gravity, which in turn give the movie meaning to buttress its crowd-pleasing qualities. We need more movies like The Paper Tigers, movies that understand the joy of a well-orchestrated fight (and for that matter how to orchestrate a fight well), that celebrate the "art" in "martial arts" and that know how to make a bum knee into a killer running gag. The realness Tran weaves into his story is welcome, but the smart filmmaking is what makes The Paper Tigers a delight from start to finish.—Andy Crump
---
8. Red Rocket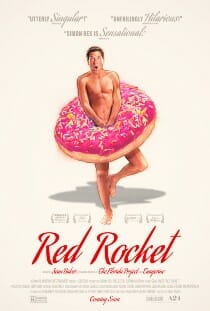 Release Date: December 10, 2021
Director: Sean Baker
Stars: Simon Rex, Bree Elrod, Suzanna Son, Brenda Deiss, Ethan Darbone, Judy Hill
Rating: R
Runtime: 128 minutes


A wave of early aughts nostalgia immediately saturates Red Rocket, Sean Baker's latest exploration of echt-Americana, by way of NSYNC's eternal hit "Bye Bye Bye," which blares as Mikey Saber (Simon Rex) disembarks a bus arriving in his Texas hometown. Unfortunately for Mikey, this wave is the same one that washes him up here. Having left his small Gulf Coast town to pursue adult film acting in Los Angeles 20 years prior, his return is essentially admitting defeat. But Mikey appears anything but embittered, a spring in his step as he walks through the desolate streets despite his precarious position. Portrayed with beguiling (though at times disagreeable) levity by Rex, Mikey is the center of Baker's most complex character study to date—all while maintaining the director's focus on power dynamics, American disillusionment and those on the margins of society (albeit with an added air of compelling moral ambiguity). With no means to secure honest work or cash unemployment checks as an out-of-state resident, Mikey falls back into his old gig of selling weed for local supplier Leondria (Judy Hill), who is equally baffled by his return. Nearly entrenched in a period of regression, Mikey becomes deeply enamored with a 17-year-old cashier at The Donut Hole named Strawberry (Suzanna Son)—pulling him out of his plan to rekindle his relationship with his wife, vying instead to utilize the young girl as his ticket back into the sex industry. While this description makes it easy to write Mikey off as an irredeemably slimy creep, Rex brings an impenetrable air of endearing himboism to the role that makes it absolutely impossible to hate Mikey—a performance indicative of Rex's indelible talent. The actor's vulnerability when it comes to revealing a shameless showbiz sensibility while bearing (fore)skin is inextricably tethered to Rex's own adult film past and integration into VJ-stardom and Scary Movie sequel stints. It imbues the film with the sort of docu-style realism Baker perpetually strives for, only this time choosing to depict an individual who straddles, crosses and distorts his own position of power. By way of candid humor, a magnetic performance from Rex and Baker's careful attention for authenticity, Red Rocket is a sympathetic profile of a porn star past his prime. In spite of his sleazy nature, Mikey Saber is an enchanting character whose pride (and relative privilege) shields him from the relative shambles of his surroundings, both on hyperlocal and national planes. Yet Mikey is hilarious and heartfelt by way of his shortcomings: Sometimes, disreputable people are the funniest, sweetest and sexiest ones out there—and isn't that just wonderful?—Natalia Keogan
---
9. Judas and the Black Messiah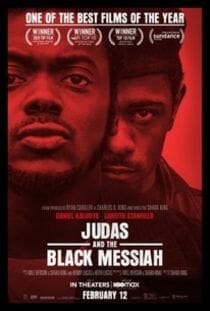 Year: 2021
Director: Shaka King
Stars: Daniel Kaluuya, Lakeith Stanfield, Jesse Plemons, Dominique Fishback, Ashton Sanders, Darrell Britt-Gibson, Lil Rel Howery, Algee Smith, Martin Sheen
Rating: R
Runtime: 126 minutes


"Not all skinfolks are kinfolks" is an idiom used colloquially among Black people to address the fact that although they share a racial identity and corresponding experiences of racism, intracommunal ideas regarding the path to Black liberation are seldom synchronous. Furthermore, white supremacy's propagation of capitalist individualism as the default social framework positions Black collective action as an inherent threat to the United States of America. Director Shaka King centers all these tensions in his brilliant film Judas and the Black Messiah, a historical drama tinged with dazzling shades of caramel and crimson that documents the FBI's calculated assassination of noted Black Panther Fred Hampton (Daniel Kaluuya). When car thief Bill O'Neal (LaKeith Stanfield) is caught impersonating a federal officer, FBI agent Roy Mitchell (Jesse Plemons) offers him an ultimatum: If O'Neal helps the Feds infiltrate the Black Panther Party and offers intel on their tactics, he can evade a substantial prison sentence and be handsomely compensated for his cooperation. As O'Neal immerses himself into the world of the Black Panthers, his commitment to his own self-interest is pressured by the Panthers' communitarianism and radical politics. Judas and the Black Messiah superbly centralizes the betrayal of the informant's Judas figure as he operates as a nexus between the Panthers and J. Edgar Hoover (Martin Sheen)'s FBI, while also amplifying the experiences of the messianic Hampton and his fellow prominent Panthers portrayed by the film's impressive ensemble cast. While I would love to see Kaluuya take on a leading role in which he at no point has to fight for his life (Get Out, Widows, Black Panther, Queen & Slim) he is an exemplary Fred Hampton. EX-EM-PLA-RY. From the head tilt to the Chicagoan cadence to the emotive gaze, Kaluuya manages to embody Hampton's physicality and voice without falling into the trap of pure mimicry or impressionism. This is no small achievement especially considering the dearth of Hampton's fictionalized portrayals. On the other side of things, Stanfield sinks into O'Neal's paranoia and shivering soul in a way that simultaneously prompts reasonable disgust towards the character and intermittent bouts of empathy. Understanding that Black liberation can not move at the speed of white supremacist comfort is the price of mental and emotional admission to this film. As it should be. Judas and the Black Messiah remarkably fashions a world in which O'Neal's behaviors are contextualized through the ethos of America's institutions, and one where the efforts of Hampton and the Panthers are given abundant space to be boldly witnessed.—Adesola Thomas
---
10. The Matrix Resurrections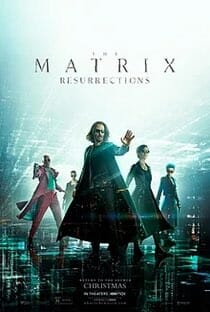 HBO Max Release Date: Dec. 22, 2021
Director: Lana Wachowski
Stars: Keanu Reeves, Carrie-Anne Moss, Yahya Abdul-Mateen II, Jessica Henwick, Jonathan Groff, Neil Patrick Harris
Rating: R
Runtime: 147 minutes


As excitingly fresh and ambitious as The Matrix was in its approach to cyberpunk cinema in 1999, The Matrix Resurrections is just as devoted to its bold and disruptive vision in 2021. By returning us to Neo (Keanu Reeves), Trinity (Carrie-Anne Moss) and the Matrix within a framework keyed into, amused with and ultimately intrigued by remake/reboot culture, Resurrections is a stimulating and often joyous meta narrative—all stuffed into a conventional enough sci-fi suit and tie to pass as Mr. Anderson for those happily horking down blue pills. This clever commentary comes packaged as the life of ol' grown-up Thomas Anderson (Reeves), famed programmer living off his revolutionary-yet-fleeting videogame, The Matrix. Anderson is seeing a therapist for that nagging splinter in his mind—and we get the impression that the hot mom he's been bashfully eye-banging at his local coffee joint, Tiffany (Moss), might suffer a similar affliction. They need saving, which requires going back down the rabbit hole and confronting their shared past. To reunite, to find that old magic, to resurrect, they—and the movie—need to jump through some hoops. But, as it does, you begin to see its stance towards itself shifting: What once was an easy joke, a Super Bowl commercial where Neo puts on some VR gear and says "Woah," villainizes that same crassness to become an optimistic and reclamatory piece of sci-fi playing with new and relevant phenomena (fandom, auteur expectation, canon, the idolization of IP) just as the original trilogy played with the burgeoning cyberpunk and hacker scene. Bugs and her real-world crew are really into The One. How they relate to this new Matrix, how the citizens of Zion live, how the uneasy relationship between machines and humans turned out post-Revolutions (or, to be even more specific, post-The Matrix Online)—we get glimpses of it all, but it's not servicing fans. It's in service of itself. It is a shift from corporate pessimism (the very analysis and identification of which and other themes like it are lovingly mocked in that same montage-heavy opening) to a subversive positivity. Returning characters don't just need to be callbacks. Twisty hallways or underground brawls can be more than reference material. There is value in looking back as long as that experience moves you forward. At its best, which is mostly when Reeves and Moss share the screen and their red-hot chemistry and intimate warmth are able to embody these abstractions, Resurrections leaps from staggering heights and confidently soars. Sometimes literally.—Jacob Oller
---
11. The Wolf of Snow Hollow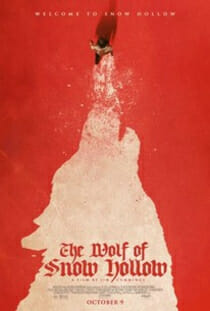 Year: 2020
Director: Jim Cummings
Stars: Jim Cummings, Robert Forster, Riki Lindhome, Chloe East, Jimmy Tatro, Kevin Changaris, Skyler Bible, Demetrius Daniels
Rating: R
Runtime: 83 minutes


Snow Hollow police officer John Marshall (Cummings) unsteadily balances Alcoholics Anonymous meetings with the travails of raising his teen daughter, Jenna (Chloe East), looking after his ailing father, Hadley (Forster), maintaining diplomatic relations with his ex, and keeping a lid on his volcanic temper. When a woman (Annie Hamilton) is torn to shreds on a weekend visit to John's ski resort hometown, just moments before her boyfriend (Jimmy Tatro) planned to propose to her, John stretches to his limits and beyond in his pursuit of the killer, who everyone concludes with baffling swiftness is a werewolf rather than a man. His peers' and subordinates' stumblebum character and the ass-backwardness of Snow Hollow itself act like gasoline as is. The consensus that the town is under attack from a mythical creature is the straw that makes the vein in John's neck go taut with anger. The Wolf of Snow Hollow lands in the space where horror and humor meet, mining laughter in mourning and custody battles. Cummings' laughs are the sort that signal discomfort: His punchlines are razor sharp, which make the movie's surrounding unpleasantries go down more easily. Watching a policeman get physical with anybody who sufficiently pushes his buttons induces squirms. When fellow officer Bo (Kevin Changaris) accidentally says too much about the murders in front of reporters, John calls him over to a snowbank and starts smacking the poor schmuck around, a moment that would tip over into pure darkness without the aid of a lighthearted soundtrack and the slapstick of their scuffle. Regardless, the point is made: John's on edge, and his edge is surprisingly amusing. The wry, snappy banter gives The Wolf of Snow Hollow a prickly skin, and the restrained application of FX gives it tension. At just under 80 minutes, that economy is key. It's not so much that the horror is elevated as controlled. But rather than clang with the innate savagery of the werewolf niche, Cummings' command over his material gives the film a certain freshness. He tames the monster in the man so that the man is all that's left, for better and for worse. John isn't perfect, but an imperfect man need not be a beast.—Andy Crump
---
12. M3GANRelease Date: January 6, 2023
Director: Gerard Johnstone
Stars: Allison Williams, Violet McGraw, Amie Donald, Jenna Davis, Ronny Chieng, Brian Jordan Alvarez, Jen Van Epps
Rating: PG-13
Runtime: 102 minutes


Long before M3GAN hit theaters, the film's titular cyborg, who can best be described as a mashup of Renesmee from Twilight (if she was a raging sadist) and a yassified Baby Annette, became a viral sensation. Somewhat miraculously, M3GAN manages to live up to its spectacular advertising. (Though in retrospect, this new triumph in horror camp shouldn't be that surprising, as Malignant's James Wan and Akela Cooper, AKA the people who gave us this scene just last year, co-wrote the film). After losing both of her parents in a tragic car accident, young Cady (Violet McGraw) moves in with her aunt Gemma (Allison Williams), a toy company roboticist partially responsible for PurrpetualPetz: Stuffed animals that have human-like teeth and, among other things, take shits. Realizing she is not equipped to care for a youngster, Gemma makes it her mission to finish building M3GAN—or Model 3 Generative Android—a robot designed specifically to be your child's most loyal BFF. Soon enough, M3GAN starts to take her "protect Cady at all costs" programming a little too literally (who could've seen that coming?), resulting in a string of darkly comical sequences of violence—one of which may or may not involve the talking doll zealously wielding a nail gun. M3GAN is more than just another solid entry into this horror subgenre. I might even be so bold as to say that it is horror's newest camp classic, and M3GAN one of the greatest horror icons of recent years. M3GAN, somewhat miraculously, perfects the horror-comedy tone, able to consistently toe the line of too silly—from M3GAN's passive-aggressive, condescending and sickly sweet timbre (nailed by Jenna Davis, the "penny nickel dime" girl from Vine), to her raggedy blonde wig—without ever actually crossing it. M3GAN's most impressive feat, at the end of the day, is that it gives us cinematic sickos exactly what we want without sacrificing greatness in the process. And yes, what we want is a breakdancing, murderous doll. Is that such a crime?—Aurora Amidon
---
13. Ad Astra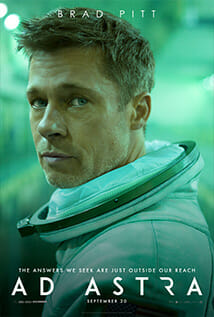 Year: 2019
Director: James Gray
Stars: Brad Pitt, Tommy Lee Jones, Ruth Negga
Rating: PG-13
Runtime: 124 minutes


Brad Pitt plays Roy McBride, an astronaut from a "future near to ours," who, when we meet him, is somehow surviving an explosion from an international space station by using his preternatural ability to control his heart rate and his breathing, remaining calm in the face of mortal peril. The explosion was caused by a series of solar flares that, it's learned, may be caused by an experiment years before led by Roy's father, Griffin (Tommy Lee Jones), who was thought to have died but may be alive and in fact may have sabatoged the mission. Government officials, fearing the flares could end up destroying all life on planet Earth, want Roy to send a message to Griffin's ship, hopefully persuading him to halt the flares and come back home. Roy, who hasn't seen his father since he was a teenager, isn't sure the mission's going to work…but he's haunted by his own demons, demons not entirely disconnected from his father. If this sounds like an exciting space yarn, know that director James Gray is in a much more meditative state here: The film is more about the mystery of the soul of man than it is about the mystery of the universe, or even about some big spaceship fights. The universe is the backdrop to the story of a man and his thwarted issues with his father, and his inability to connect with anyone else in the world because of it. Like many of Gray's films, Ad Astra is about the depths one can find within oneself, how far down anyone can climb and hide. Pitt wouldn't seem like the ideal actor for a part like that—charisma drips off him so effortlessly that it leaves a trail behind him wherever he goes—but he's impressive at playing a man who doesn't understand himself but suspects the answer to the riddle that has vexed him his whole life must be in this man who gave him life but whom he never really knew. There's a reserve here that Pitt draws on that works well for him; it's a serious performance, but it never feels showy. He is searching for something, knowing full well he probably won't find it. Gray does provide some thrills on the journey of father to find son, and they are extremely well-crafted, particularly a battle with space pirates on the moon that takes place in a world without both gravity and sound. And in Pitt he has a solid emotional center that the audience will still follow anywhere, even if it's to the ends of the solar system just to confront his daddy issues. —Will Leitch
---
14. F9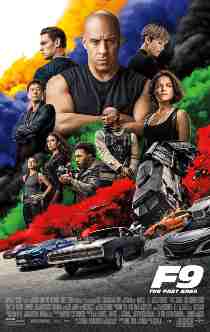 Year: 2021
Director: Justin Lin
Stars: Vin Diesel, Michelle Rodriguez, Tyrese Gibson, Ludacris, John Cena, Nathalie Emmanuel, Jordana Brewster, Sung Kang, Charlize Theron
Rating: PG-13
Runtime: 143 minutes


This latest entry marks the return of director Justin Lin, who helped guide the series' evolution from Tokyo Drift to Fast & Furious 6, and while he struggles with how unwieldy F&F has become, his undeniable understanding of what makes these movies tick keeps the film roaring along. Lin's still adding new characters and twists to this high-octane telenovela as often as prefixes, retconning deaths and introducing long-lost brothers as easily as he moves from simply defying physics to defying astrophysics—as easily as he turned street-racing spies into globe-trotting superspies. The crew, including the newly domestic Dom and Letty, is pulled back into the world of…whatever it is they do…once again and their impossible mission (which they always choose to accept) has to do with another globally destructive techno-MacGuffin and a globally destructive flesh-MacGuffin: Dom's younger brother Jakob (John Cena), excommunicated from the family for sins that become apparent over the course of extensive flashbacks. As Dom's uneasy relationship with Jakob becomes clear—over the course of explosion-laden jungle races, rooftop chases and posh sitting room brawls—F9's knowing relationship with its own cartoonishness balances it out. One of the funniest gags sees Tyrese Gibson's Roman openly speculating if he and the rest of the crew have plot armor. Are they actually invincible? The gang realizing that they're all in a movie seems like it could honestly be the next step, with them turning their cars towards the camera and bursting out of the fiction like Daffy Duck in Duck Amuck. While both come too late in the film for my taste (leaving much of the film hanging on how pleased you get seeing the admittedly amusing returns of Sung Kang and Lucas Black), two innovations keep F9 on the cutting edge of ridiculous action: Magnets and rockets. But such winning ideas, timed as they are to energize a relatively dramatic entry like last-minute nitro boosts, have a hard time standing out amidst the meandering plot and the narrative's bevy of cameos. Perhaps the most telling way in which you can tell that F9's action is a little underwhelming is that the standout moment from the film is purely dramatic. A shockingly well-directed "life flashing before your eyes" sequence allows Diesel to undersell a bevy of emotions through little more than a lemon-pursed mouth, while Lin spins his past, present and future around him. It's not a great standalone entry into the Fast canon, but as the franchise speeds towards its finish line, it's still satisfying to know that it's in the hands of someone well-versed in the series' strengths and still willing to imagine new ways to crash its toys into each other.—Jacob Oller
---
15. Knives Out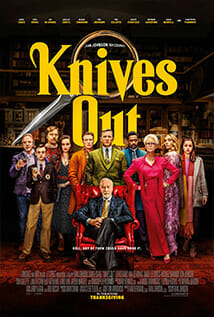 Year: 2019
Director: Rian Johnson
Stars: Ana de Armas, Daniel Craig, Chris Evans, Jamie Lee Curtis, Michael Shannon, Don Johnson
Rating: PG-13
Runtime: 130 minutes


Knives Out is the type of movie that's not so much a dying breed as one that just occurs uncommonly "in the wild." Hollywood seems to release a new take on the classic (i.e., Agatha Christie-imprinted) murder mystery "who dunnit"—where an eccentrically mannered detective attempts to figure out who amongst a roomful of suspects has committed murder most foul—every five-to-10 years. For most viewers, the pleasures of such movies go beyond trying to figure out the killer before the detective does—there's also typically a star-studded cast chewing up the scenery. Beyond dependable Christie fare like Death on the Nile (1978) and Murder on the Orient Express (2017), there's Clue (1985), Gosford Park (2001) and now Rian Johnson's Knives Out. Johnson's latest starts out in classic who-dunnit fashion—acclaimed mystery writer Harlan Thrombey (Christopher Plummer) is found dead by apparent suicide the night after gathering his family together and delivering a series of unpopular messages. Enter the local police (led by Lakeith Stansfield's Det. Lt. Elliott) and eccentrically mannered (there we go!) private detective Benoit Blanc (Daniel Craig). Suspects are interrogated. Secrets are revealed. Then, right as the viewer is gearing up to lay some Sherlock Holmes/Hercule Poirot/Encyclopedia Brown-level discernment on all this, Johnson reveals what happened to the elder Thrombey. This flips the entire experience for the viewer, as they go from trying to figure out what happened to wondering if the truth will be discovered. Much as he did with Dashiell Hammett-style noir in his debut, Brick, Johnson shows both a reverence for and a willingness to tinker with the tropes and formula underpinning his story. It's all delightful to watch. If, ultimately, Knives Out accomplishes what it sets out to do—which might sound like faint or even damning praise with another film or in another genre—here it's meant as the sincerest of plaudits. —Michael Burgin
---
16. X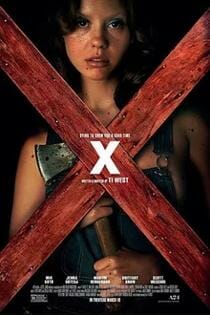 Release Date: March 18, 2022
Director: Ti West
Stars: Mia Goth, Jenna Ortega, Martin Henderson, Brittany Snow, Owen Campbell, Stephen Ure, Scott Mescudi
Rating: R
Runtime: 106 minutes


X is a remarkable and unexpected return to form for director Ti West, a decade removed from an earlier life as an "up and coming," would-be horror auteur who has primarily worked as a mercenary TV director for the last 10 years. To return in such a splashy, way, via an A24 reenvisioning of the classic slasher film, intended as the first film of a new trilogy or even more, is about the most impressive resurrection we've seen in the horror genre in recent memory. X is a scintillating combination of the comfortably familiar and the grossly exotic, instantly recognizable in structure but deeper in theme, richness and satisfaction than almost all of its peers. How many attempts at throwback slasher stylings have we seen in the last five years? The answer would be "countless," but few scratch the surface of the tension, suspense or even pathos that X crams into any one of a dozen or more scenes. It's a film that unexpectedly makes us yearn alongside its characters, exposes us (graphically) to their vulnerabilities, and even establishes deeply sympathetic "villains," for reasons that steadily become clear as we realize this is just the first chapter of a broader story of horror films offering a wry commentary on how society is shaped by cinema. Featuring engrossing cinematography, excellent sound design and characters deeper than the broad archetypes they initially register as to an inured horror audience, X offers a modern meditation on the bloody savagery of Mario Bava or Lucio Fulci, making old hits feel fresh, timely and gross once again. In 2022, this film is quite a gift to the concept of slasher cinema. —Jim Vorel
---
17. Infinity PoolRelease Date: January 27, 2023
Director: Brandon Cronenberg
Stars: Alexander Skarsgård, Mia Goth, Cleopatra Coleman, Jalil Lespert
Rating: R
Runtime: 117 minutes
Heartbeats and cumshots are the alpha and omega of Brandon Cronenberg's vacation in White Lotus hell, where the tourists loosen their collars and let loose their lizard brains. The limbic system and the most basic biological processes of life dominate Infinity Pool, the filmmaker's descent into a slimy, sexy, terrifying world where death is just another game for rich people. It's a hit-and-run satire of Western nonsense, dismantling the havoc our destination-hopping upper-crust wreaks on other cultures and the faux-mystical enlightenment hawked by gurus and Goop fools—those too wealthy to have real problems, those aspiring to achieve this status, and those taking lucrative advantage of both. In this tropical trial, they spill into each other, forever and ever. Ego death has nothing on Brandon Cronenberg's brilliantly warped resort. The dangled, juicy lure isn't subtle: A seemingly normal couple being approached by weird (probably swinging) Europeans always leads to trouble. We'd be fools not to be suspicious of Gabby (Mia Goth) and Al (Jalil Lespert) when they come up to their estranged hotel-mate couple James (Alexander Skarsgård) and Em (Cleopatra Coleman). One of them is played by Mia Goth, which is a sure sign to hightail it back to your room and flip the "do not disturb" sign. But James is a novelist, with one bad book to his name (The Variable Sheath, a fantastic fake title) that only got published because he married the rich publisher's daughter. Gabby's proclaimed fandom strokes the part of his ego that's all but shriveled up and crumbled to dust—he's weak, he's hungry for it, he's the perfect mark. When the white folks inevitably do something irreversibly horrible to the locals of Li Tolqa, their unprepared alienation in their culture is disturbingly hilarious. They don't speak the language, and can't read the forms the cops ask them to sign. But it's stranger than that. Brilliant production design, location scouting and cinematography lock you into a late-night freakout. Getting too deeply into what exactly happens in Infinity Pool is like outlining the recirculating edge of its title's horizon-flouting construction. It won't take away from its pleasures, but you can't really understand until you're in it. Until Cronenberg drives you down an unlit backroad, long enough that you start wondering if you're dreaming or awake. But what's clearest in this gallows comedy is that its characters exist. The people who think they've solved reality, the conceited class with the luxury of being horny for death, because death has never been real to them. Infinity Pool's inspired critique of this crowd is fierce and funny, its hallucinations nimble and sticky, and its encompassing nightmare one you'll remember without needing to break out the vacation slideshow.—Jacob Oller
---
18. Those Who Wish Me Dead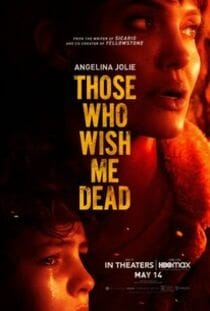 Year: 2021
Director: Taylor Sheridan
Stars: Angelina Jolie, Nicholas Hoult, Finn Little, Aidan Gillen, Medina Senghore, Tyler Perry, Jake Weber, Jon Bernthal
Rating: R
Runtime: 100 minutes


There are few things about a thriller that get me more excited than realizing the movie doesn't rely on complicated plot MacGuffins, but on a fully realized setting and characters that either make their home or find themselves helpless there. From writer/director Taylor Sheridan, Those Who Wish Me Dead is one of those thrillers—and those two elements, setting and character, are two that Sheridan is most capable with. Based on Michael Koryta's 2014 novel of the same name, the film's rock-solid survival story is enhanced by its charming ensemble and striking, elegant environment. This simplified adaptation (which Koryta co-wrote with Sheridan alongside Charles Leavitt) thrusts good and evil together with the same easy confidence of a corral shootout. A forensic accountant (Jake Weber, playing a pretty badass accountant but not a The Accountant-level badass) and his son, Connor (Finn Little) are on the run. Why? Well, the most we get is that Connor's dad found out something pretty damn incriminating and those incriminated are none too happy. "What did you do?" Connor asks. All he really gets by way of answer is, "The right thing." Quickly, that hard ol' reality sets in that the right thing might not be the consequence-free thing it's cracked up to be. It's all carried by its cast, and Angelina Jolie is its best member. She plays Hannah, whom Connor stumbles into in the middle of the forest after Plan A is jettisoned for B. A smokejumper (basically like if a regular firefighter was in Point Break) with PTSD, Hannah was left guilt-ridden and shaken after a particularly awful wildfire. It also left her stuck in a dead-end assignment: All alone on watch duty, high above the forest in an isolated fire tower. Among the other visual feats pulled off by Ben Richardson (Sheridan's cinematographer on Wind River and Yellowstone, who recently helped Mare of Easttown "[render] our small, collective suffering in stark shapes") is the height, lonesomeness and awe of this skyward sentry, far above the verdant treetops. Ensembles collide, ricochet and tangle as Those Who Wish Me Dead builds its brutal if expected thrills, and it's near impossible to look away. It's the dense woodland, the savvy character work, the moral core that's both optimistic and pessimistic enough to sustain its modern-day white and black hats. It pulls off the kind of complexity and aesthetic cohesion that Without Remorse and Sicario: Day of the Soldado (Sheridan's latest screenplay works) so sorely lack. Gripping and intelligent, Those Who Wish Me Dead is revitalizing.—Jacob Oller
---
19. Scream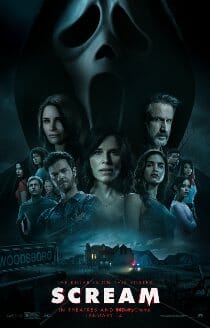 Release Date: January 14, 2022
Director: Matt Bettinelli-Olpin, Tyler Gillett
Stars: Neve Campbell, Courteney Cox, David Arquette, Melissa Barerra, Jack Quaid
Rating: R
Runtime: 120 minutes


Among many things that ended up winning me over about Radio Silence directing group members Matt Bettinelli-Olpin and Tyler Gillett's Scream, the main one was that—like its predecessors—it understood how we were going to feel about it before we even got to see it. It knew that I would be torn about its existence. And that, folks, just scratches the surface on why the new Scream, in all its meta-for-a-modern-time goodness, is the best installment since the Wes Craven original. The fifth installment—which takes place 25 years after the original—doesn't hold back when it comes to analyzing the inner workings of a classic reboot down to the bones. Scream has always been a franchise for film lovers—and it's never been afraid to be meta as hell, as meta as it needed to be to get its point across. Big questions are raised and left in the air to hang: Are we really just the monsters we create? Are we the monsters that created us, and do we have to be? What is so toxic about loving something with everything you have and wanting it to stay good? Like you'd expect from the franchise, it doesn't necessarily offer answers to those questions, but the fact that it poses them at all feels right. It is a welcomed dimension to the films that highlights the larger themes that have come into play as the Woodsboro legacy has aged. Sure, the gags about elevated horror and getting back to the roots of slashers, the film trivia, the dedication to the craft of movies—it's all part of the show. But it's the fifth movie, and really, why make it if not to send a love letter to the fans?—Lex Briscuso
---
20. The Northman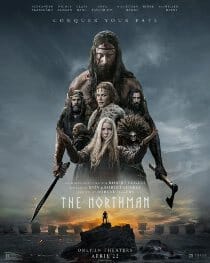 Release Date: April 22, 2022
Director: Robert Eggers
Stars: Alexander Skarsgård, Nicole Kidman, Claes Bang, Anya Taylor-Joy, Ethan Hawke, Willem Dafoe, Björk
Rating: R
Runtime: 140 minutes


Forged in flame and fury, Robert Eggers' The Northman is an exquisite tale of violent vengeance that takes no prisoners. Co-written by Eggers and Icelandic poet Sjón (who also recently co-wrote A24's Icelandic creature feature Lamb), the film is ever-arresting and steeped in the director's long-standing penchant for period accuracy. Visually stunning and painstakingly choreographed, The Northman perfectly measures up to its epic expectations. The legend chronicled in The Northman feels totally fresh, and at the same time quite familiar. King Aurvandill (Ethan Hawke) is slain by his brother Fjölnir (Claes Bang), who in turn takes the deceased ruler's throne and Queen Gudrún (Nicole Kidman) for his own. Before succumbing to fratricide, Aurvandill names his young son Amleth (Oscar Novak) as his successor, making him an immediate next target for his uncle's blade. Narrowly evading capture, Amleth rows a wooden boat over the choppy waters of coastal Ireland, tearfully chanting his new life's mission: "I will avenge you, father. I will save you, mother. I will kill you, Fjölnir." Years later, Amleth (played by a muscular yet uniquely unassuming Alexander Skarsgård) has distinguished himself as a ruthless warrior among a clan of Viking berserkers, donning bear pelts and pillaging a series of villages in a furious stupor. The Northman is an accessible, captivating Viking epic teeming with the discordant, tandem force of human brutality and fated connection. Nevertheless, it's worth mentioning that the film feels noticeably less Eggers-like in execution compared to his preceding works. It boasts a much bigger ensemble, seemingly at the expense of fewer unbroken takes and less atmospheric dread. In the same vein, it eschews the filmmaker's interest in New England folktales, though The Northman does incorporate Eggers' fascination with forestry and ocean tides. However, The Northman melds the best of Eggers' established style—impressive performances, precise historical touchstones, hypnotizing folklore—with the newfound promise of rousing, extended action sequences. The result is consistently entertaining, often shocking and imbued with a scholarly focus. It would be totally unsurprising if this were deemed by audiences as Eggers' definitive opus. For those already enamored with the director's previous efforts, The Northman might not feel as revelatory as The Witch or as dynamic at The Lighthouse. What the film lacks in Eggers' filmic ideals, though, it more than makes up for in its untouchable status as a fast-paced yet fastidious Viking revenge tale. The Northman is totally unrivaled by existing epics—and perhaps even by those that are undoubtedly still to come, likely inspired by the scrupulous vision of a filmmaker in his prime.—Natalia Keogan
---
21. Raya and the Last Dragon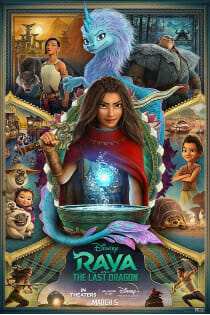 Year: 2021
Director: Don Hall, Carlos López Estrada
Stars: Kelly Marie Tran, Awkwafina, Izaac Wang, Gemma Chan, Daniel Dae Kim, Benedict Wong, Sandra Oh, Thalia Tran, Lucille Soong
Rating: PG
Runtime: 107 minutes


From its intricate and exciting swordplay to its detailed depiction of styles and cultures underutilized by the House of Mouse, Raya and the Last Dragon is one of Disney's better action-adventures. Its first foray into a Southeast Asian environment blends its traditional "princess" movies with a trial-hopping quest like Kubo and the Two Strings. Raya (Kelly Marie Tran), after a youthful tragedy leaves her father (Daniel Dae Kim) turned to stone and her land fractured, must hop from community to community—gathering up the pieces of a magical gem and new quirky team members—so that Sisu (Awkwafina), the last dragon, can depetrify everyone and put the world right. There's a well-meaning but sloppily implemented lesson from writers Qui Nguyen and Adele Lim about trust at the film's heart, explained almost like an argument for nuclear disarmament—basically, mutual animosity won't improve if nobody's willing to take the first step. But it's all just an excuse really, to take us through some of the best environmental work of Disney's 3D era and some of its best fight sequences ever. A muddled but bold finale keeps Raya from being a tour de force, but it's still worth taking a tour through Kumandra.—Jacob Oller
---
22. Nomadland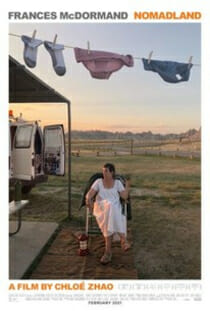 Year: 2020
Director: Chloé Zhao
Stars: Frances McDormand, David Strathairn, Linda May, Swankie, Bob Wells
Rating: R
Runtime: 108 minutes


A devastating and profound look at the underside of the American Dream, Chloé Zhao's Nomadland turns Jessica Bruder's non-fiction book Nomadland: Surviving America in the Twenty-First Century (and some of its subjects) into a complex folk song about survival, pride and the beauty of getting by on the open road. Focusing on older Americans who've somehow either abandoned or been forced from stationary traditional homes into vans and RVs, the film contemplates all that brought them to this point (an ugly, crammed Amazon warehouse looms large over the movie's otherwise natural landscapes and sweeping vistas) and all that waits for them now that they're here. Some of Bruder's sources make appearances in the film, threatening to steal the show from the fictional Fern (Frances McDormand) at every turn—and McDormand turns in one of the best performances of the year. That's just how honest and compelling Linda May and Swankie are. As the migrating community scatters to the wind and reconvenes wherever the seasonal jobs pop up, Zhao creates a complicated mosaic of barebones freedom. It's the vast American landscape—a "marvelous backdrop of canyons, open deserts and purple-hued skies" as our critic put it—and that mythological American promise that you can fend for yourself out in it. But you can't, not really. The bonds between the nomads is a stiff refutation of that individualistic idea, just as Amazon's financial grip over them is a damnation of the corporation's dominance. Things are rough—as Fern's fellow travelers tell campfire tales of suicide, cancer and other woes—but they're making the best of it. At least they have a little more control out here. The optimism gained from a reclaimed sense of autonomy is lovely to behold (and crushing when it comes into conflict with those angling for a return to the way things were), even if its impermanence is inherent. Nomadland's majestic portrait puts a country's ultimate failings, its corrupting poisons and those making the best of their position by blazing their own trail together on full display.—Jacob Oller
---
23. In the Heights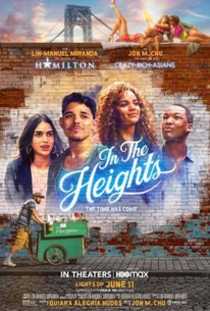 Year: 2021
Director: Jon M. Chu
Stars: Anthony Ramos, Corey Hawkins, Leslie Grace, Melissa Barrera, Olga Merediz, Daphne Rubin-Vega, Gregory Diaz IV, Jimmy Smits
Rating: PG-13
Runtime: 143 minutes


In 2018, director Jon M. Chu imbued the standard rom-com plot of his Crazy Rich Asians adaptation with classical Hollywood decadence, hanging it all on a framework of well-constructed cultural specificity. It was big, spectacular and embarrassingly novel for an American movie of its kind. Now, in 2021, we're getting Chu's version of In the Heights, the musical that put Lin-Manuel Miranda on the map (and won him his first Tony). It's incredible. The exciting electricity of a non-white blockbuster cast becoming superstars before your eyes, the maximalist style of a modern smash updating its influences, the intertwining of hyper-specific and broad themes—Chu's strengths and his cast soar, bringing In the Heights as high as it's ever been. It's the best Hollywood musical in years. Tracking a few sweltering days in New York's Washington Heights, the film meshes Do the Right Thing's hot summer tension with School Daze's teasing affection for its song-slinging genre. It just so happens that the corner we're on is the collision point for the intersecting lives and romances of two couples—bodega boss Usnavi (Anthony Ramos) and aspiring designer Vanessa (Melissa Barrera), and dispatcher Benny (Corey Hawkins) and recent Stanford dropout Nina (Leslie Grace)—who serve as the neighborhood's most vocal examples of those that life's rigged lottery left putting their patience and faith in a daily scratcher. There's no real pivotal struggle (especially not between Sharks and Jets, though wouldn't it be incredible if Steven Spielberg's West Side Story gave 2021 two great NYC musicals?) aside from the ever-present and myriad anxieties of Nth generation Americans living in a racist country. Yes, those familiar with the themes of Miranda's Hamilton will find a similar rhythm and thematic flavor here—though with the showtunes' style slipping into a salsa or bolero as easily as the rap bars dip in and out of Spanish—but with a purity of form and meaning that's lyrical critiques and observations are even sharper than those mired in the phenomenon's historical metaphor. In fact, almost all the songs are bangers that keep emotions high—you'll weep, you'll cheer, you'll hum the songs to yourself on the way out of the theater—bolstered by orchestration that, while restrained when limited to its lovers, explodes when the choruses finally incorporate the neighborhood at large. Head-bobbing bops and moving melodies match rhythmic editing and a vibrant, fittingly populous background that's constant choreography sustains the perpetual, organic flow of a community. In the Heights is great, and its greatness is amplified by the joy that it will inspire in theaters full of people for years to come.—Jacob Oller
---
24. Everything Everywhere All At Once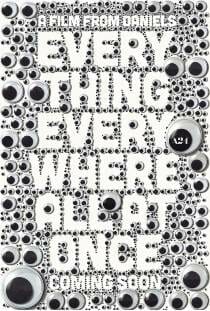 Release Date: March 25, 2022
Director: Daniel Kwan, Daniel Scheinert
Stars: Michelle Yeoh, Stephanie Hsu, Ke Huy Quan, James Hong, Jamie Lee Curtis, Jenny Slate, Harry Shum Jr.
Rating: R
Runtime: 146 minutes


Everything Everywhere All At Once follows Evelyn Wang (Michelle Yeoh), a jaded, middle-aged laundromat owner who may or may not be involved in some minor tax fraud. Her tedious, repetitive life is thrown into total pandemonium, however, when her husband, Waymond (Ke Huy Quan)—or at least a version of him—alerts her to the existence of the multiverse on the elevator ride to an IRS meeting. He then explains that a powerful villain named Jobu Tupaki is in the process of constructing a universe-destroying force that only Evelyn has the ability to stop. And so Evelyn reluctantly plunges headfirst into the multiverse. The facts: There are an infinite number of universes that exist simultaneously, containing just about anything you could possibly imagine. The rules: To acquire different skills, you must picture a universe in which you inhabit that skill, whether it be inhumanly strong pinky fingers or a mastery of knife-fighting. (If you can think it up, it exists.) What follows, then, are roughly 140 frenetic minutes filled to the brim with dense, complex science, colorful setpieces and scenes that feel like they've been pulled straight out of dreams far too abstract to describe. As you can probably gather, Everything is not dissimilar to its title—and a lot to wrap your head around. If all this sounds intimidating (which, let's be honest, how could it not?), rest assured that Everything is grounded by an effortlessly simple emotional throughline. Indeed, the film contains as much emotional maturity as it does cool concepts and ostentatious images (yes, including a giant butt plug and raccoon chef). At its core, it is a story about love and family, carried by the dazzling Yeoh in a subtle and unsentimental performance. Where Everything's emotional throughline is Evelyn's relationship with her family, its visual thread manifests as a series of hypnotic, vertiginous action sequences, choreographed like a ballet by Andy and Brian Le. As a bonus, these sequences recall Yeoh's iconic role in Ang Lee's wuxia film Crouching Tiger, Hidden Dragon. The directors do not shy away from the use of dizzying flashing lights, or rapidly shifting light sources that disorient the viewer. They also aren't afraid to implement over-the-top images, like a person's head exploding into confetti or a butt-naked man flying in slow-motion toward the camera. At the same time, movement between 'verses feels seamless through Paul Rogers' meticulous editing, as does the effortless fashion in which different aspect ratios melt into one another. If Everything Everywhere All at Once can be boiled down to one, simple question, it would be reflexive of its own title: Can you really have everything everywhere all at once? Whatever the characters' answers end up being (I'll let you discover that on your own), I am certain that the Daniels would say yes, of course you can.—Aurora Amidon
---
25. Top Gun: Maverick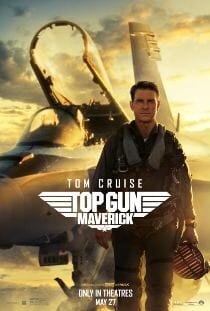 Release Date: May 27, 2022
Director: Joseph Kosinski
Stars: Tom Cruise, Jenifer Connelly, Miles Teller, Jon Hamm, Monica Barbaro, Ed Harris, Val Kilmer, Jay Ellis, Glen Powell, Lewis Pullman, Danny Ramirez, Greg "Tarzan" Davis
Rating: PG-13
Runtime: 137 minutes


Not quite four years since Mission: Impossible—Fallout and much of Tom Cruise's purpose remains the same—if it hasn't exactly grown in religious fervor. In Top Gun: Maverick, the sequel to Tony Scott's 1986 original, Cruise is Captain Pete "Maverick" Mitchell, a man trapped in the past, refusing to advance his career as resolutely as he refuses to do much of anything besides continue to prove he's the greatest pilot in the world—a title the film never forgets to remind the audience that Maverick earned long ago—and mourn his best friend, Goose (Anthony Edwards), who died 35 years ago in an accident for which Maverick still feels responsible. Tom Cruise is also, simply, "Tom Cruise," the only notable show business scion left to throw his body into mind-numbing danger to prove that it can be done, to show a younger generation that this is what movies can be, what superstars can do. Must do. The more modern action films teem with synthetic bodies bursting apart at the synthetic seams, the more Tom Cruise builds his films as alters upon which to splay his beautiful sacrificed flesh. To that end, Joseph Kosinski is the precisely correct director to steer Cruise's legacy sequel. As was the case with Kosinski's Tron: Legacy, Maverick seems to exist to justify its existence, to update an IP that seems to only work in the past. For Top Gun this means translating Scott's vision of sweat-drenched beach volleyball and unmitigated military spectacle into a soberer IMAX adventure, moving from the halcyon days of Reagan's America to a world with no more need of a man like Maverick. "The future's coming, and you're not in it," he's told; every one of his superior officers appears to have no patience for him left. One can't help but imagine that every new Tom Cruise vehicle is a way for him to reckon with that. Kosinski's dogfights are pristine, incredible feats of filmmaking, economical and orbiting around recognizable space, but given to occasional, inexplicable shocks of pure chaos. Then quickly cohering again. If Scott's action was a melange of motion never meant to fully cohere, keeping the American dream just that, then Kosinski is dedicated to allowing the audience a way into the experience. With his regular cinematographer Claudio Miranda, he revels in symmetry to keep the audience tethered. A wide glimpse of a dogfight in total, resembling a beach scene earlier, so suddenly appeared silently in the vast theater and unlike anything I'd ever really seen before, I gasped.—Dom Sinacola
---
26. The Father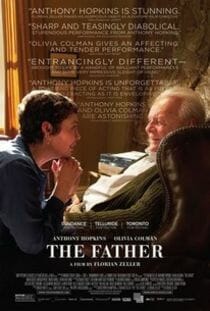 Year: 2021
Director: Florian Zeller
Stars: Anthony Hopkins, Olivia Colman, Rufus Sewell, Mark Gatiss, Imogen Poots
Rating: PG-13
Runtime: 97 minutes


The best line reading Anthony Hopkins gives during his monumental performance in Florian Zeller's The Father comes in the film's final scene, which is both a blessing and a king bummer. All anyone should want to do is live in that reading, sit awestruck at how Hopkins puts a name to the one thing that can assuage his character's anguish and stare grief-stricken in the knowledge that the one thing he needs is the one thing he can't have. The entire movie is an exercise in heartache, but it's this final piece of dialogue that punctuates the drama preceding it and finally releases the suffering roiling under its surface. Hopkins' character, also named Anthony, spends most of The Father fighting for his independence like a wolf cornered by hunters, stubbornly refusing to accept his clear mental deterioration and the need for professional help. His daughter Anne (Olivia Colman) has, as the picture opens, tried and failed several times over to find him a caregiver he'll take to—and given her announced intention to relocate to Paris, her search has gained in urgency. Anthony isn't pleased at her news. In fact, as they sit in his well-appointed London flat together, he gives her the business, expressing his opinion of her life plans with his canines bared. He's not happy. But deep down, in the parts of him that remain self-aware, he's mostly just afraid. Zeller has adapted The Father from his own award-winning play Le Père, and though he's left the material of the script untouched, he's transitioned to his new medium with subtle enhancements: Cinematographer Ben Smithard uses his lens as a screw gun, putting up figurative walls around Zeller's cast in addition to the literal walls of the set. Visual claustrophobia compliments spatial claustrophobia, trapping the viewer in the flat and, far more importantly, in Anthony's crumbling psyche. A simple open-concept apartment becomes labyrinthine through his point of view, and that's before supporting characters begin to wander about its halls and loiter in its doors, in and out of his perception, assuming they were even there to begin with. Similar to how the characters are there to serve Anthony, the supporting cast is there to serve Hopkins. The stage belongs to him. What he does with it is something special, an unmissable performance from an actor with a filmography loaded with them.—Andy Crump
---
27. Nope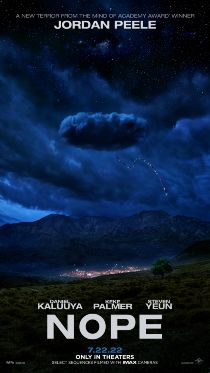 Release Date: July 22, 2022
Director: Jordan Peele
Stars: Daniel Kaluuya, Keke Palmer, Steven Yeun
Rating: R
Runtime: 130 minutes


Among his most amusing directorial quirks, Jordan Peele appreciates the melodrama of a good biblical citation: 2019's killer doppelgänger vehicle Us tirelessly invokes Jeremiah 11:11 and his latest effort Nope opens with Nahum 3:6: "I will cast abominable filth upon you, make you vile, and make you a spectacle." It's that last clause which perfuses Nope, a shrewd, tactile yarn about a brother-sister rancher duo in pursuit of video evidence of a UFO circling their home. Though Peele routinely prods at the Hollywood machine and its spectacles, here he unlades it all: Image-making as brutality, catharsis, posterity, surveillance, homage, indulgence. Six months after a freak accident killed their father, siblings OJ (Daniel Kaluuya) and Emerald Haywood (Keke Palmer) have taken over "Haywood's Hollywood Horses," Agua Dulce's intergenerational horse-wrangling business which specializes in equine showbiz. Working in beautiful contradistinction, Kaluuya plays OJ as stoic and reticent—the true older brother type—and Palmer's Emerald is prodigiously magnetic and full of puckish chatter. After a series of strange happenings—blackouts, agitated horses, pained noises emanating from the canyons—OJ observes what appears to be a flying saucer gliding through the inky night sky. The next day he spots a cloud that doesn't move an inch. Suspecting a connection between the saucer and their father's death, OJ and Emerald enlist the help of gawky, unstable techie Angel (Brandon Perea) and renowned documentarian Antlers Holst (Michael Wincott, excellent rasp) to obtain proof of the UFO, with intent to profit off of the footage. In a sense, the Haywoods want to make a movie. This is Peele rescripting the American film canon, asking what it means to engage with such an exclusionary medium. Shot in IMAX by Dutch cinematographer Hoyte Van Hoytema—a Christopher Nolan regular, responsible for the slick, beautified landscapes of Interstellar, Dunkirk and Tenet—Nope configures a world of sweeping, dusty landscapes and bloodied dwellings. Steven Spielberg is less a point of reference here than he is the emotional roadmap. The Close Encounters of the Third Kind comparisons write themselves, but notionally, Nope is more like Jaws in the sky. Parts neo-Western, family drama, sci-fi and cosmic horror, Nope sees Peele balance more throughlines here than ever before: Aliens, Muybridge revisionism, undigested grief, chimpanzee carnage, a punctilious documentarian chasing the impossible. Nope is indisputably one for Peele—a spectacle in the least derogatory sense; a palimpsest of nostalgic blockbusters and Peele's deservedly self-assured vision of Hollywood's future; but mostly, a solution to and an undertaking of modernity.—Saffron Maeve
---
28. Zola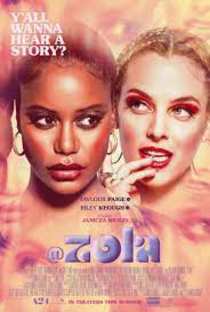 Release Date: June 30, 2021
Director: Janicza Bravo
Stars: Taylour Paige, Riley Keough, Nicholas Braun, Colman Domingo
Rating: R
Runtime: 90 minutes


A'Ziah "Zola" King's ultra-viral Tweet thread—AKA The Story AKA The Thotessy AKA Dante's Infern-ho—about stripping, sex trafficking and the dangers of braving the surreal and nearly mythological land of Florida with a white girl you barely know, has it all. It's hilarious and disturbing, with characters noble, treacherous and pathetic, damning voyeurism while encouraging our participation and spectatorship. The social media saga is also a treatise on storytelling. It's been embellished, deleted and reposted after the dark comedy inherent in the compelling truth was honed for an audience—an evolving epic poem, technologically modernized. Naturally, writer/director Janicza Bravo had her work cut out for her when turning its garish and nightmarish weekend into a film. But she responds in kind, adding in her own tweaks and retellings to heighten the fable. Zola maintains its source's compelling magic, transforming us from rubberneckers to spellbound participants along for the wildest cinematic road trip of the year. In less capable hands, Zola could've been a movie of morbid fascination. But Bravo, who adapted her sophomore feature alongside Jeremy O. Harris, embraces the secondhand spontaneity of the vibe while immersing us in the humanity of its participants. We're rarely looking at them, as can happen during the sleazy Floridian spectacle of Spring Breakers, but going through it with them. Sometimes that means empathizing with Zola (Taylour Paige) and Stefani (Riley Keough) when they're feeling themselves, taking selfies in the strip club dressing room. Sometimes that means chuckling sadly when Stefani's boyfriend Derek (Nicholas Braun, whose clueless giant schtick gets a Malibu's Most Wanted coat of paint) brags to a stranger in an empty liquor store that they're in town "making shmoney." But the shmoney ain't for nothin' and these chicks ain't free, as the next days spiral from a simple strip trip to a messy collision between culture vultures, warring sex traffickers and an ever-increasing desire to get the hell home. Zola continues the fairy tale evolution of King's story, passing the rich text on with the same outrageous spirit—a level of respect most adaptations only aspire to.—Jacob Oller
---
29. The Last Duel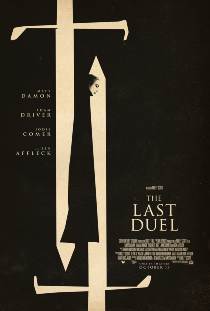 Release Date: October 15, 2021
Director: Ridley Scott
Stars: Ben Affleck, Matt Damon, Jodie Comer, Adam Driver, Harriet Walter, Alex Lawther
Rating: R
Runtime: 152 minutes


To tell a story that's been told before, Ridley Scott's The Last Duel does something a little familiar, and a little different. His medieval epic based on the book of the same name by Eric Jager—concerning the last judicial duel of France—is conveyed across three chapters. In a narrative device easily comparable to Rashomon, another film which details the conflicting accounts surrounding a rape, the script (co-penned by stars Matt Damon and Ben Affleck alongside Nicole Holofcener), sends us back to the beginning three times. The Last Duel retreads the path already taken, but each occasion with a different guide. In some instances, diplomatic actions become violent ones, off-handed glances become indicative of deceit, relationships drastically change, words take on different meanings, and the world is suddenly observed as if we were seeing it for the very first time. Which is why, when we are introduced to the knight Jean de Carrouges (Damon), we come face-to-face with a grizzled, esteemed war hero. He charges into a brutal battle and valiantly hacks away at the enemy forces. Spears enter chests, viscera is sliced, blood sprays to near-comical effect. The squelching of flesh, cracking of bones and clanging of metal is amplified by the film's impeccable sound design, battle sequences defined by the kineticism of Dariusz Wolski's camerawork. In this first chapter, we see the world as Carrouges sees it, and it's a world where he is a respected fighter and dutiful husband who has been wronged by his former friend, and who expresses compassion and swift wrath against the man who committed the sin of rape against his young wife, Marguerite de Carrouges (Jodie Comer). But as the narrative shifts over, we understand that this is not entirely true. Carrouges is perceived as something of a dimwitted blowhard in the eyes of Jacques le Gris (Adam Driver), former friend to Carrouges on the battlefield and squire to Count Pierre d'Alençon (Affleck). Pierre d'Alençon and his squire are infamous womanizers, engaging in orgies and gossiping about how much they hate Jean de Carrouges (which is often funny just by sheer virtue of Affleck and Damon's real-life friendship). Of course, Marguerite's chapter provides the most conclusive account of the story, articulating a life lived only at the whims of men. And in the eyes of Marguerite, Carrouges is nothing but a brute she was forced to love, and le Gris is a lustful freak to whom she is only superficially attracted. The character is handled elegantly by Comer, who carries Marguerite with composure masking the ubiquitous glint of terror in her eyes; the quivering yet entirely routine fear of a person whose personhood has been rendered negligible from birth. It is simple to dub Scott's film a medieval take on #MeToo, and, well, OK, it is. It's an easily applicable, overtly modern allegory about the implications of coming forward on charges of sexual assault—how women can be just as complicit in the pervasion of rape culture as men are in perpetrating it, and how the costs of saying anything at all can be so dire that it is not worth saying anything at all. But these are things we already know. Such commentary has been done to death at this point, and frequently in ways which come across as tone-deaf and trite. Instead, Damon, Affleck and Holofcener have penned a skilled illustration of how men see the world differently, and how rape culture is born out of these lived-in blind spots. The decision to tell the 150-minute story through three separate ones not only begets a stunningly compelling narrative that allows for multi-layered characters, but it's a gimmick that gets to the very heart of what the film is trying to say: When men fundamentally see the world in opposition to women, and when that world is then attuned to their whims, there can be only one truth. Ridley Scott directing a grand, riveting medieval epic that doubles as an analysis of gender dynamics might be unexpected, but The Last Duel manages to effortlessly combine Scott's action sensibilities with an empathetic thread between the past and present.—Brianna Zigler
---
30. No Time To Die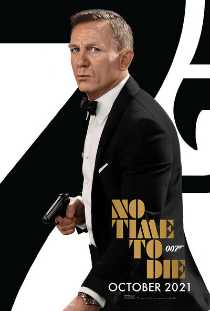 Release Date: October 8, 2021
Director:Cary Joji Fukunaga
Stars: Daniel Craig, Lea Seydoux, Rami Malek, Ben Whishaw, Lashana Lynch, Naomie Harris, Ralph Fiennes, Jeffrey Wright, Ana de Armas, Christoph Waltz
Rating: PG-13
Runtime: 163 minutes


It's telling that Craig's swan song No Time to Die being the longest Bond ever, at a superhero-sized 163 minutes, probably won't inspire as much public self-flagellation as the leaner, meaner Quantum. No Time to Die is neither lean nor mean; it's a hard-working attempt to reconcile the Bond rituals with a series-finale emotional weight that these movies have been accumulating (with mixed success) since 2006. Apparently, that reconciliation process takes time: Director Cary Joji Fukunaga (or, more likely, Eon Productions, the tight-gripped caretakers of the Bond franchise) is so unwilling to drop either aspect of this opus that it often feels like two movies in one, both feature-length. So pronounced is the movie's two-track approach that many of its story elements feel doubled: The opening sequence is a bit of creepy, horror-tinged backstory for Lea Seydoux's Madeleine Swann (first introduced in the half-lackluster Spectre) and a big Bond action sequence jostling him out of retirement. It feels like 30 minutes before the opening titles finally roll. Then, after those credits, it's five years later, and the movie gives us a whole other Bond retirement, this time in Jamaica rather than Italy. If it seems like the characters, locations and plot turns keep on coming, and that it's impossible to keep from mentioning the other Craig Bonds that have preceded it, that's very much the experience of watching No Time to Die—and not always unpleasantly. If you can accept a saga-fication of Bond, with callbacks and plot threads and interconnections, it's, at minimum, less of a Forever Franchise than the endlessly self-teasing superhero mythologies (ironic, given that this is the most forever of franchises). This movie really does want to tie the extended Craig era—longest in years, though not in total output—together. Despite the craft on display, No Time to Die lacks pantheon-level Bond action sequences. Cuba is terrific fun, Fukunaga stages a solid late-movie one-take stairwell fight and the big/delayed opener delivers. But the movie is more concerned with the human stuff, a decision that's by turns hubristic, heartening and unprecedented. (Well, not entirely. On Her Majesty's Secret Service tried something different, and the filmmakers show their belated appreciation for that once-maligned Bond classic here.) The emotional weight it's trying to foist onto its loyal audience doesn't always feel earned, just because it's tricky to parse what, if anything, the movie is actually trying to say about a James Bond who has spent the majority of five movies beginning and ending, sometimes on a loop. Yet fans may welcome the chance to watch the series struggle against its conventions: Are these performances good, for example, or are all the good guys just beautiful? Is this movie visually sumptuous or was it just shot on film? Has James Bond been deepened, or just weathered? As neatly as No Time to Die wraps up, its certainty is ultimately limited to the last line of the credits: James Bond Will Return. How is another question altogether.—Jesse Hassenger