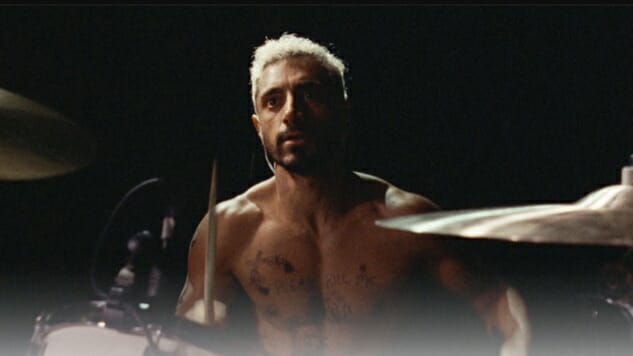 Ruben Stone (Riz Ahmed) is challenged by his rehab sponsor: Sit in a room completely silent. If you're unable to do that, write about what's going through your mind. As a recovering addict and blossoming rockstar, this is difficult to do by itself. But with Ruben's rapidly deteriorating hearing, he fears the silence like no other. The Darius Marder-directed Sound of Metal explores a musician's struggle with identity due to his new disability. An experiment of sound design paired with a stellar lead performance makes for a captivating film.
Along with his girlfriend, Lou (Olivia Cooke), Ruben co-leads the metal band Blackgammon. They travel to gigs in their Winnebago and bond over the open road. Ruben loses his hearing in a sudden way, causing concern. Afraid, he goes to an audiologist to discover his hearing loss is pretty advanced. Concerned about his sobriety being in jeopardy from the shocking news, Lou convinces Ruben to go to a community retreat for the deaf. While there, he balances the warring feelings of living to learn and love himself as a deaf person while wishing for his old life.
Befitting the movie's subject matter, Sound of Metal relies on its sound design to further dramatize Ruben's struggle. When Ruben first loses his hearing, sound becomes muffled. This continues throughout the film, with the occasional change from muffled to un-muffled. This makes for a captivating aural experience for the audience, immersing them in Ruben's journey in a way visuals alone could not achieve. When we move into the second half of the film, the sound pivots again, this time becoming more distorted. The decision to convey limited hearing by messing with the viewer's own ability to understand and hear what's going on is a risky one, but it pays off.
This approach to sound design—and the subject matter in general—also allows the film to celebrate the use of ASL. Now living with other deaf folks at the retreat he's attending, Ruben quickly has to learn sign language to navigate. The dinner table where the retreat members sit is full of expression and excitement, all with no words spoken. Seeing the retreat members communicate with each other all with ASL is another memorable moment in the film, both engaging and warm.
But the sound design wouldn't be as impactful if there wasn't a character who reacts against what the audience is experiencing. As Ruben, Ahmed demonstrates yet again why he's leading man material, delivering a performance that is both vivacious and heartbreaking.
Boasting a solid story about profound loss, a knockout performance by Ahmed, and award-worthy sound design, Sound of Metal cuts through the clutter. But most importantly, it does so by prioritizing the deaf/hard-of-hearing community through its hiring of deaf talent, its use of deaf consultants and having captions throughout the film. Marder's film is the kind of film that could've easily gone in the wrong direction (for all the right reasons). Instead, it sticks the landing.
Director: Darius Marder
Writer: Abraham Marder, Darius Marder
Starring: Olivia Cooke, Riz Ahmed, Lauren Ridloff, Mathieu Amalric, Paul Raci
Release Date: September 6, 2019 (TIFF)
---
Joi Childs is a brand marketer and film/TV critic. Born and Raised in NYC, she loves writing and talking about the intersection of marketing and nerd-dom. Her work has appeared at The Hollywood Reporter, The Verge, Okayplayer, and many other outlets. Follow her on social media to keep up with her great adventures in cinema and more.