New on Starz: All the Movies and TV Coming in February
Image via 20th Century Fox
Movies
Features
Starz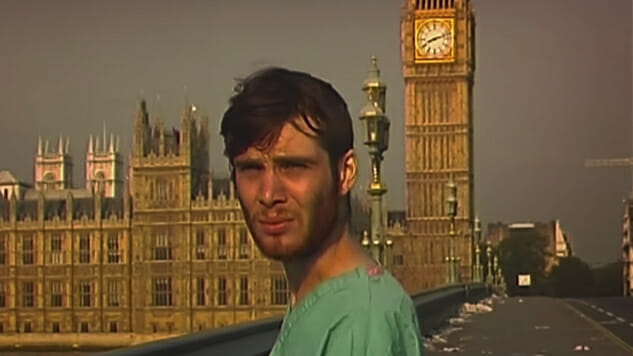 The new year is already moving quicker than it has any right to, which is to say we're well on our way to the first page off the 2019 calendar. With that transition comes a fresh batch of film and television titles on their way to the Starz library, which we've outlined for you below.
The highlights of Starz's February slate fall mostly on the movies side, where the pay-cable channel is adding two of the best zombie movies ever made to its streaming library starting on Feb. 1. Those include Danny Boyle's 28 Days Later, the nerve-shredding 2002 thriller starring Cillian Murphy as a lone survivor struggling to survive in a zombie-apocalyptic London, and Edgar Wright's 2004 horror-comedy Shaun Of The Dead, the first in his Cornetto Trilogy, which saw Simon Pegg, Nick Frost and friends team up to take on zombies from the comfort of their neighborhood tavern. Arriving alongside that dynamic duo on the first of the month are titles like Alfonso Cuarón's stellar Children of Men adaptation, Steven Soderbergh's Julia Roberts-starring Oscar winner Erin Brockovich, Tim Burton's stop-motion passion project Frankenweenie, 2003 rom-com classic Love Actually, Oscar-winning Ray Charles biopic Ray, Patrick Swayze-starring beat-'em-up Road House, Cameron Crowe's 1989 romantic dramedy Say Anything… and late-'70s Burt Reynolds/Sally Field classic Smokey And The Bandit. Films to follow later in the month include Disney-Pixar Oscar winner Brave (Feb. 2), acclaimed animated Rapunzel reimagining Tangled (Feb. 2), Alexander Payne's Jack Nicholson-starring dramedy About Schmidt (Feb. 3), George Miller's original 1979 Mad Max (Feb. 8), John Hughes/John Candy comedy Uncle Buck (Feb. 8), a pair of Pixar sequels in Cars 2 and Toy Story 3 (Feb. 9), Joe Wright's Oscar-winning Atonement adaptation (Feb. 16), 2012 animated franchise first Wreck-It Ralph (Feb. 16) and 2018 horror flop Slender Man (Feb. 23), among others.
The pickings are decidedly slimmer in TV, though Starz is adding several new episodes of an acclaimed original series, as well as of a handful of noteworthy licensed shows sure to invoke some serious '80s nostalgia. Debuting on Feb. 1 are episodes of animated Dr. Seuss family series The Cat In The Hat Knows A Lot About That! (eps. 211-308), '80s superhero cartoon He-Man And The Masters Of The Universe (eps. 138-138, 141, 258-265), South Florida-set cop classic Miami Vice (eps. 401-413), Colombian comedy Polvo Carnavalero (eps. 101-138) and He-Man spinoff She-Ra: Princess of Power (eps 150, 153-156). Following later in the month are episodes of David Hasselhoff-starring cop/car team-up Knight Rider (ep. 411-413) (Feb. 8), suspense thriller Rig 45 (eps. 101-106) (Feb. 22), mech-battling '80s animated series Voltron: Defender of the Universe (eps. 101-114, 131-132) (Feb. 22) and Golden Globe-nominated 1965 Western The Big Valley (eps. 201-218). We've saved the best for last: J.K. Simmons-starring Starz original series Counterpart, which we at Paste have called "one of the most complicated and beautiful spy shows on TV," continues its second season in February, with episodes 208, 209 and 210 airing on Feb. 3, 10 and 17, respectively.
While you're here, be sure to take note of what Starz is losing in the month to come, as well: 2017 supernatural-action sequel Underworld: Blood Wars (Feb. 8), George Clooney starrer The American (Feb. 15), acclaimed family-dramedy Captain Fantastic (Feb. 25) and horror franchise finale Resident Evil: The Final Chapter (Feb. 27) all depart the Starz streaming library next month. Most of February's losses fall on Feb. 28, though, including cop action-comedy Bad Boys, Ang Lee's Oscar-winning martial-arts jaw-dropper Crouching Tiger, Hidden Dragon, iconic Tim Burton drama Edward Scissorhands, Steven Spielberg's iffy Peter Pan adventure Hook, 1969's original, Michael Caine-starring The Italian Job, essential Mike Judge-directed workplace comedy Office Space, Joe Dante's millennial-beloved action-comedy Small Soldiers and 2001's all-timer of a comedy Wet Hot American Summer.
Take stock of everything coming to and leaving Starz in February below.
WHAT'S NEW ON THE STARZ APP – FEBRUARY 2019
AVAILABLE FEBRUARY 1
28 Days Later (2002)
Bio-Dome (1996)
Black Mama, White Mama (1972)
Bleach: Memories Of Nobody (2006)
Border Brigands (1935)
Bustin' Loose (1981)
Children Of Men (2006)
Cop Land (1997)
Death Warrant (1990)
Duck, You Sucker (1971)
Duplex (2003)
Erik The Viking (1989)
Erin Brockovich (2000)
Flawless (1999)
Frankenweenie (2012)
Fx (1986)
Fx II (1991)
Goin' South (1978)
Hoodlum (1997)
Hurricane, The (1999)
I Am Ali (2013)
InuYasha the Movie: Affections Touching Across Time (2001)
Inuyasha: The Castle Beyond The Looking Glass (2002)
Jade (1995)
Joe Louis Story, The (1953)
Love Actually (2003)
Mermaids (1990)
Mimic (1997)
Mimic 2 (2002)
Mimic 3: Sentinel (2003)
Odd Life Of Timothy Green, The (2012)
Prelude To A Kiss (1992)
Prom (2011)
Ragtime Cowboy Joe (1940)
Ray (2004)
Real McCoy, The (1993)
Road House (1989)
Say Anything…(1989)
Serendipity (2001)
Shaun Of The Dead (2004)
Smokey And The Bandit (1977)
Support Your Local Sheriff! (1968)
Villaviciosa De Al Lado (2016)
Winnie The Pooh (2011 )
"The Cat In The Hat Knows A Lot About That!" – Episodes 211-308
"He-Man And The Masters Of The Universe" – Episodes 136-138, 141, 285-265
"Miami Vice" – Episodes 401-413
"Polvo Carnavalero" – Episodes 101-138
"She-Ra: Princess of Power" – Episodes 150, 153-156
AVAILABLE FEBRUARY 2
Brave (2012)
Tangled (2010)
When In Rome (2009)
AVAILABLE FEBRUARY 3
"Counterpart" – Episode 208
About Schmidt (2002)
AVAILABLE FEBRUARY 8
"Knight Rider" – Episodes 411-413
Andromeda Strain, The (1970)
Boundaries (2018)
Day Of The Bad Man (1957)
Day They Hanged Kid Curry, The (1971)
Dead Again (1991)
Fountain, The (2006)
Gridlock'd (1996)
Into The Badlands (1991)
Mad Max (1979)
Mercury Rising (1998)
Most Wanted (1997)
Roommate, The (2011)
Sanctum (2010)
Searching For Bobby Fischer (1993)
Tales From The Darkside: The Movie (1990)
Teen Wolf (1985)
Teen Wolf Too (1987)
Uncle Buck (1989)
Undefeated, The (1969)
AVAILABLE FEBRUARY 9
Cars 2 (2011)
Toy Story 3 (2010)
AVAILABLE FEBRUARY 10
"Counterpart" – Episode 209
AVAILABLE FEBRUARY 11
Scotty And The Secret History Of Hollywood (2018)
AVAILABLE FEBRUARY 15
American Ninja (1985)
American Ninja 2: The Confrontation (1987)
American Ninja 3: Blood Hunt (1989)
American Ninja 4: The Annihilation (1990)
Ballad Of Josie, The (1967)
Bride Of Chucky (1998)
Bug (1975)
Chimpanzee (2012)
Chronicles Of Riddick: Dark Fury, The (2004)
Club Paradise (1986)
Cutthroat Island (1995)
Ella Enchanted (2004)
Four Guns To The Border (1954)
Judgment Day (1999)
King Ralph (1991)
Last Song, The (2010)
Law And Order (1953)
Mars Needs Moms (2011)
Missing In Action (1984)
Missing In Action 2: The Beginning (1984)
Modern Problems (1981)
Raiders, The (1964)
Ride (2018)
Ride Back, The (1957)
Seed Of Chucky (2004)
Unsaid, The (2001)
Visions (2014)
AVAILABLE FEBRUARY 16
Atonement (2007)
Gnomeo & Juliet (2011)
Wreck-It Ralph (2012)
AVAILABLE FEBRUARY 17
"Counterpart" – Episode 210
AVAILABLE FEBRUARY 20
Happening Of Monumental Proportions, A (2017)
AVAILABLE FEBRUARY 22
"Rig 45" – Episodes 101-106
"Voltron: Defender of the Universe" – Episodes 101-114, 131, 132
Ace High (1969)
Border River (1953)
Bratz (2007)
Conrack (1974)
Guns Of The Magnificent Seven (1968)
Howard The Duck (1986)
Justice (2017)
Last Hard Men, The (1976)
Leatherface: Texas Chainsaw Massacre III (1990)
Magnificent Seven Ride!, The (1972)
Magnificent Seven, The (1960)
Mark Of Zorro, The (1974)
Matinee (1993)
My Little Chickadee (1940)
Rangers Of Fortune (1940)
Return Of The Seven (1966)
Song Of The Sea (2014)
Taggart (1965)
This Savage Land (1966)
Union Pacific (1939)
Vanity Fair (2004)
AVAILABLE FEBRUARY 23
Slender Man (2018)
AVAILABLE FEBRUARY 25
"The Big Valley" – Episodes 201-218
AVAILABLE FEBRUARY 26
Blood Father (2016)
AVAILABLE FEBRUARY 28
Puzzle (2018)
WHAT'S LEAVING ON THE STARZ APP – FEBRUARY 2019
LEAVING FEBRUARY 1
Duelist, The (2016)
LEAVING FEBRUARY 4
Dog, The (2014)
Remote Area Medical (2014)
LEAVING FEBRUARY 7
Hurricane Season (2008)
LEAVING FEBRUARY 8
Underworld: Blood Wars (2017)
LEAVING FEBRUARY 15 TH
American, The (2010)
Doomsday (2008)
LEAVING FEBRUARY 16
Comedian, The (2017 )
Red Turtle, The (2017 )
LEAVING FEBRUARY 19
Morning Light (2008)
LEAVING FEBRUARY 25
Captain Fantastic (2016)
LEAVING FEBRUARY 26
Confessions Of A Shopaholic (2009)
LEAVING FEBRUARY 27
League Of Gods (2016)
Resident Evil: The Final Chapter (2017)
LEAVING FEBRUARY 28
Alamo, The (1960)
Ali (2001)
American Haunting, An (2005)
Bad Boys (1983)
Big Night (1996)
Blue Streak (1999)
Breakheart Pass (1976)
Bulletproof (1996)
Car Wash (1976)
Cheyenne Roundup (1943)
Column South (1953)
Crouching Tiger, Hidden Dragon (2000)
Dante's Peak (1997)
Dark Tide (2011)
Dirty Work (1998)
Edward Scissorhands (1990)
Eulogy (2004)
Evening (2007 )
Femme Fatale (2002)
Frenemy (2010)
Frozen (2013)
Great Train Robbery, The (1979)
Hook (1991)
Indecent Proposal (1993)
Indian Fighter, The (1955)
Italian Job, The (1969)
Jeepers Creepers (2001)
Lawman (1971)
Long Way Home (1975)
Man From The Alamo, The (1953)
Midnight Cowboy (1969)
Mine (2016)
Navajo Joe (1966)
Office Space (1999)
Return Of The Musketeers, The (1989)
Revolt At Fort Laramie (1957)
Sabrina (1954)
Shakiest Gun In The West, The (1968)
Showtime (2002)
Small Soldiers (1998)
Sold (2016)
Spiderwick Chronicles, The (2008)
Spirit Game: Pride Of A Nation (2016)
Straw Dogs (2011)
Tales From The Crypt Presents: Bordello Of Blood (1996)
Tales From The Crypt Presents: Demon Knight (1995)
Thunderbolt And Lightfoot (1974)
Tickling Giants (2017)
Toys (1992)
Universal Soldier: The Return (1999)
Unsullied (2015)
Wagons East (1994)
Walled In (2008)
Westerner, The (1940)
Wet Hot American Summer (2001)
Wild Things (1998)
Wizard, The (1989)
"Cuatro Amigos Y Medio" – Episodes 101-126
"Edebits" – Episodes 101-126
"Exploradores De La Historia" – Episodes 101-132
"Ideas Rompe-Cráneos" – Episodes 101-226
"Kid Diners" – Episodes 101-113