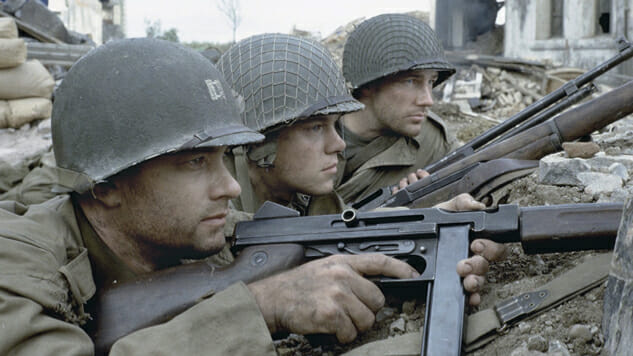 2018 is right around the corner, and with the new year comes a fresh batch of film and television titles on Starz. The pay-cable channel's streaming service is making some exciting additions in January, and we've surveyed the landscape to take stock of everything you need to see. Are we heroes for doing so? No. Well, maybe.
Speaking of heroes, next month's Starz feature film slate is led by Steven Spielberg's Oscar-winning WWII blockbuster Saving Private Ryan, which we recently named one of the 100 greatest war movies of all time. Also coming to the service on Jan. 1 are John Hughes' beloved teen tale Ferris Bueller's Day Off, Ridley Scott's sword-and-sandal epic Gladiator and numerous Star Trek films—including 1979's Star Trek: The Motion Picture, 1982's Star Trek II: The Wrath of Khan, 1984's Star Trek III: The Search for Spock, 1986's Star Trek IV: The Voyage Home, 1989's Star Trek V: The Final Frontier, 1991's Star Trek VI: The Undiscovered Country, 1996's Star Trek: First Contact, 1994's Star Trek: Generations and 1998's Star Trek: Insurrection—as well as Chris Farley-starring comedy Tommy Boy and twisty crime caper The Usual Suspects (though we completely understand if you'd rather skip that last one, in light of recent events). Films coming later in the month include Tom Cruise's iconic Mission: Impossible on Jan. 5, John Patrick Shanley's haunting Doubt on Jan. 7, original Starz cult documentary The Family on Jan. 8, a handful of Alfred Hitchcock classics—including 1963's The Birds, 1960's Psycho, 1954's Rear Window and 1958's Vertigo, among others—on Jan. 12, Doug Liman's oft-quoted dating comedy Swingers on Jan. 19, and a pair of classic Westerns, Sergio Leone's Once Upon a Time in the West and George Stevens' Shane, on Jan. 26. How's that for a month full of movies?
There's much less to get excited about on the small screen, but Starz's January TV slate is not without a standout: Next month brings the premiere of promising Starz original series Counterpart, starring Oscar winner J.K. Simmons (Whiplash) as a government official who discovers that he has a doppelganger—his counterpart—who has crossed over from a parallel dimension, the gate to which his own agency has been hiding. Starz provided a sneak peek at the series via their app earlier this month, the first episode airs on Starz on Sunday, Jan. 21 at 8 p.m. EST/PST and the second episode becomes available on the app on Jan. 28. Counterpart also stars Olivia Williams (The Sixth Sense), Harry Lloyd (Game of Thrones), Nicholas Pinnock (Captain America: The First Avenger), Nazanin Boniadi (Homeland), Sara Serraiocco (Salvo) and Ulrich Thomsen (The Blacklist). You can watch a trailer for the series here.
Be warned: Starz isn't losing much of consequence at the end of next month, but there are a handful of must-see films that are on their way out. Oscar-winning musical Chicago leaves the streaming service on Jan. 19, while Jan. 31 will see the departure of Roman Polanski crime classic Chinatown, Terry Gilliam's psychedelic Fear and Loathing in Las Vegas, stony action-comedy Pineapple Express and Jason Reitman's acclaimed satirical comedy Thank You For Smoking. Toss those on your list before it's too late, and don't say we never did anything for you.
Find January's complete assortment of incoming and outgoing titles on Starz below.
WHAT'S NEW ON THE STARZ APP — JANUARY 2018
AVAILABLE JANUARY 1
Barquero (1970)
Before I Go to Sleep (2014)
The Black Stallion Returns (1983)
Bulletproof Monk (2003)
Chinese Zodiac (2012)
Clueless (1995)
Coming to America (1988)
Deliver Us from Eva (2003)
Down to Earth (2001)
Ferris Bueller's Day Off (1986)
Frankie & Alice (2010)
Ghost (1990)
Ghoulies (1984)
Ghoulies II (1987)
Gladiator (2000)
Grease (1978)
Grease 2 (1982)
Hector and the Search for Happiness (2014)
Jersey Girl (2004)
Jet Li's Fearless (2006)
John Carpenter's Escape from L.A. (1996)
Killer Joe (2012)
Legally Blonde (2001)
The Manchurian Candidate (1962)
"The Men from Shiloh" (1970) – Episodes 101-124
Mr. Majestyk (1974)
Out of Time (2003)
Overboard (1987)
Roman Holiday (1953)
Save the Last Dance (2001)
Saving Private Ryan (1998)
Scrooged (1988)
Snake Eyes (1998)
South Park: Bigger, Longer & Uncut (1999)
Spy Kids 3: Game Over (2003)
Star Trek: The Motion Picture (1979)
Star Trek II: The Wrath of Khan (1982)
Star Trek III: The Search for Spock (1984)
Star Trek IV: The Voyage Home (1986)
Star Trek V: The Final Frontier (1989)
Star Trek VI: The Undiscovered Country (1991)
Star Trek: First Contact (1996)
Star Trek: Generations (1994)
Star Trek: Insurrection (1998)
Things Never Said (2012)
Tomahawk Trail (1956)
Tommy Boy (1995)
The Usual Suspects (1995)
Weird Science (1985)
Welcome to the Jungle (2012)
"The Zoo" (2012-2013) – Episodes 301-310, 401-410
AVAILABLE JANUARY 3
All the Boys Love Mandy Lane (2013)
AVAILABLE JANUARY 5
The Angriest Man in Brooklyn (2014)
Annie (1981)
Bedtime Stories (2008)
The Crocodile Hunter: Collision Course (2002)
Ghosts of Mars (2001)
Hannah and Her Sisters (1986)
Kiss the Girls (1997)
The Man Who Shot Liberty Valance (1962)
Mission: Impossible (1996)
Reds (1981)
Six Black Horses (1961)
Snow Day (2000)
The Von Trapp Family: A Life of Music (2015)
Wanda Nevada (1979)
The Weekend Sailor (2016)
The Yellow Tomahawk (1953)
AVAILABLE JANUARY 6
Rough Night (2016)
AVAILABLE JANUARY 7
Doubt (2008)
AVAILABLE JANUARY 8
The Family (2016) – FEATURE DOCUMENTARY PREMIERE
AVAILABLE JANUARY 11
Lucky Number Slevin (2006)
AVAILABLE JANUARY 12
Addams Family Values (1993)
The Bag Man (2014)
The Birds (1963)
Don't Be a Menace to South Central While Drinking Your Juice in the Hood (1995)
Family Plot (1975)
Flashdance (1983)
Frenzy (1972)
Good Burger (1997)
King Kong (1976)
The Lady Vanishes (1938)
The Lucky Ones (2007)
The Man Who Knew Too Much (1956)
Marnie (1964)
Mimic (1997)
Mimic 2 (2002)
Mimic 3: Sentinel (2003)
Private School (1983)
Psycho (1960)
Rear Window (1954)
Rope (1948)
Rudy (1993)
Saboteur (1942)
Shadow of a Doubt (1942)
Shaft (2000)
Stagecoach (1986)
Topaz (1969)
Torn Curtain (1966)
The Trouble with Harry (1954)
Vertigo (1958)
The Voices (2015)
The Yards (2000)
AVAILABLE JANUARY 13
13 Sins (2014)
AVAILABLE JANUARY 15
G-Force (2009)
AVAILABLE JANUARY 17
Trumbo (2015)
AVAILABLE JANUARY 18
13 Minutes (2017)
AVAILABLE JANUARY 19
Beavis and Butt-Head Do America (1996)
Better Living Through Chemistry (2014)
Bewitched (2005)
Bride of Frankenstein (1935)
Congo (1995)
Daddy and Them (2001)
Feel the Noise (2007)
The First Power (1990)
The First Wives Club (1996)
Frankenstein (1931)
A Good Man (2014)
Higher Learning (1995)
Hustle (1975)
La Bamba (1987)
The Last Sunset (1961)
Mr. Brooks (2007)
Poetic Justice (1993)
Rules of Engagement (2000)
Runaway Bride (1999)
Sense and Sensibility (1995)
Swingers (1996)
Things to Do in Denver When You're Dead (1995)
Undisputed (2001)
AVAILABLE JANUARY 20
Deep In the Heart of Texas (1942)
AVAILABLE JANUARY 26
1982 (2013)
Ace High (1969)
Black Beauty (1971)
Boss of Lonely Valley (1937)
Bounce (2000)
C.O.G. (2013)
Curious George 2: Follow That Monkey (2009)
Escort West (1958)
The Ex (2007)
Joe Dakota (1957)
Mental (2013)
Once Upon a Time in the West (1968)
Open Road (2013)
Return (2012)
Rooster-Doodle- Doo (2014)
Rough Night in Jericho (1967)
Shane (1953)
Trespass (1992)
Ultraviolet (2005)
AVAILABLE JANUARY 27
Maudie (2017)
AVAILABLE JANUARY 28
"Counterpart" (2018) – Episode 102
WHAT'S LEAVING THE STARZ APP — JANUARY 2018
LEAVING JANUARY 1
"The Pillars of the Earth" (2010) – Episodes 101-108
"World Without End" (2012) – Episodes 101-108
LEAVING JANUARY 3
Lady in the Van (2015)
LEAVING JANUARY 4
Someone Like You (2001)
LEAVING JANUARY 10
Son of Saul (2015)
LEAVING JANUARY 11
Kingdom Come (2001)
One Fine Day (1996)
LEAVING JANUARY 14
Brick Lane (2008)
Canadian Bacon (1995)
The Children of Huang Shi 2008)
The House Bunny (2008)
Tom Sawyer (1973)
LEAVING JANUARY 18
The 5th Wave (2016)
Oscar and Lucinda (1997)
LEAVING JANUARY 19
Chicago (2002)
LEAVING JANUARY 23
Robots (2005)
LEAVING JANUARY 24
Blood Father (2016)
Hancock (2008)
Jobs (2013)
LEAVING JANUARY 26
Beyond Valkyrie: Dawn of the Fourth Reich (2016)
LEAVING JANUARY 27
Surfer, Dude (2008)
LEAVING JANUARY 29
The Mermaid (2016)
LEAVING JANUARY 30
Cousin Bette (1998)
Like Sunday, Like Rain (2014)
LEAVING JANUARY 31
13 (2009)
5 Days of War (2011)
The Accused (1988)
Agent Cody Banks 2: Destination London (2004)
American Son (2008)
The Armstrong Lie (2013)
Bad Influence (1990)
The Ballad of Josie (1967)
Battle of Rogue River (1954)
Below (2002)
Benny & Joon (1993)
Black Caesar (1973)
The Black Dakotas (1954)
Black Spurs (1964)
The Boxer (1997)
The Bridges at Toko-Ri (1954)
Catch-22 (1970)
Chinatown (1974)
Como Estrellas Fugaces (2014)
CQ (2001)
The Day They Hanged Kid Curry (1971)
Delirious (1991)
The Duchess and the Dirtwater Fox(1976)
Enchanted Kingdom (2014)
Equilibrium (2002)
Fear and Loathing in Las Vegas (1998)
For Love of the Game (1999)
Freedom Song (2000)
Fresh (1994)
Gang Related (1997)
Great Missouri Raid (1950)
The Great Outdoors (1988)
Gridlock'd (1996)
The Haunting (1999)
The Hills Have Eyes (2006)
Hollywood Shuffle (1987)
Howard the Duck (1986)
Huerfanos (2013)
Ideal Husband (1999)
Imagine Me & You (2005)
Into The Badlands (1991)
The January Man (1989)
Jet Li's Fearless (2006)
Jubal (1956)
Judgment Day (1999)
Ju-On: The Grudge (2002)
Keeping Up with the Steins (2004)
La Última Noticia (2016)
Last Knights (2015)
A Lawless Street (1955)
Major Dundee (1964)
Masters of the Universe (1987)
My Little Chickadee (1940)
Only the Strong Survive (2002)
The Parallax View (1974)
The Patience Stone (2012)
The Phantom of the Opera (1943)
Pineapple Express (2008)
Pretty In Pink (1986)
Prime (2005)
The Raiders (1964)
The Ride Back (1957)
Righteous Kill (2008)
Round Trip to Heaven (1992)
Running Scared (1986)
School Ties (1992)
The Serpent and the Rainbow (1987)
Siege at Red River (1954)
Small Town Saturday Night (2009)
Sprung (1997)
Stagecoach (1966)
Swashbuckler (1976)
Taggart (1965)
The Tall Men (1955)
Texas Killing Fields (2011)
"Texas Rising" (2015) – Episodes 101-110
Thank You for Smoking (2006)
Traitor (2008)
The Trumpet of the Swan (2001)
Union Pacific (1939)
Viva Zapata! (1952)
When the Bough Breaks (1993)
Wild Bill (1995)