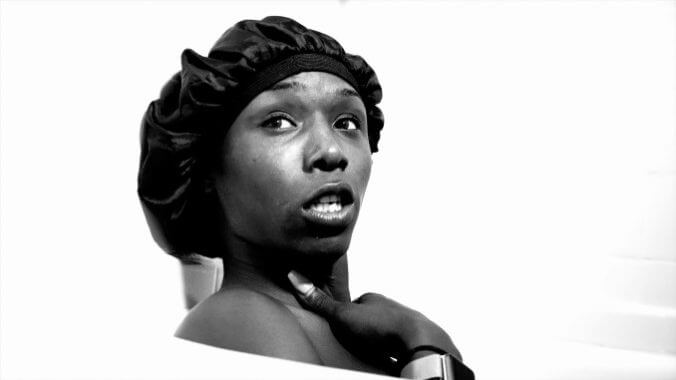 One of the most exciting non-fiction entries to this year's Sundance is a radical, on-the-ground pulpit from which four Black trans sex workers talk their shit. Putting transphobia within and without Black culture on blast, Kokomo City raises a curtain to reveal four stars: Daniella Carter, Dominique Silver, Liyah Mitchell and Koko Da Doll. Actually, make that five stars. Filmmaker D. Smith, a trans musician making her feature debut, keeps the rollicking conversations and righteously indignant monologues barreling along in beautiful black-and-white as we laugh, cry and commiserate with women whose experiences and insights are only outweighed by their personalities.
From the opening anecdote, about a client setting a massive pistol on the bed as he receives head, you understand that these escorts are braver than the troops. Laughing off nightmares like that, running through lists of friends that have been killed by the same men paying them, their resilience forms the sobering foundation of an overwhelmingly entertaining experience. But of course, queer storytellers have always been able to—had to—turn tragedy into exuberant art.
Smith refuses to undersell this seriousness while her aesthetic refuses to bury her subjects' pop under their oppression: If Kokomo City lacks anything, it's certainly not pizzazz. The soundtrack, some of which was provided by Smith, offers up lyrical laughs, as do the score's sudden shifts (dopey cartoon tunes play when a worker recounts what it's like to be approached by a stereotypically macho would-be client) and the on-screen subtitles that chronicle its fast-talking, no-holds-barred interviewees. Carter (the undeniable breakout of the bunch, exuding charisma and eloquent thoughtfulness) compares trans women to broken-down cars that still rev like hot rods—under attack but, defiantly, all the more extravagant for it. Kokomo City follows suit: It's got a handmade underdog feel, loose and close and raw, but every DIY frame is fierce.
Kokomo City vibrates with that energy in part because Smith did…pretty much everything. In addition to directing and contributing to the soundtrack, she also shot, edited and produced the doc. With that level of auteurism comes plenty of personality and a tight tempo. Aside from magnetic subjects that would give Portrait of Jason a run for its money, there's a kineticism of shape and setting—hopping between New York and Georgia, between apartment couches and shadowy cars, between homes filled with love and those where the loneliness reverberates, between reenacting blowjobs and blowing smoke rings—that churns your body as the political, racial, queer theories put forth by the women dance in your mind. A particular metaphor about eating in a Benihana is so hilariously weird and perfectly savvy—about the kinds of women who go out to eat, and how their success and oppression are equalized down to a dollar figure at the hibachi grill—that it alone is worth the documentary's brief 73 minutes.
One of Kokomo City's gambles doesn't quite pay off. We meet a male musician interested in a particular trans woman who embodies the contradictions noted by all the sex workers: That of Black men who both desire them and feel threatened by that desire. He misgenders, he dehumanizes, he lusts—the self-styled ladies' man is a punchline, laughed at through image and sound, and through his own ignorant words. He's a man simultaneously horny enough to want to talk to this woman, to go on camera and declare his wants, yet ashamed enough to not meet her in real life. These issues are soundly and thoroughly explored by the women themselves, who go into great detail about the intolerance rampant in their communities and the violence it breeds. They've been assaulted by clients—after they come, of course—and kicked out of families. One frequents Hush Night, a depressingly named Atlanta strip event where the performers are trans and the clientele are discreet. It's in these moments where it's clearest that these are not new observations. The observations are just better when they're made by smart, funny women who've lived it. When you have them, you don't need much else—especially a crass dude who personifies a redundant point.
It's because what Kokomo City's subjects are sharing (and how they're sharing it) that the weaker moments stand out. Anti-capitalist critique, generational trauma, and how many closeted bottoms are walking around looking for a beautiful woman with a big dick—it's all on the table, rattled off with wit. You can feel Smith's personal narrative—a successful music industry staple who's helped pioneer trans visibility in the reality TV space—-putting her subjects at ease. One woman shares her own desires to follow a similar career trajectory, simply because she wants to do something—learn something—that's not the escort industry. It's hard to imagine getting that kind of comfort and vulnerability with another filmmaker.
Hilarious, scary, tragic and sometimes flat-out jaw-dropping, Kokomo City is a gripping and accessible dissection of modern life, told through a brutally specific point of view. The five women who deliver it deserve all the attention they're going to get, but their larger point remains: The Black community and the people who love to be vocal about how much they support the Black community owe their continued attention and care to Black trans women everywhere.
Director: D. Smith
Release Date: January 21, 2023 (Sundance)
---
Jacob Oller is Movies Editor at Paste Magazine. You can follow him on Twitter at @jacoboller.
For all the latest movie news, reviews, lists and features, follow @PasteMovies.