A24 to Donate Portion of The Florida Project Proceeds to Florida Families in Need
Sean Baker's Oscar-nominated film is out now on digital
Images via A24
Movies
News
The Florida Project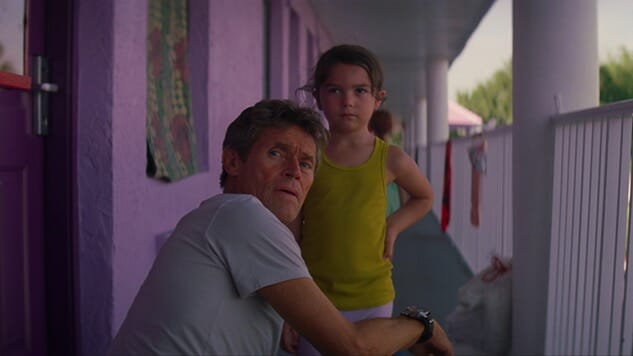 Sean Baker's incredibly moving drama The Florida Project was one of 2017's best films, and with its digital release today, its distributors are giving back to the community in which it was set.
From today, Jan. 30 to Monday, Feb. 5, A24 will donate five percent of proceeds from digital sales of The Florida Project to the Community Hope Center in Kissimmee, Fla., an organization that assists families who are either homeless or living in motels along Osceola County's 192 Corridor where the film was shot.
The Florida Project was nominated for an Oscar last week, with Willem Dafoe earning a Best Supporting Actor nod for his career-best performance. Dafoe plays the gruff but compassionate Bobby, manager of The Magic Castle, a budget motel just outside Disney World. The film follows six-year-old Moonee (Brooklynn Prince, who deserved an Oscar nod of her own) and her rebellious mother Halley (Bria Vinaite, a former businesswoman Baker discovered on Instagram) over the course of a summer. It's a stunningly poignant effort from the Tangerine director, an indelible portrait of the underprivileged Floridians who live on the margins of paradise.
Paste placed The Florida Project quite high on our ranking of 2017's best films. In his review of the film, Kyle Turner writes that The Florida Project is "buoyed with a sense of humor and, occasionally, wonder," as well as "spattered with profound sadness."
Watch a trailer for The Florida Project below and get your digital copy of the film here. The film is available now via iTunes, Amazon, Vudu, Google Play, Xbox and FandangoNow.