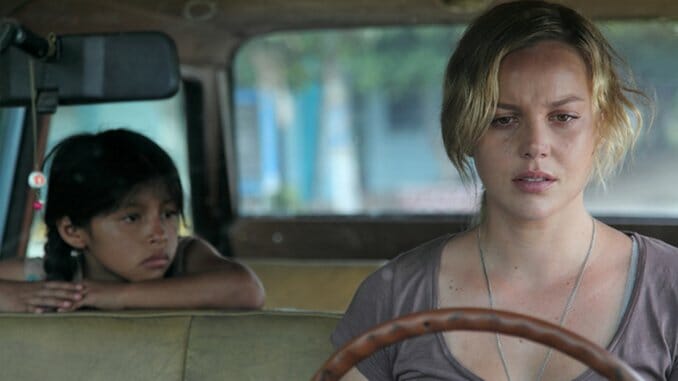 Writer-director David Riker's latest bilingual film, The Girl, takes on the hot-button issue of immigration from a perspective that's decidedly different from his 1998 breakthrough film The City (La Ciudad), which focused on the Mexican and Central American immigrant population living in New York City.
This time, the city's bustle is replaced by the listlessness of a South Texas trailer park, where down-on-her luck Ashley (Abbie Cornish) struggles after losing her 5-year-old son Georgie (Austin West) to social services. She believes that her son's been taken away because of her income bracket—her trailer is no match for the foster family with a the house and a swing set—but we learn that the large chip on her shoulder and a petulant attitude, combined with a DWI with Georgie in the car, are really to blame.
Her truck driver father, Tommy (Will Patton), breezes through town and convinces his daughter to road trip back with him to his home in Mexico. They celebrate Tommy's recent good luck streak with lots of tequila; Ashley later finds out that his financial good fortune is due to trucking in human cargo from south of the border.
She's angry, at first, but then convinces herself that the money made from such activity will help get Georgie back. Ashley becomes a novice coyote, willing to transport a group of six illegal immigrants (for $500 each) from Laredo, Mexico, to Austin, Texas. Things go horribly wrong during a river crossing, and half of the party disappears. Out of a sense of guilt, Ashey must now help a young girl separated from her mother.
Tommy advises his daughter to abandon the girl on the nearest corner and not look back. But Rosa, played with wide-eyed earnestness by newcomer Santiago Hernandez, is a spitfire, constantly nagging Ashley's conscience, blaming the unprepared trafficker for not having inner tubes ready at the river. During their journey together through Mexico, Ashley learns from her younger counterpart to finally take responsibility of her actions. Cornish's performance as the struggling Ashley is commendable, though (at first) her Texas accent channels a bit too much Charlize Theron from Monster. (Cornish fares much better with the Spanish language.)
After a painfully slow start, in which Riker tediously paints a portrait of Ashley's hardscrabble life in the republic of Texas, the story picks up steam when Rosa's and Ashley's journey commences. There are so many dimensions to their situation: Rosa's mother is presumed dead, and Ashley can be arrested for illegal trafficking, losing Georgie to the system forever.
The Girl aspires to be a gritty portrayal of an immigration story—though there's no comparison to Gregory Nava's excellent and gutsy take on the same issue in El Norte (1983). Riker's script glosses over a few major points: How does Ashley not get questioned by Mexican officials when she asks for help in finding Rosa's mother? How can Ashley remove Rosa from a girls' home to take her back to her grandmother's house in Oaxaca? And what are the ramifications of Ashley's missed court date during the journey in Mexico?
Riker's film doesn't overtly take sides in the immigration debate, but it does leave the audience pondering the film's point. Immigrants risk their lives every day in trying to cross the border to the U.S. for a better life, but The Girl's sentimental ending in an idyllic and picturesque Oaxacan village, begs the question, "Why would anyone want to leave?" It's too cut-and-dried an ending for such a complex issue.
Director: David Riker
Writer: David Riker
Starring: Abbie Cornish, Maritza Santiago Hernandez, Will Patton
Release Date: Dec. 14, 2012