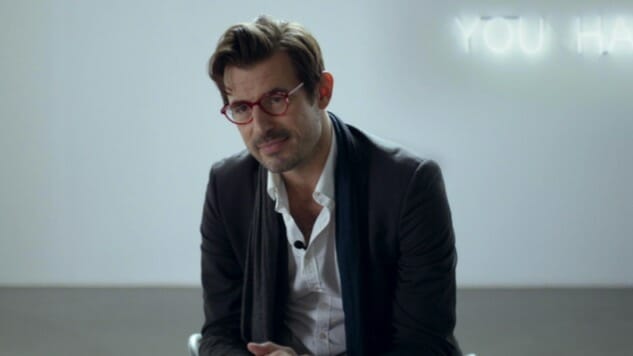 Sporting the ambition and sweep of a limited-run TV series, The Square may be overstuffed, but it never stops churning ideas and incidents. The follow-up film from Swedish writer-director Ruben Östlund finds him working again in a satirical vein, pinpointing the frailties of a proud man destined to be laid low. And as with Force Majeure, he's willing to push his premise to its breaking point, just to see how far it can go. The pleasure is in watching his nerve.
The film takes place largely at X-Royal Museum, where Christian (Claes Bang) is chief curator. Taking to wearing scarves and red spectacles, he dresses the part of high art's posh public ambassador, carrying himself with a regal air. But for all his puffed-up posturing, he does care about the artists whose work he champions. Christian is especially excited about his forthcoming exhibition, an installation called "The Square," which consists of a simple square drawn on the floor in the center of a room. The work advises viewers that it's "a sanctuary of trust and caring. Within it we all share equal rights and obligations." The wider world may be horribly inequitable, but this piece of art creates a safe space in which everyone helps his fellow man.
The Square walks a fine line, not always successfully, about its attitude toward the museum's postmodern art. There's a bit of a shooting-fish-in-a-barrel quality to the film's comedic targets: Mocking the pretensions of, say, a room filled entirely with neat little piles of dirt is a bit easy. It's also a bit hypocritical for a film that boldly aspires to bite off more than it can chew over its 140-minute run time to lampoon other creator's ideas about art. And even Christian's fondness for his new exhibition's altruistic aspirations feels a bit pat—as expected, what he admires in "The Square" is much harder to replicate in his real life.
The movie doesn't have a straightforward narrative so much as it bears a series of tangential storylines. Beyond preparing to mount "The Square," Christian is also trying to recover his stolen wallet and cellphone, woo a pretty American journalist (Elisabeth Moss) and, later, deal with the fallout after he gets back his personal property. In addition, a willfully controversial marketing campaign for "The Square" will blow up in his face, threatening his future at the museum. At any point in The Square, any of these subplots takes center stage, Östlund crafting a portrait of a man in full, through the different predicaments bedeviling him.
Bang has a tricky task, presenting Christian as a fundamentally good guy who's too enraptured with his own self-importance. After he goes to bed with Moss's journalist, he becomes paranoid that she wants to save his used condom to get pregnant—a conceited anxiety that leads to one of the film's more humorously awkward exchanges. Later, when she confronts him about his intentions toward her, Christian can't help but engage her in a debate about power dynamics in relationships, accusing her of being attracted to him in part because of his impressive title.
A divorced, loving father of two young girls, Christian takes pains to do the right thing, whether it's supporting their hobbies, treating the homeless with respect, or speaking sincerely at the museum about what "The Square" means to him. But Bang wields his handsome, aristocratic features to give the character a pompousness he can never quite escape. A seemingly simple apology morphs nightmarishly into a tortured, one-sided rumination about public ethics. A friendly hangout with an underling ends up with Christian pulling rank on the poor kid in the most passive-aggressive, falsely modest way imaginable.
Like a less cold-blooded Armando Iannucci, Östlund loves puncturing people's polite demeanor, revealing our more craven, insecure and flawed sides. Postmodern art gets skewered in The Square, but so do viral videos, entertainment journalism and upper-crust social engagements. The Square lacks the brilliantly humiliating conceit of Force Majeure, in which a husband and father's split-second moment of cowardice risks permanently ruining his standing in his family. Instead, Östlund's new movie has an episodic quality, with each subplot potentially substantial enough to warrant its own hour-long installment.
For much of The Square, Östlund's tone is darkly comedic, inviting the audience to enjoy Christian's many self-inflicted woes. But the film grows bolder in its final stretches, delivering a stunning set piece that validates modern art's ability to provoke, antagonize and even frighten. (To say too much would be unfair, but let me suggest that Terry Notary, a motion-capture actor, very nearly steals the movie.)
From that point, Östlund moves into a more compassionate tone, pondering how even blowhards like Christian can shake free of their vainglory. "The Square" is a space where all can be equal and accepted—The Square isn't nearly as forgiving of its inhabitants, but Östlund bravely tries to create an environment where lots of themes and tones can coexist. And like great postmodern art, the film resists easy interpretation so as to allow the viewer a chance to inhabit the work in his or her own way. Just hope you don't identify too closely with its protagonist.
Director: Ruben Östlund
Writer: Ruben Östlund
Starring: Claes Bang, Elisabeth Moss, Dominic West, Terry Notary
Screening in competition at the 2017 Cannes Film Festival
---
Tim Grierson is chief film critic for Paste and the vice president of the Los Angeles Film Critics Association. You can follow him on Twitter.