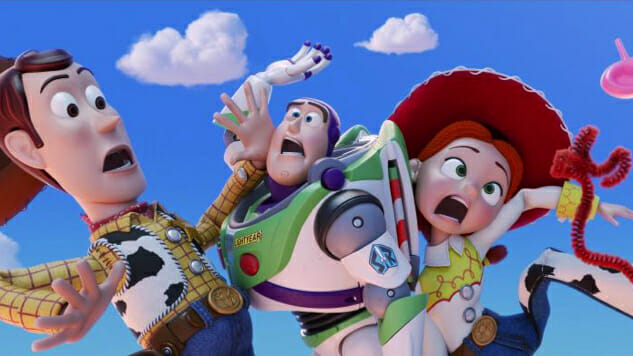 The toys are back in the first teaser for Toy Story 4, and they have a new friend joining them: Meet Forky, a spork going through an existential crisis after its creator brings it into the fold with Woody, Buzz and the rest of the gang.
Set to Judy Collins' version of "Both Sides Now," the teaser follows the original gang in a 360-degree shot interrupted by the arrival of Forky, voiced by Veep and Arrested Development's Tony Hale.
The video comes with this plot synopsis:
Woody has always been confident about his place in the world and that his priority is taking care of his kid, whether that's Andy or Bonnie. But when Bonnie adds a reluctant new toy called "Forky" to her room, a road trip adventure alongside old and new friends will show Woody how big the world can be for a toy.
Directed by Josh Cooley (the Inside Out short Riley's First Date?), Toy Story 4 is produced by Jonas Rivera (Inside Out, Up) and Mark Nielsen (associate producer, Inside Out). The film also features a screenplay by Stephany Folsom, replacing original writers Rashida Jones and Will McCormick, who previously left the project.
The cast has already teased the emotional devastation that fans will face in Toy Story 4, so brace yourselves to get emotional over a sentient spork, of all things. That said, based on the trailer's song choice, some have guessed that Forky has darker motives in mind:
Toy Story 4's teaser uses the ending song from Hereditary, so naturally I'm expecting one decapitation. My money's on Forky. https://t.co/I5Jf6i1Ern

— Thomas Mariani (@NotTheWhosTommy) November 12, 2018
Toy Story 4 arrives in theaters on June 21, 2019.
See the first teaser below and the film's troubling poster further down.