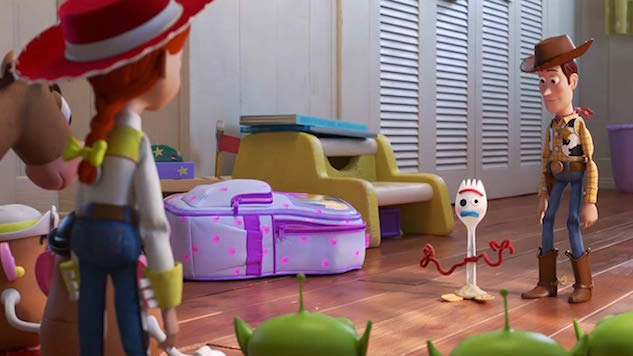 The final Toy Story 4 trailer promises the return of old fan favorites and introduces some new faces, including a spork-turned-toy and a flashy stuntman voiced by Keanu Reeves.
After playing John Wick, Reeves is already onto a new action hero: Duke Caboom, the eccentric toy who aids Woody and the gang on their mission to save a spork and return home to their owner, Bonnie.
The new installment also has something previous Toy Story films may not: a full-blown existential crisis. When the ever-creative Bonnie constructs a new toy made out of a spork, it brings terrifying and interesting implications for the toy world. What does it mean to be a toy?
While fragile and a bit wonky-looking with his mismatched eyes and pipe cleaner arms, the new toy, lovingly named Forky (voiced by Veep's Tony Hale), becomes Bonnie's new favorite. But when the lovable monstrosity declares himself "trash," not a "toy," Woody takes it upon himself to convince Forky of what it really means to be a toy.
"Why am I alive?" Forky heartbreakingly wonders in the new trailer.
"You are a toy," Woody answers with his (and Tom Hanks') always-definitive confidence.
That isn't the last obstacle for the poor spork as the wind carries him out of a car during a road trip, causing Woody and the gang to gear up for a new adventure to rescue their new friend. Along the way, Woody runs into his old friend Bo Peep (Annie Potts), now toughened by a new adventurous life and a far cry from the delicate Southern belle Woody remembers.
But Bo Peep and her buddy, Canadian stuntman Duke Caboom, may be the gang's key to rescuing Forky and returning home to Bonnie.
The new trailer follows the full trailer that was released in March and promised the return of Hanks and Tim Allen as Woody and Buzz, along with Potts, who returns as Bo Peep for the first time since Toy Story 2. Hale joins the franchise as Forky, while his fellow newcomers Jordan Peele and Keegan-Michael Key chip in some laughs as Bunny and Ducky.
The film hits theaters on June 21. Check out the new trailer for yourself below.