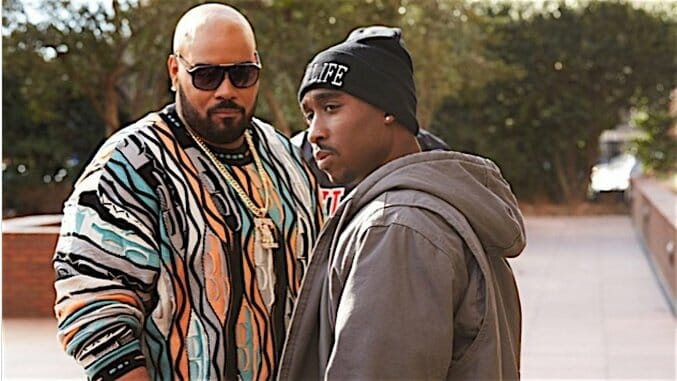 Biopics go about their work in one of three ways: Either they offer a sweeping overview of an influential or iconic person's life, zoom in on a crucial or defining period from that life, or throw conventionality out the window for an experimental or impressionistic portrait that honors the individual's spirit or magnitude. In recent years, several fine biopics have incorporated the latter two strategies, whether it be Lincoln's examination of our greatest president at his most trying moment or I'm Not There's intuitive, playful scrambling of Bob Dylan's different personae into separate characters. Unfortunately, All Eyez on Me mostly serves as a warning for why the first approach simply isn't as interesting or illuminating. Running more than two hours, this highlight reel of Tupac Shakur's brief, brilliant life seemingly goes on forever and tells us precious little about the man it's supposed to be chronicling.
The rapper, who died in 1996 at the age of 25, has been exhaustively eulogized, whether through his string of posthumous albums or a series of documentaries celebrating his cultural importance. With All Eyez on Me, director Benny Boom (Next Day Air) wants to give scope and grandeur to Shakur's tragedy—how a talented young man was struck down in the prime of his life by the dark forces he documented in verse—but his film lacks the insight or bravado to pull off such a task. All Eyez on Me is far less innovative, electric and charismatic than its subject.
Relative newcomer Demetrius Shipp Jr. plays the adult Shakur, and he certainly looks the part, embodying the artist's steely swagger while flashing the same soulful eyes. All Eyez on Me is constructed as a series of flashbacks from the perspective of 1995 as Shakur is in prison answering a journalist's (Hill Harper) questions about how he got there. As we see pivotal moments in the young man's journey as he moves from Baltimore to New York to Oakland, the movie eventually catches up to Shakur's incarcerated present, abandoning the interview framework so we can see in detail the final year of his life after he gets out of prison.
Pretty early on, though, it becomes apparent that Boom and his three screenwriters lack an interesting point of view on Shakur's music, personal life or social impact. Instead, All Eyez on Me is a listless regurgitation of biography. The film benefits from the fact that even a dull recitation can't help but highlight what a meaningful existence he led. Born to a single mother, Afeni (Danai Gurira), who was a Black Panther and, later, a drug addict, Shakur was raised in a household that took seriously the African-American struggle in a country that did (and does) systematically marginalize an entire race. Shakur's discovery of his creative voice—both through rapping and acting—ran into conflict with an environment of drugs, crime and racism that perpetually threatened to hold him back. It's not much of a leap to say that Shakur's story is also the story of black America in the time of the War on Drugs and the Rodney King riots as hip-hop assumes its place at the forefront of popular culture, charting current events while also offering a respite from them.
In flashes, All Eyez on Me succeeds in connecting Shakur's journey to larger cultural movements. But more often, the greatest-hits screenplay does a simplistic job of providing the necessary gravitas, failing to suggest what made Shakur so special or why he mattered amidst a sea of other major hip-hop artists such as Dr. Dre, Snoop Dogg and the Notorious B.I.G., all of whom are featured in the film. Instead, we see Shipp ramble through the rapper's pivotal periods in an episodic fashion that rarely builds emotional momentum.
The closest the film comes to genuine pathos is in his relationships with two key women in his life. As Afeni, Gurira has the proper fieriness and vulnerability, but the character is too easily reduced to a blandly sympathetic figure meant to inspire her restless, talented son to find himself. Much better, although equally brief, is Shakur's long friendship with Jada Pinkett (Kat Graham), whom he met in high school when both were studying acting. Platonic pals who understand each other on a deep level, Shakur and Pinkett become for each other the one person who can keep them grounded once their careers take off. Shipp and Graham have a flirty, warm rapport, so it's a shame All Eyez on Me eventually forces Pinkett to become the dull voice of reason when Tupac's life begins its downward spiral before his death.
The vitality of Shakur's music and the potency of his onscreen performances—such as in Juice and Poetic Justice—give All Eyez on Me a foundation of strong work from which to repeatedly draw. Not surprisingly, these moments are among the film's best—just don't expect Boom to bring much nuance or perspective. When we watch, for instance, Shakur in the studio recording "2 of Amerikaz Most Wanted" or on set delivering a volcanic monologue in Juice, it's such a perfunctory re-creation that the magic largely slips away. See All Eyez on Me in a theater with good speakers and you'll revel at the inexhaustibly of Tupac's indelible songs all over again. But the man who made them remains frustratingly out of focus.
There is no shortage of inherent drama in this tale. Shakur's friendship with Biggie (played by Jamal Woolard, who also portrayed him in 2009's Notorious) initially felt like a summit meeting between the legends of East and West Coast rap, only to collapse into acrimony and turf wars that would, eventually, lead to both of their murders. And Shakur's ill-fated partnership with powerful Death Row label head Suge Knight (Dominic Santana) near the end of his life results in some of his biggest records—but also resulted in a deal with the proverbial devil that saw Shakur drifting further away from the enlightened activist music he was once inspired to make because of his politically minded mother. And, of course, there is the matter of the artist's sad death in a barrage of gunfire in Las Vegas in 1996—a killing that remains unsolved.
In most biopics of an artist who died young, the final act builds to a cathartic conclusion as the audience considers everything he could have still accomplished and the cruelty of his end. All Eyez on Me isn't particularly compelling here, either. The filmmakers vaguely suggest that Shakur lost his moral compass during the Death Row days, but that's not articulated in any incisively dramatic ways. Making Knight the villain—a technique also incorporated by 2015's Straight Outta Compton—All Eyez on Me has a convenient bad guy, but there's very little tension or sense of tragedy as Shakur hurtles to his demise. Rather, we're treated to scenes that play like bad parodies of mob movies, cheapening his life.
Speaking of Straight Outta Compton, that N.W.A biopic was deeply flawed, too, but its makers grasped that band's cultural significance, crafting a story about young black artists fighting against a racist system stacked against them. All Eyez on Me lacks any kind of point of view, any real passion for a rapper who, more than 20 years after his death, is still a guiding light for up-and-coming performers. (Kendrick Lamar's acclaimed 2015 record To Pimp a Butterfly ends with an imaginary conversation between Lamar and his idol.) Shakur's life, with its contradictions and triumphs, was about the need to take risks to express oneself. All Eyez on Me risks little, and as a result it's not worthy of his complicated legacy.
GRADE: C-
Director: Benny Boom
Writers: Jeremy Haft & Eddie Gonzalez and Steven Bagatourian
Starring: Demetrius Shipp Jr., Lauren Cohan, Kat Graham, Hill Harper, Cory Hardrict, Annie Ilonzeh, Danai Gurira, Dominic Santana
Release Date: June 16, 2017
---
Grierson & Leitch write about the movies regularly and host a podcast on film. Follow them on Twitter or visit their site.