Watch the First Trailer for Bleed For This Starring Miles Teller
Image via Open Road Films
Movies
Video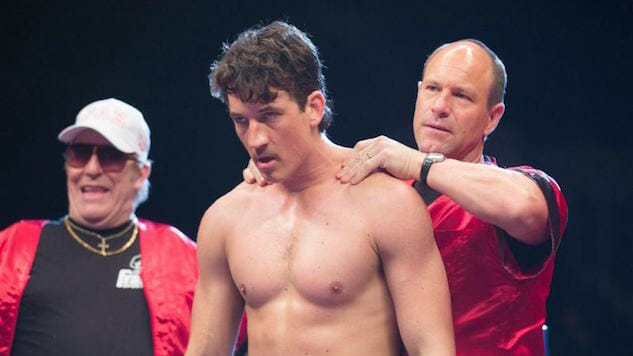 The first trailer has been released for Bleed For This, a based-on-a-true-story boxing flick written and directed by Ben Younger.
Set in 1991, Bleed For This stars Miles Teller as Vinny "The Pazmanian Devil" Pazienza, a two-time world champion boxer who is told he'll never walk, let alone compete, again after a near-fatal car accident severs his spine. Of course, that's just not acceptable to Vinny, and he enlists the aid of trainer Kevin Rooney (Aaron Eckhart) to get himself back into shape. Vinny's return to the ring merely a year after the accident is often referred to as the greatest comeback story in the history of boxing. The film's cast also features Katey Sagal, Ted Levine, Ciarán Hinds, Jordan Gelber and Amanda Clayton.
The trailer sets the tone for a gritty, yet inspiring movie, showing Vinny's elaborate confidence (see: the part where he dons a leopard-print speedo for an official weigh-in) before the accident, and his determination from the confines of a full-body brace as he trains to defend his world champion title. Though a quick Google search can tell you how the story ends, the film is sure to offer a closer and more insightful look into Vinny's amazing resilience.
With Martin Scorsese among the executive producers, Bleed For This hits select theaters on Nov. 4 and can be seen worldwide on Nov. 23. Watch the trailer above, and watch Teller discuss preparing for his Bleed For This role on The Tonight Show below.