Watch New Trailer for Sleeping with Other People, Which Director Calls "When Harry Met Sally For A-Holes"
Photo from YouTube
Movies
Video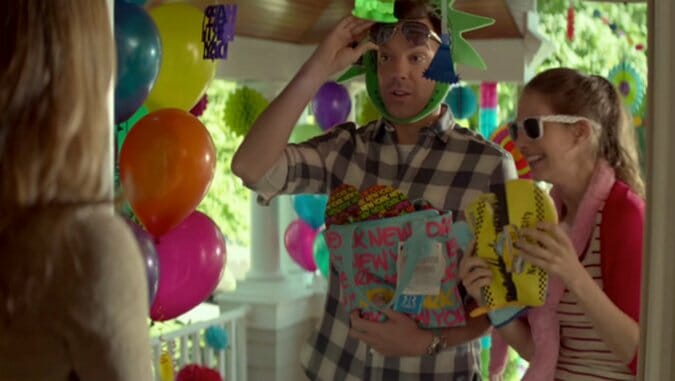 The trailer for the upcoming Sleeping With Other People was released Thursday, and with it came a promise that this film will deviate from the traditional romantic comedy formula. Sleeping With Other People, which stars Alison Brie and Jason Sudeikis, follows sex-addicts Jake and Lainey as they attempt to remove sex from their lives in an attempt to stop self-destructing their respective relationships.
The refreshing twist to Jake and Lainey's clear chemistry is that the chemistry itself is completely addressed in the film rather than bogged down by scenes of secret longing and torment. Both characters want to sleep with one another but resist the urge in order to better themselves emotionally. In fact, Lainey assigns the two a safe word for whenever the sexual tension is becoming too much: avocado. The two embark on a friendship, filled with heart-warming moments like getting high off ecstasy then attending a children's birthday party. Sure, the inevitability of the two getting together is clear and oh-so typical of this genre, but the pair's journey from point A to B is undeniably unusual and should be interesting to watch.
Sleeping With Other People first premiered at Sundance and garnered enough favor to be picked up by IFC films and set for a widespread theatrical release on Sept. 11. No definitive word yet on whether or not this movie will be charmingly original or fall flat, as the limited critical reviews so far have been entirely mixed. The Skinny referred to it a scumbag manifesto while The New York Post made a claim that "people will show up for the sex jokes, then be knocked out by how much heart it has." The Post also reported that writer and director Leslye Headland called his film "When Harry Met Sally for A-holes." Time will tell if that is actually a good thing.