Exclusive: Watch Steve McQueen Explain What Inspired Him to Adapt Widows
Photos by John Lamparski/Getty
Movies
News
Widows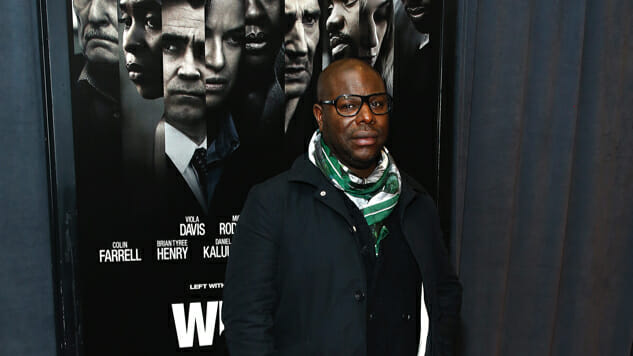 Steve McQueen returned in 2018 with his acclaimed heist thriller Widows, the Oscar-winning filmmaker's first feature since 2013's Best Picture-winning 12 Years a Slave. But Widows, which McQueen adapted from Lynda La Plante's early-'80s British crime-drama television series of the same name, was a much longer time coming than the five-year gap in the writer-director's filmography would suggest.
McQueen says in a new, Paste-exclusive clip from Widows' home release, "I made the decision seven years ago that I wanted to make Widows, a TV show that I had seen when I was 13 years old." His longtime collaborator Sean Bobbitt, who's served as director of photography on all four of McQueen's features to date, also appears in the clip, explaining, "A long time ago he had mentioned Widows, which was a British TV series that we'd both seen as children, and it had really stuck in his memory. He would talk about it, but [I was] never quite sure what it was that was there."
According to Bobbitt, McQueen finally decided that the duo would move forward on Widows "just after 12 Years a Slave." It's clear the filmmaker's urgency stemmed from how much the story meant to him: "I remember seeing it when I was 13; I remember what it meant to me seeing those four women achieve something which people never thought they could," McQueen recalls. "And it had a parallel to my own experience being a 13-year-old boy, a black guy growing up in London. I had those similar sort of expectations put on me by others as these women had, that they wouldn't be able to achieve or even being thought of achieving what they eventually did."
McQueen's Widows is an achievement in itself: Though the film went woefully underappreciated at both the box office and this year's Academy Award nominations, it earned a 90 percent score on Rotten Tomatoes, up there alongside McQueen's most acclaimed movies, and landed just outside the top 10 on Paste's list of 2018's top films. There's little question that he did La Plante's creation justice—as Tim Grierson wrote in his Paste review of Widows:
There hasn't been much indication that the thrills of pulp fiction have been part of [McQueen's] DNA, and so it might be easy to assume that [he] would either condescend to the audience or drain the material of its vibrancy. Incredibly, his Widows does neither: This is a mature, exciting, utterly engrossing heist film that proves to be far more than just a crime drama. The movie hums with menace while also being clear-eyed about its characters and their milieu.
Widows is out now on Digital, 4K Ultra HD, Blu-ray and DVD. Watch the behind-the-scenes clip below and revisit Paste's review of the film here.