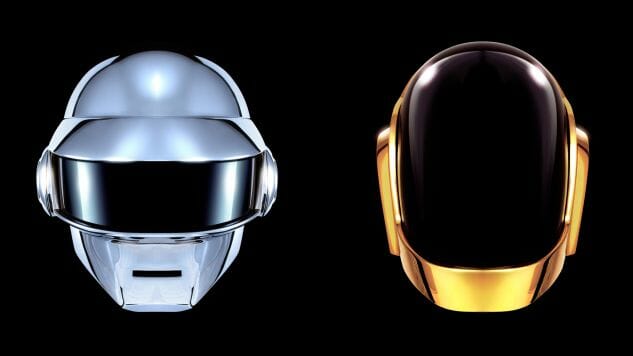 Part of being a successful musician means giving a good face. Whether it is a winning smile, a signature snarl, a distinctive makeup choice or an eye-covering hairdo, an artist's face allows them to communicate who they are and how they want to come across to their audience. A recognizable face also allows fans to identify musicians off the stage and follow their lives outside of their art.
But what if you remove this aspect from a show? What happens when you strip away the lipstick and winks and scowls and smiles and draw focus to the music and other aspects of a live performance? Here are seven artists known for doing just that.
1. Daft Punk
Perhaps the most notorious of the modern masked men, Guy-Manuel de Homem-Christo and Thomas Bangalter hide behind robot heads and gloves while performing their electronic music on stage. Daft Punk rose to success in the 1990s, bringing their French house music to the masses and finding insane success. Their names may be known, but the two musicians seldom give interviews and rarely remove their helmets, lending their technology-driven music an air of science fiction. Homem-Christo and Bangalter's album Alive 2007 earned them a Grammy award, and their 2014 album Random Access Memories earned four. The masses may know them as the guys who provided the soundtrack for Tron: Legacy, creating music that far outshone the movie. Not too shabby for two dudes you wouldn't recognize in a crowd.
2. Gorillaz
Unlike many on this list, Gorillaz do not wear masks or disguises while on stage. The band, which produces a mix of pop, electronic, rap and reggae music, instead features four digitally animated characters. Led by Blur lead singer Damon Albarn and drawn by Tank Girl creator Jamie Hewlett, the idea behind Gorillaz was one that allowed Albarn to escape from fame and facial recognition. "One of the things that really got to us was the nature of celebrity and the cynicism of popular culture," Albarn once said. The band, which consists of various collaborations with different musicians, debuted in 2001 with a live show in which the four performers stayed behind a screen. Fake backstories were created for the animated members and everyone has speculated about the voices behind the faces. The band broke new ground and found success with hits like "Clint Eastwood" and albums like Demon Days, collaborating with a number of big-name artists like Danger Mouse, Snoop Dogg and Massive Attack. The group has recently hinted at a return on the scene, so keep those eyes peeled.
3. Buckethead
Tall, mysterious and silent, Buckethead is known for performing on stage while wearing a white mask and a hat made from a fast food chicken bucket that has been adorned with an orange funeral procession bumper sticker. As guitarist Brian Carroll's alter ego, Buckethead has a long and creepy backstory that claims he had his face scratched off by chickens and that he once operated a theme park made from scrap metal and at some point worked in a deli. All we know for sure is that Buckethead is one hell of a guitar player and a looming presence on stage who is prone to tending to dolls, breaking into a robot dance and moving around in a disorienting shuffling manner. Known for his insane shredding and long, fast fingers, Buckethead played with Guns N' Roses between 2002-04 and has worked on projects with musicians like Iggy Pop, Les Claypool and Serj Tankian. The musician recently announced his first tour dates since 2012, so now is your chance to catch him in action.
4. Sia
The only masked female on our list, this Australian singer and songwriter has rocketed to fame over the last few years, gaining attention for her incredible lyrics, sound, videos and distinctive vocals. Sia Furler is also known for being unknown, covering her face while performing or appearing on television. The artist often uses a large blonde wig as her mask, sometimes topped with a bow, varying the bang-length depending on the need to speak or sing. If performing live, Sia has been known to hide behind props and even her music videos shift the focus to other performers, most often the young dancer Maddie Ziegler. However, Sia didn't always perform while masked. While appearing on The Late Late Show, the singer discussed her decision to start wearing the wigs "10 or 11 years" into her career, saying, "I thought, 'What doesn't exist in pop music at the moment?' And it was mystery! I was like, 'There's pictures on Instagram of everyone at the dentist.'" Masked or unmasked, Sia has produced some incredible tracks, gaining mainstream fame with hits like "Chandelier" and writing hit songs for other musicians. She is currently on tour and most recently performed at Coachella 2016.
5. Magic Sword
This electronic trio of musicians hails from Boise, Idaho and first appeared on the scene in 2013. Two of the band members perform while wearing hooded cloaks and fencing masks complete with glowing laser lines for eyes while the third hangs around behind the scenes providing moody projections. Magic Sword produces true throwback music, harnessing the electronic soundtracks and soundscapes we remember from campy 1980s films. One of the band's members, known as The Keeper, told Westword that he came up with the idea while staying at a meditation retreat. "Day seven it dawned on me that this is what I wanted to do. It was the one constant in my life — '80s epic soundtrack music," he said. Magic Sword has succeeded in doing just that, producing music that could be placed into any action sequence, montage or love scene. The group's first album was released in 2015 and came complete with an original comic book. Since then Magic Sword has managed to pop up in the most diverse places—everywhere from Treefort Music Festival the Hotline Miami 2 soundtrack.
6. Gwar
Grotesque, violent and hypersexual, Gwar is known for their insane live shows and over-the-top costumes, making them the most theatrical of the masked musicians on this list. This heavy metal band features a rotating lineup of musicians known as The Slave Pit, with each member appearing in a warrior-inspired costume complete with full theater-level intricate monster masks, swords, loincloths and armor. Imagine Bebop and Rocksteady from The Teenage Mutant Ninja Turtles, but dressed for battle and complete with giant floppy monster penises that spray liquid into a very excited crowd. The group's appearance and show is often dubbed as "shock rock," featuring fake blood and hyper-violent vignettes. Unsurprisingly, the members have seen a great deal of controversy, ranging from backlash to sexually violent lyrics to being accused of stealing lead singer Dave Brockie's cremated remains following his overdose death in 2014. But Gwar also has a loyal following and has seen creative and financial success, earning a Grammy nomination for 1992's Phallus in Wonderland, as well as releasing a line of trading cards and even a board game. The band's next big show is the GWAR-B-Q 2016 in Richmond, Va., so if you like your burgers with a side of decapitation, this is the place for you.
7. Deadmau5
Canadian DJ and producer Joel Thomas Zimmerman is probably one of the least mysterious of the masked musicians on our list, regularly appearing in photographs and interviews as his normal self. But he is still best known for his stage persona, Deadmau5, appearing behind a massive DJ booth while wearing a rounded mouse head complete with a huge smile and protruding (often glowing) eyes. If the idea of a smiling mouse costume makes you think of Disney you aren't alone; Zimmerman faced a lawsuit from the company in 2014, issuing a counter-suit the following year. Eventually the whole thing quietly died down, so the Deadmau5 head lives on, its appearance synonymous with EDM festivals and videos of massive dancing crowds in party destinations like Ibiza. Zimmerman's music has earned him a number of Juno awards, Grammy nominations and even a spot on Forbes' 2016 list of the highest paid DJs in the business. This summer Zimmerman and his mask are hitting the road for a tour with stops at several music festivals, so get ready to see that bobbing head on the circuit once more.