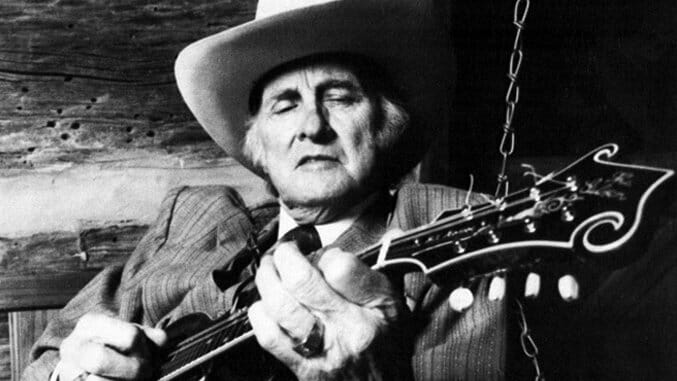 Today, bluegrass has a reputation as one of the most conservative genres of American roots music. A lily-white scene with few people of color, the surface of bluegrass today sometimes shows little depth, but underneath bubbles a raw nerve of working-class strife and naked aggression. Watch a bluegrass banjo player burn through a solo, punching out each note like a pugilist, and you'll be reminded of oi-influenced punk bands like Dropkick Murphys. Listen to a whole, sad story told in fewer than three minutes of songwriting, and you'll think of The Ramones. Check out the "fuck the police" vibes of early bluegrass songs about bootleggers, and you'll be reminded of The Clash. This is music made on instruments created before amplification, so don't let the acoustic tones of the music fool you, bluegrass can be as punk as they come.
Bluegrass came about in the 1940s from an innovative fusion of Appalachian mountain music, early blues recordings, jazz soloing, church harmonies and a raucous DGAF attitude. It was created by Southern musician Bill Monroe from little Rosine, Ky., and had its heyday in the bands formed by Monroe in the late 1940s and then by his competitors—Flatt and Scruggs, Reno and Smiley, Ralph Stanley and the Clinch Mountain Boys. Every bluegrass band today knows the roots of the music in Monroe's vision, and they all more or less pay homage to the master even 70 years later. And as it turns out, that master's vision was remarkably punk, so we've rounded up seven bluegrass songs that are punk AF.
1. Bill Monroe, "Mule Skinner Blues"
Recorded in 1940, this is often considered the first real bluegrass single. Recorded by Bill Monroe, "Mule Skinner Blues" features everything we've come to understand as bluegrass: intense playing, super high vocals (almost a howl at times) known as the "high tenor," a fast-rolling beat, and strong influences from African-American musical traditions. All of these are more or less present in punk as well, and Monroe's innovations, the same innovations that created bluegrass, shook up the country music industry of the time as badly as the first punk albums shook up rock 'n roll.
2. Flatt & Scruggs, "Foggy Mountain Breakdown"
Besides Monroe, the other key element in the creation of bluegrass is the banjo playing of Earl Scruggs. Discovered by Monroe, Scruggs played the banjo in a totally different way from nearly every other banjo player in America. He took the three-finger picking of his native North Carolina and ramped it up for a new generation, bringing a kind of military precision to his playing. He played faster and harder than anyone else, he played in minor keys, he bent and retuned his strings at will, he utterly redefined the instrument. In the early recordings he made in the late 1940s after leaving Monroe's band (sparking years of bitter feuding with the master) and starting his own band, the Foggy Mountain Boys, with guitarist Lester Flatt, you can hear him pounding the notes into the shellac so hard that he almost distorts the banjo. It was a sound that was so new and fresh that banjo players across the US literally dropped everything to try and figure out what he was doing. Scruggs is the ultimate badass on the banjo, even today, and "Foggy Mountain Breakdown" has all of this badassery encoded in its musical DNA.
3. Bill Monroe & the Bluegrass Boys, "Bluegrass Breakdown"
Perhaps the quickest comparison between bluegrass and punk comes from two core values of both—speed and aggression. Bluegrass may have come from Bill Monroe, but it came more from his attitude than anything. He was sick to death of the cheap hillbilly bands of his day, sick of Southerners dressing up as goofy hicks and singing songs in-between comedy skits. When Monroe and his band performed, they insisted on dressing up in suits to counter the stereotypes. They played it straight and hard, burning their music into the microphones with an intensity that became their signature. On this track in particular, you can hear that attitude loud and clear. From the jangly discordance of Monroe's opening chords on the mandolin, to the helter-skelter speed of Scruggs' racing banjo. At times they seem almost out of sync, pushing themselves so hard that they leave the beat behind. It's a remarkably punk kind of abandon for bluegrass.
4. Doc Watson, "Carroll County Blues"
Just as Jamaican ska, rocksteady, and reggae in England were indelible influences on early punk bands like The Clash, so was African-American country blues a huge influence on bluegrass. Monroe learned early on from playing with local black singer Arnold Schultz, and many of his other influences (Bob Wills, Jimmie Rodgers) were also consciously making music that blended white and black. One of the better examples of this is the classic bluegrass instrumental tune "Carroll County Blues." Written by the proto-bluegrass duo Narmour and Smith (two white musicians), the title comes from the county they lived in, Carroll County, Miss. Their neighbor at the time they wrote the tune (the early 1920s) was the legendary black blues guitarist Mississippi John Hurt, a seminal figure in American blues history himself. Hurt often filled in for guitarist Smith, playing in public with the white fiddler William Narmour. It was Narmour, in fact, who recommended Hurt to the Okeh Records scout who recorded Hurt's first blues recordings on 78rpm records in the late 1920s. The tune bears a very clear hallmark of the blues, as do many bluegrass tunes, and even today it still sounds much like it would have been heard at the backyard picnics and frolics of Carroll County in the 1920s.
5. Jimmy Martin, "Freeborn Man"
Bluegrass and punk were both built on the back of explosive personalities—men whose tempers, passions, and often drug abuses derailed their music again and again. The onstage anarchy at times became part of the draw, but it was also the vision and raw charisma of these early artists that helped draw so many people into the scene. In bluegrass, the first huge personality was Bill Monroe, a legendarily tough bandleader and a man nearly impossible for journalists to interview. After Monroe, there was Jimmy Martin. He was first a member of Monroe's band, then split to go on his own. Martin had an impossibly high, clear voice, but he also had a raging temper that led to onstage blow-ups and controversial statements. He was a boisterous voice in bluegrass and it shows in his music. His classic song "Freeborn Man" practically sneers at the establishment with its message.
6. Keith Whitley, "I Just Think I'll Go Away"
Though many of the stories are still kept under wraps, bluegrass has always been a music that pushed performers to excess, and perhaps none more so than the tragic genius Keith Whitely. A Kentucky boy, Whitely started his career as one of Ralph Stanley's Clinch Mountain Boys, bringing a golden voice to Stanley's band. After becoming one of the best bluegrass vocalists on the scene, he left bluegrass behind to pursue a career as a country singer in Nashville, eventually going on to country stardom in the 1980s. But the alcoholism that began on the road as a bluegrass singer proved his undoing. In 1989 he died of acute alcohol poisoning, having literally drunken himself to death in one binge. Both punk and bluegrass have paved their way to success on the backs of hard-working musicians struggling with alcoholism or drug abuse, and Whitely's story, though an epic tragedy, still serves as a warning today.
7. Bad Livers, "Shit Creek"
Perhaps the best argument linking punk and bluegrass is the simple fact that there are a surprising number of punk musicians who've turned to bluegrass later in their lives (The Velvet Underground's Doug Yule and his old-time string band, Tommy Ramone's bluegrass duo, and Tim Eriksen's shape-note projects come to mind), and there are some seminal bands that made their careers mixing punk and bluegrass together. The Bad Livers may have been the granddaddy of bluegrass/punk fusion. Formed up in the early '90s by Austinites Danny Barnes and Mark Rubin, Bad Livers' love of bluegrass and their ability to blend it with a punk aesthetic also put them at the head of the burgeoning alt-country movement. In truth, bluegrass was only one element of the Bad Livers sound, but they became figureheads to a new generation that wanted the authenticity of a traditional sound, but came from urban centers and were more interested in picking the shit out of a song than paying strict homage to a tradition.