Alt-J Release an Epic Video for "Pleader"
Image via the artist and Stuart C. Wilson/Getty
Music
News
Alt-J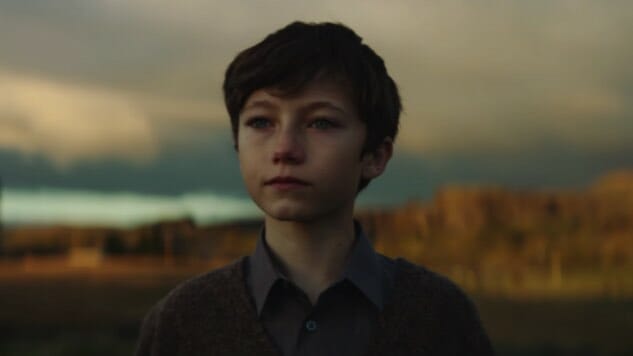 In June, the "alt-prog indietron" that is Alt-J released their third album Relaxer (out now via Canvasback Music), and took deep, dark dives into real and fictionalized historical events for its completion—accompanied by a never-ending repertoire of unsettling harmonies and lyrics as a guiding force. For Alt-J's new video "Pleader," the song that closes out Relaxer, the band attempts a six-minute epic directed by Isaiah Seret, and starring Sophie Cookson and Morgan Watkins. It's a story in a song, unlike what most of Alt-J's contemporaries would dare to attempt or have the means to accomplish.
"Taking inspiration from the song's lyrics, and by extension Richard Llewellyn's novel How Green Was My Valley, it blends family drama with sacrifice and apocalypse," the band says in a statement. The film opens with gorgeous shots of a very green valley and we're first introduced to a young couple in a small 19th-century mining town in Wales. We are imbued by the life that surrounds them—disaster strikes, as in any fairytale, but the hope is that the family's son will have a better life.
As singer and guitarist Joe Newman tells Bob Boilen of NPR:
When we set out to make a video for "Pleader," [I] sent the following one-line brief to director, Isaiah Seret: "A Welsh mining love story; A tidal wave of earth." What Isaiah came back with was an epic short-film inspired both by the song's source material and Tarkovsky's The Sacrifice. A family must pit their desire to have a child against the knowledge that this would destroy their community. The hypnotic, hymnal quality of the song binds the video throughout, hinting at redemption while destruction takes place.
The film's ending shots include a teary-eyed boy in a church choir, remembering his parents—fitting, as the song itself was recorded in a cathedral with an organ and the London Metropolitan Orchestra, and Alt-J keyboardist Gus Unger-Hamilton was a member of this particular choir as a kid.
Watch the masterpiece that is "Pleader" below.