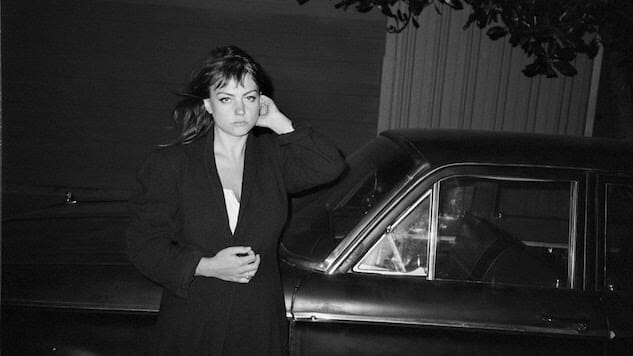 Daily Dose is your daily source for the song you absolutely, positively need to hear every day. Curated by the Paste Music Team.
"True Blue" truly is blue. A dreamy, detached, dark sort of disco with a rumbling bass, "True Blue" leaves us gloomily twirling while alone on the dance floor.
A collaboration with Angel Olsen, the song is a standout off Mark Ronson's freshly released, star-studded new album, Late Night Feelings.
The heavy track starts out with Olsen's muffled, dripping vocals as she croons about the cost of an intense break-up.
"Fucking around / havin' fallen in love," she warbles with a deep, all-encapsulating longing. "Saying goodbye / 'cause you're giving it up / All that you were / all that you lost / Whoever thought it came with a cost?"
Then the song blends into swirling, syrupy synth resting on sleepy reverb. We watch a giant disco ball heart breaking, then left in a box as the smears of fuzzy production reach a fever pitch.
"We were alone / We were to blame," Olsen belts, her voice slowly crawling up warped guitar whirs. "Alive with the same blood in our veins."
Oozing some subdued ABBA vibes, the song is gloriously moody and perfectly melds an unlikely pair with indie-rock queen Olsen's brooding, soulful sound seeping through the addition of something a bit more funky from shimmering pop producer Ronson.
Give the song a listen for yourself below, and check out the Late Night Feelings album details and dates for Olsen's next tour further down.
Late Night Feelings Artwork:
Late Night Feelings Tracklist:
01. Late Night Prelude
02. Late Night Feelings (feat. Lykke Li)
03. Find U Again (feat. Camila Cabello)
04. Piece of Us (feat. King Princess)
05. Knock Knock Knock (feat. YEBBA)
06. Don't Leave Me Lonely (feat. YEBBA)
07. When U Went Away (feat. YEBBA)
08. Truth (feat. Alicia Keys & The Last Artful, Dodgr)
09. Nothing Breaks Like A Heart (feat. Miley Cyrus)
10. True Blue (feat. Angel Olsen)
11. Why Hide (feat. Diana Gordon)
12. 2 AM (feat. Lykke Li)
13. Spinning (feat. Ilsey)
Angel Olsen Tour Dates:
October
30 – Asbury Park, N.J. @ Asbury Lanes *
31 – Philadelphia, Pa. @ Franklin Music Hall *
November
01 – Washington, D.C. @ Lincoln Theatre *
04 – Atlanta, Ga. @ Variety Playhouse *
05 – New Orleans, La. @ Civic Theatre *
07 – Austin, Texas @ Stubb's (Levitation) *
08 – Dallas, Texas @ Granada Theater *
09 – Oklahoma City, Okla. @ The Criterion *
10 – Lawrence, Kan. @ The Granada *
12 – Minneapolis, Minn. @ First Avenue *
13 – Madison, Wis. @ The Sylvee *
14 – Chicago, Ill. @ The Riviera Theatre *
15 – Detroit, Mich. @ Royal Oak Music Theatre *
16 – Toronto, Ont. @ Queen Elizabeth Theatre *
18 – Montreal, Que. @ mTelus *
19 – Boston, Mass. @ Royale *
22 – Brooklyn, N.Y. @ Brooklyn Steel *
23 – Brooklyn, N.Y. @ Brooklyn Steel
December
02 – Phoenix, Ariz. @ The Van Buren *
03 – San Diego, Calif. @ The Observatory North Park *
05 – Los Angeles, Calif. @ Palace Theater *
06 – Los Angeles, Calif. @ Palace Theater
07 – Oakland, Calif. @ Fox Theater *
09 – Portland, Ore. @ Roseland *
10 – Vancouver, B.C. @ The Orpheum Theatre *
11 – Seattle, Wash. @ Moore Theatre *
13 – Salt Lake City, Utah @ The Depot *
14 – Denver, Colo. @ The Gothic Theatre *
15 – Denver, Colo. @ The Gothic Theatre *
February
11 – London, U.K. @ Eventim Apollo
(* = w/ Vagabon)