Anna Calvi to Tour U.S. for the First Time Since 2013, Score New Season of Peaky Blinders
Photos by Jonathan Birch, Maisie Cousins
Music
News
Anna Calvi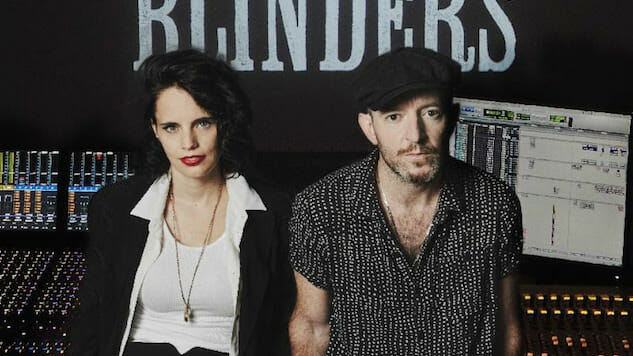 Some news on the Anna Calvi front: The musician is bringing her tour to the U.S. for the first time in six years in support of her acclaimed 2018 album Hunter. Additionally, the "Don't Beat the Girl Out of My Boy" artist has written and performed the score for the fifth season of BBC One's period drama Peaky Blinders, marking her first television score.
Calvi describes what drew her to the gangster epic in the first place:
This is a new thing for me but it was a really good fit, I love everything about the show. I completely immersed myself in it and became quite obsessed with the characters, especially Tommy Shelby (Cillian Murphy) and getting lost in his mind. There is a duality to the show, a beauty and a brutality, which I have been exploring in my own music and on the Hunter album. I want to say thank you to the director Anthony Byrne for believing in me and letting me seek out what I needed to.
Hunter is on the shortlist for the 2019 Mercury Prize, Calvi's third nomination for the title of best album released in the U.K. by a British or Irish act.
Tickets for Calvi's U.S. shows are on sale now via the artist's website.
Scope out the tour dates below, beneath Calvi's 2012 Daytrotter Session.
Anna Calvi Tour Dates:
July
19-21 — Suffolk, U.K. @ Latitude Festival
19-21 — Macclesfield, U.K. @ Bluedot
26-28 — Wiltshire, U.K. @ Womad
26-28 — Topcliffe, U.K. @ Deer Shed
31 — Treviso, Italy @ Suoni di Marca
August
02-04 — Glasgow, U.K. @ Playground Festival
02-04 — Porltaw, Ireland @ All Together Now
08 — Jena, Germany @ Kulturarena Jena
11 — Leith Theatre, U.K. @ Edinburgh International Festival
16-18 — Hasselt, Belgium @ Pukkelpop
19 — Helsinki, Finland @ Helsinki Festival
21 — Berlin, Germany @ PopKultur
22-24 — Portugal @ EDP Vilar de Mouros
23-25 — Birkenhead, U.K. @ Future Yard
31 — Picena, Italy @ Live Rock
December
04 — Los Angeles, Calif. @ The Echo
07 — Brooklyn, N.Y. @ Rough Trade