New Quiet Slang (James Alex of Beach Slang) EP Streaming Now
Images via Charlie Lowe, Polyvinyl
Music
News
Beach Slang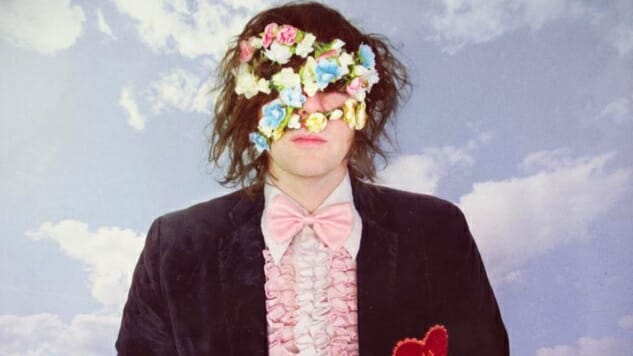 Cello, piano, vocals. That's it.
"I suppose I've been thinking of things like this: Beach Slang is drunk, sweaty sins on a Saturday night. Quiet Slang is salvation on Sunday morning," James Alex told Riot Fest earlier this summer. "Or maybe it's about holding on. Something like that."
Wherever you are in your weekday or weekend, you can stream Alex's new EP under the moniker of Quiet Slang below, a day ahead of its official release. It's called We Were Babies and We Were Dirtbags, and consists partly of reworked tracks (two Beach Slang songs: "Future Mixtape for the Art Kids," which started off the last album, and "Bad Art & Weirdo Ideas"), and covers of The Replacements and Big Star tracks ("Androgynous" and "Thirteen," respectively).
Alex said in a statement, "Most of the time, I'm caught in a tug-of-war between the gutter and the light, fighting to figure out where I fall. Look, all the best stuff is part-cracked and part-patched. The best humans are made the same. And that's all this is—a love letter to all my friends who thought they were meant to die young. See?—we made it."
For comparison, check out Paste Cloud audio of Loud Slang—uh, Beach Slang's—"Bad Art & Weirdo Ideas." We Were Babies & We Were Dirtbags comes out tomorrow on Polyvinyl Records, and you can stream it in advance below or purchase it here.
Beach Slang Tour Dates:
October
20 – Asbury Park, N.J. @ House of Independents
21 – Richmond, Va. @ The Broadberry
22 – Durham, N.C. @ Motorco Music Hall
23 – West Columbia, S.C. @ New Brookland Tavern
24 – Atlanta, Ga. @ The Masquerade – Hell
26 – Tampa, Fla. @ The Orpheum @ Pre-Fest
28 – Gainesville, Fla. @ Bo Diddley Plaza @ The Fest
28 – Gainesville, Fla. @ Civic Media Center @ The Fest (James Alex Solo)
30 – Birmingham, Ala. @ Saturn
31 – Nashville, Tenn. @ The Basement East
November
01 – Louisville, Ky. @ Zanzabar
02 – Newport, Ky. @ The Southgate House Revival
03 – DeKalb, Ill. @ The House Cafe
04 – St. Paul, Minn. @ Turf Club
05 – Kansas City, Mo. @ The Riot Room
11/07 – Denver, Colo. @ Marquis Theatre
08 – Salt Lake City, Utah @ Urban Lounge
10 – Boise, Idaho @ Neurolux
11 – Seattle, Wash. @ Chop Suey
12 – Portland, Ore. @ Hawthorne Theatre
14 – San Francisco, Calif. @ Great American Music Hall
16 – Los Angeles, Calif. @ Echoplex
17 – Las Vegas, Nev. @ Emerge Music and Impact Conference
18 – Phoenix, Ariz. @ The Rebel Lounge
20 – Austin, Texas @ Barracuda
21 – Houston, Texas @ White Oak Music Hall
22 – Dallas, Texas @ Curtain Club
24 – St. Louis, Mo. @ The Ready Room
25 – Chicago, Ill. @ Bottom Lounge
26 – Cleveland Heights, Ohio @ Grog Shop
27 – Pittsburgh, Pa. @ Cattivo
28 – Washington, D.C. @ Black Cat
29 – New York, N.Y. @ Irving Plaza
30 – Cambridge, Mass. @ The Sinclair
December
01 – Bethlehem, Pa. @ ArtsQuest – Blast Furnace Room
02 – Philadelphia, Pa. @ Theatre of The Living Arts