Big Thief's Second Album of 2019, Two Hands, Is More Than a Victory Lap
Who else puts out two studio albums in one calendar year without an obligatory dip in quality?
Music
Reviews
Big Thief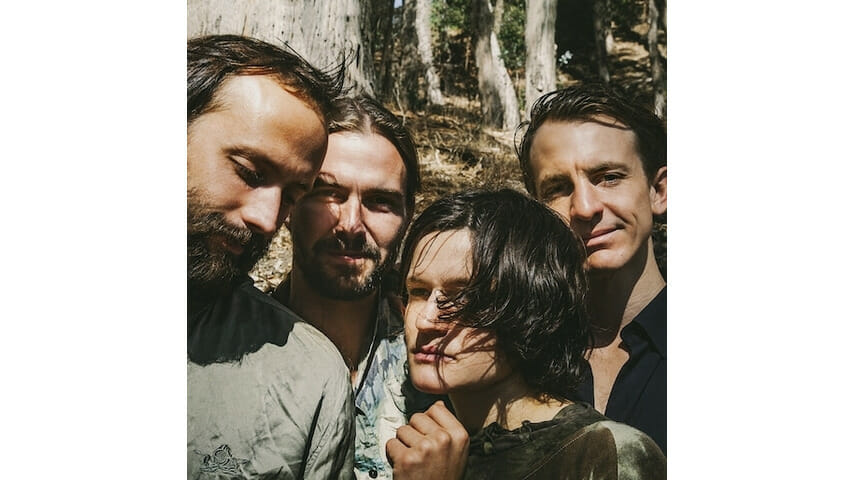 Big Thief has amassed a large and devoted fanbase the old-fashioned way: by releasing four astonishingly good albums in just three-and-a-half years, by touring relentlessly and seemingly without rest, by Instagramming a lot of photos of themselves grinning and embracing each other in various bucolic settings. When the quartet's latest album—and second from this year—first landed in my inbox, there was something else old-fashioned about it: The 10-song record, Two Hands, had been separated into just two lengthy tracks, like two slabs of vinyl. Was this a Lovesexy situation, in which CDs would be issued as one continuous 40-minute piece of music, unwieldy to all but the committed few?
Well, no. This was a stopgap measure, the promo email explained: The advance stream had created artificial breaks between the songs, and Big Thief "didn't want this to be how people experienced the album." It's a small anecdote that reveals a lot about the sort of care Big Thief puts into how their music is consumed and experienced by others—as well as the level of goodwill the band has accrued, such that critics will willingly put up with such measures to hear the album. And their second album in five months! Who else puts out two studio albums in one calendar year without an obligatory dip in quality?
In 2019, much of Big Thief's ethos feels like a throwback to the LP era: the prolific output (think Creedence circa 1969-1970), the album-stream-as-vinyl-sides, the band's creative intimacy and affinity for recording live with minimal overdubs. Which is appropriate, since this band's razor-sharp songwriting has always felt somewhat adrift in time, belonging as much to the 1970s or early 2000s as it does to the present. Two Hands does not dramatically depart from the mesmerizing folk-rock fusion of U.F.O.F., but its best moments emphasize the band's gnarled electric energy, particularly on the career highlight "Not."
The two albums, it should be noted, emerged from two distinct sessions: U.F.O.F. recorded in a cabin in Washington State, Two Hands in the middle of the sweltering Texas desert at Sonic Ranch studio, just miles from the Mexican border. The band's sense of togetherness is palpable. These 10 songs were largely tracked live, and it shows in the immediacy of the production—the crackling arpeggios of the title track, the natural reverb on the opening chords of "Shoulders." (If you squint, you can almost hear the snare rattle from the amplifier's vibrations.) The latter song makes explicit the band's ecological fixations, with one of Adrianne Lenker's angrier vocal turns and lyrics that ruminate on environmental violence ("The blood of the man who killed my mother with his hands is in me / It's in me"). Both are standouts that seem primed to become live staples as the band graduates to bigger and bigger venues.
Although Two Hands begins with a subdued number—the loping waltz of "Rock and Sing"—its best songs are louder and more visceral than just about anything on its predecessor. "Forgotten Eyes" recalls the uptempo crunch of 2016's "Masterpiece," and it has a gorgeous, trembling quality as its ringing guitars drift in and out of tune. The song is a gesture of compassion for abandoned or forgotten humans, and Lenker is the rare singer who can make a simplistic refrain like "Everybody needs a home and deserves protection" sound achingly profound.
Just when you expect Two Hands to start winding down, Big Thief unleashes a roiling six-minute barnburner. "Not" is a phenomenal thing. As it moves from pounding mantra (nearly every lyric begins with the word "not") to show-stopping guitar freakout, every spare molecule of Big Thief's energy seems to be drafted in service of a higher intensity. Notice how Lenker's voice cracks on words like "hunger." Then marvel at the guitar solo, which is like the goddamn indie-folk "Maggot Brain." If it's not Big Thief's greatest song to date—which it very well might be—it's a reminder that this band can deliver electric urgency as adroitly as hushed catharsis.
"Not" is a tough act to follow, and the album's only real blunder is that it even tries. The record's final three tracks—"Wolf," "Replaced," and "Cut My Hair"—are all pleasant in their own individual ways. (The first of them, a folky yarn, even provides some wolf-like howling from Lenker, perhaps a callback to a line from the band's 2016 debut: "I'm a wolf in a city of women.") But in the smoldering ash of "Not," all three songs wind up feeling a little like bonus tracks.
When an artist releases two studio albums in one year, it's customary for critics to grumble about hubris, usually accompanied by the suggestion that the two separate releases should have been whittled down into one. Often—as with Justin Timberlake's The 20/20 Experience and its turgid sequel—this charge is accurate. With Big Thief, it won't be. Both records stand as outstanding and individual statements from a band operating at some rare creative peak. Both records deserve to exist, and we're fortunate that they do.