Watch Blood Orange Debut Two New Songs on The Late Late Show
Photo by Terence Patrick/CBS
Music
News
Blood Orange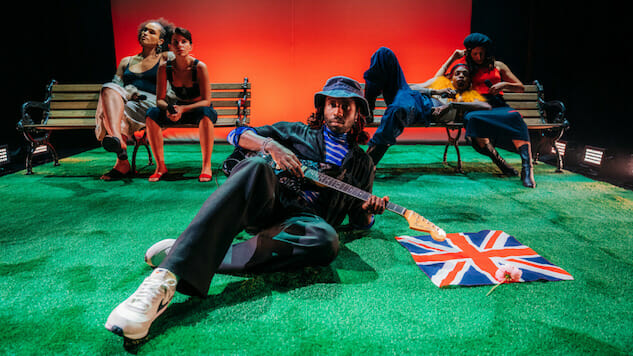 Blood Orange made an appearance on The Late Late Show with James Corden Tuesday night to premiere a medley of two new songs, "Something to Do" and "Dark & Handsome."
The performance began with Dev Hynes playing guitar on the ground while his backing vocalists sang "Something to Do" on park benches behind him. He then got to his feet and broke into "Dark & Handsome" without missing a beat, a smooth, sultry cut that includes a brief feature from Chaz Bear of Toro y Moi. Hynes has never been afraid to cede the stage to other vocalists, both live and in the studio, and that interplay of voices makes this a one-of-a-kind performance, particularly for late-night television.
It's unclear whether these two new tracks signal a larger release on the way from the New York-based artist, or if they're just left over from last year's excellent Negro Swan. Either way, the studio versions of these two songs are something to look out for in the coming weeks.
Hynes and crew have been busy wrapping up the final leg of their tour behind Negro Swan, which took them to Coachella this past weekend. Their performance at the festival opened with a cover of Neil Young's "Heart of Gold" and featured a guest appearance from Lil' Yachty.
Hynes also just released a video for the Negro Swan track "Hope," which features vocals from Diddy and Tei Shi. Both make appearances in the video alongside Tyler, The Creator and A$AP Rocky. Check out Blood Orange's full performance on The Late Late Show along with the video for "Hope" below. You can hear his 2012 Daytrotter Session further down.