Bob Dylan Covers Tom Petty's "Learning to Fly": Watch
The two were longtime friends and bandmates in The Traveling Wilburys.
Photo: Getty Images
Music
Features
Bob Dylan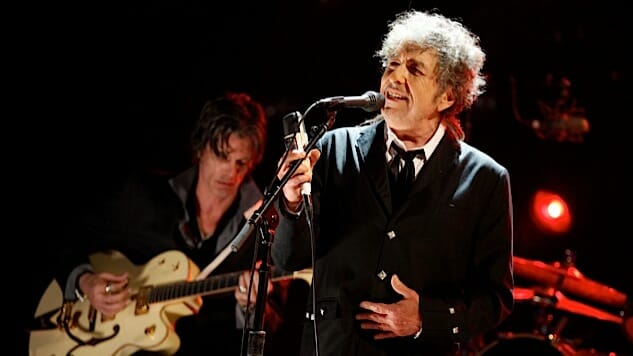 Since the sudden death of Tom Petty on Oct. 2, dozens of artists have emerged with tributes and covers of Petty's songs, from deep cuts to huge hits. It was probably just a matter of time before Bob Dylan, Petty's mentor, longtime friend and bandmate in the Traveling Wilburys, chimed in with a tribute of his own, and sure enough on Saturday night in Broomfield, Colo.—the night after what would have been Petty's 67th birthday—Dylan treated his crowd to a rendition of Petty's "Learning to Fly."
"Learning to Fly" was the lead single on 1991's Into the Great Wide Open, the eighth studio album by Petty and the Heartbreakers. The album was produced by Jeff Lynne, who was in the Traveling Wilburys with Petty and Dylan, along with Roy Orbison and George Harrison.
Watch Dylan cover "Learning to Fly" below. Check out our collection of all the tributes to Petty in the week after he died, with performances by Coldplay, Dave Matthews, Miley Cyrus, Kesha, Father John Misty and others. And be sure to check out this exclusive recording of Petty performing the last ever show at the Winterland Ballroom in San Francisco on Dec. 30, 1978.