Bob Marley Live: The Best (Unreleased) Performances
Listen to the July 18, 1975, performance that went down as one of Marley's greatest.
Music
Features
Bob Marley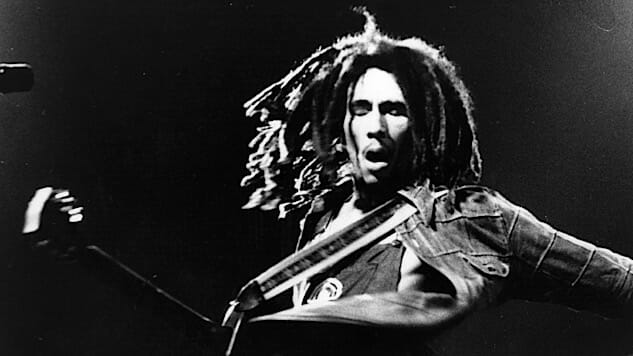 Did you know that Paste owns the world's largest collection of live music recordings? It's true! And what's even crazier, it's all free—hundreds of thousands of exclusive songs, concerts and videos that you can listen to and watch right here at Paste.com, from Muddy Waters to The Rolling Stones to R.E.M. to LCD Soundsystem. Every day, we'll dig through the archive to find the coolest recording we have from that date in history. Search and enjoy!
Bob Marley's name has been back in the headlines these days thanks to the publication of Rogers Steffens's excellent new biography, "So Much Things to Say: The Oral History of Bob Marley." (You can read our review here.) So today we bring you one of the most historic recordings in the voluminous Paste Vault: On July 18, 1975, Marley and the Wailers performed at the Lyceum in London—the show that eventually became the group's seminal album, Live! Here, though, you'll find a couple songs recorded that night that didn't make it onto the 1975 album that is now issued to every freshman in every college dorm across America.
The Live! album actually comprised songs recorded at the Lyceum on July 17 and July 18 of 1975, and our original recording captures the latter date, complete with the version of "No Woman, No Cry" that was released as a single and became Marley's most recognizable song.
But you'll also find a joyous version of "Kinky Reggae," which was left off the original Live! album, perhaps because Marley uses the midsection of the song as an introduction jam to present members of The Wailers to the audience. (It was, however, eventually included as a bonus track on rereleases.)
Another song that wasn't included on the album is "Stir It Up," another rhythmic gem, with Marley doing a joyous interplay between his vocals and those of his backup singers, The I-Three, featuring his wife, Rita. The electric piano solo played through a wah-wah pedal by Tyrone Downie lends the track a whole new dimension.
Other highlights from the show include the always infectious "I Shot the Sheriff," which had already become a massive hit internationally thanks to Eric Clapton's cover (which you can listen to here, via a Clapton performance in 1985) and the Marley standard "Get Up Stand Up." It is hard to grasp just how much of an impact Marley has had on popular music, especially hip-hop, until you rediscover a momentous live show like this one.