Watch Bon Iver's Lyric Video for New Song Off 22, A Million, the Gorgeous "33 'GOD'"
Images via Cameron Wittig & Crystal Quinn, Jagjaguwar
Music
Video
Bon Iver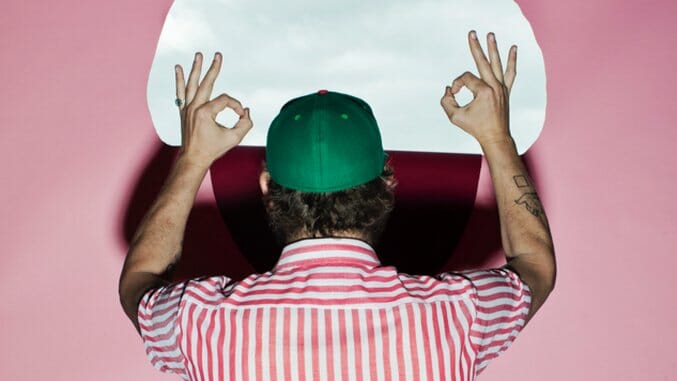 Bon Iver's first record in five years, due out a month from tomorrow, is going to be a trip.
After cryptically teasing the album earlier this month, then performing it in full at their own Eaux Claires Art Festival, Bon Iver shared lyric videos for two extended advance tracks, "22 (OVER SooN) [Bob Moose Extended Cab Version]" and "10 d E A T h b R E a s T x x (Extended Version)." This morning, Justin Vernon and company released a third lyric video, this for yet another new tune, "33 'GOD'."
The song is gorgeous and amorphous: spritely autotuned singing meshes with Vernon's unmistakable falsetto, backgrounded by soft banjo fingerpicking and delicate keys, until a heavy beat comes thundering in. The bridge is particularly breathtaking, as the drums drown in a sea of angelic voices. It's hard not to hear shades of Vernon's work with Kanye West in "33 'GOD'," which some fans will likely be bothered by, but this bizarrely beautiful tune is hard to argue with.
22, A Million is out Sept. 30 on Jagjaguwar—you can pre-order it here. Watch the "33 'GOD'" lyric video above, and find the album's tracklist below.
22, A Million Tracklist:
1. 22 (OVER SooN)
2. 10 d E A T h b R E a s T x x
3. 715 – CREEKS"
4. 33 'GOD'
5. 29 #Strafford APTS
6. 666 t
7. 21 MOON WATER
8. 8 (circle)
9. ____45_____
10. 00000 Million