BROCKHAMPTON Finally Become the Boy Band They've Always Wanted to Be on GINGER
But it doesn't quite deliver
Music
Reviews
Brockhampton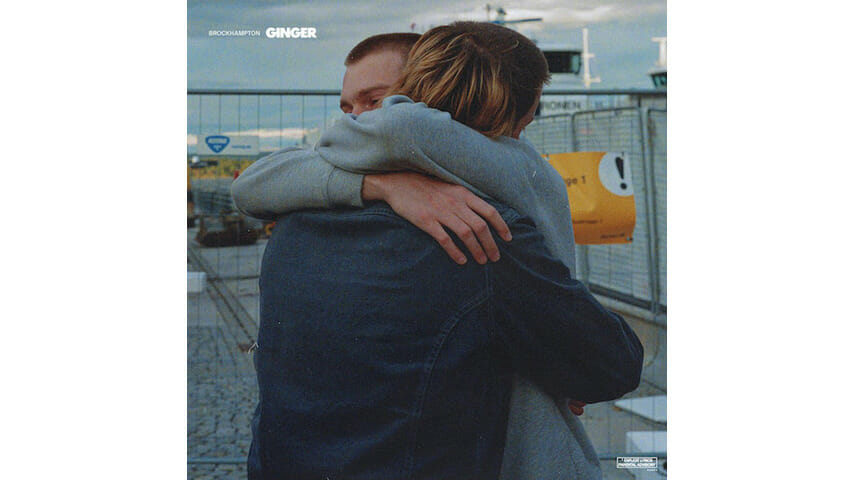 BROCKHAMPTON have long described themselves as a "boy band." "Rap collective" has always been a more apt descriptor, as their group mentality compared favorably to that of Odd Future when the latter first emerged earlier this decade.
But on "NO HALO," the opener on their new album GINGER, BROCKHAMPTON finally sound like the boy band they've always wanted to be. The upbeat, chaotic party-ready beats of "BOOGIE," "GUMMY" or "GOLD" are replaced with an acoustic guitar beat that would have fit right in on late-90s boy band hits. It would be like layering a modern Post Malone-type beat on top of the fingerpicked guitar intro from the Backstreet Boys' "I Want It That Way."
They lean even harder into their newfound capital-P Pop tendencies on "SUGAR," where Bearface does his best JC Chasez impression during the refrain: "Do you love me, love me, love me?" It's what a 2019 One Direction song would sound like with a Swae Lee feature.
The BROCKHAMPTON from last year's iridescence, an entirely different group from the one that rose to prominence with 2017's three SATURATION albums, somewhat returns on "Boy Bye," one of the only tracks with all six members contributing vocals. BROCKHAMPTON are at their best when everyone is in the room together, a more rare occurrence since they signed a $15 million deal with RCA and traded their shared house/workspace for separate homes throughout Los Angeles.
It's that group attitude that made BROCKHAMPTON so much fun in the first place: Their 2017 TRL performance of "BOOGIE" in Times Square proved their collaborative energy was what made them so engaging, perhaps even delivering the lasting image of the "boy band." It was chaotic, messy and thrilling, thanks in no small part to Joba's batshit-crazy screams. It was the sound of a handful of teenagers losing their minds, not at all concerned with music industry rhetoric. They were doing their thing.
But GINGER strips away most of that energy. It's the sound of those teenagers growing up, but not in the way that, say, Tyler, the Creator did on Flower Boy in 2017. It's BROCKHAMPTON angling for the mature album, approaching adulthood with slicker beats while they rap about being social outcasts dealing with an enduring depression.
In doing so, they fail to separate themselves from their contemporaries. While no one else could necessarily make a full album like this one (Who else could put the exhilarating trumpet beat from "IF YOU PRAY RIGHT" on the same record as the aforementioned "SUGAR?"), it's much easier to trace their influences on GINGER than ever before. They sound like the pop and rap music around them, partly because they've become leaders in both genres. Their last two releases cracked the top 20 on the Billboard albums chart, with last year's iridescence debuting at number one. They no longer feel the need to out-rap anyone else, perhaps because they don't have to anymore.
But the old BROCKHAMPTON does make some appearances here, most notably on "I BEEN BORN AGAIN," "ST. PERCY," "IF YOU PRAY RIGHT" and "BOY BYE." The group just isn't as much of a priority at this point, especially since it seems like every member is beginning to follow their own distinct musical directions (Kevin Abract's recent solo album was apparently inspired by Lana Del Rey's "Venice Bitch"). The result is their most uneven and dour release to date. It's not clear if BROCKHAMPTON knows what BROCKHAMPTON want to sound like these days.
Each of their albums experiment with genre, but GINGER is all over the place, never really sure what it wants to be. But moving forward, it seems pretty clear the group from that "BOOGIE" performance is a thing of the past, for better or for worse, and they're attempting to evolve into something else. It's just unclear if becoming the boy band of their dreams is the best use of their talents.