Catholic Action's Celebrated By Strangers Is the Perfect Balance of Playfulness and Sincerity
The Scottish four-piece offer endless surprises on their sophomore album
Music
Reviews
Catholic Action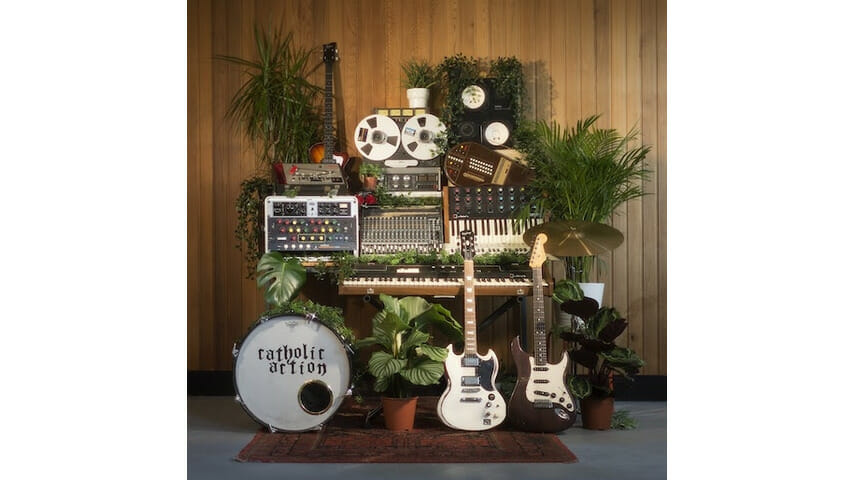 It's not very zeitgeisty for bands to unironically shred these days. But it's a welcome shakeup when bands revolt against the simplistic, reverb-drenched plucks that characterize much of the popular indie world—as long as they're not swapping them for something much worse, like insufferable classic rock revivalism or the radio rock wasteland of "whoa-oh-oh's," embodied by bands like Imagine Dragons or Bastille.
Glasgow's Catholic Action are a case study in how to subvert those conventions, while simultaneously making something seemingly fresh. They stitch together pop, punk, indie, glam and garage rock, always with bold guitars placed at the center, but most crucially, there's a contagious bounciness to their music.
The four-piece band released their debut album In Memory Of back in 2017, and it was a frequently amusing, occasionally dark collection of hopped-up pop songs with knobby guitar tones. It was also one of those records that made you remember what it was like to actually hear irresistibly hummable basslines in guitar songs that are decidedly not funky indie-pop or stark post-punk. On their 2020 follow-up Celebrated By Strangers, the four-piece led by singer, guitarist and producer Chris McCrory, are firing on all cylinders again, ready to remind you that guitar solos still rule—if they're as interesting and well-executed as these, that is.
While their debut album delivered its fair share of peculiarities, Celebrated By Strangers is peppered with even more moments of unexpected zest. For one thing, the album begins with horns sputtering out of control—it sounds like the outro of a drawn-out, improvisational jazz number. But it eventually glides into those playfully coy guitars, always transmitted with a distinct tone that makes Catholic Action immediately recognizable. Their guitar pop fundamentals are always treated as the number one priority, but they have the ability to adorn their music with mystifying production or instrumental quirks that don't overshadow the songs. Somehow, the wonky percussion and Renaissance organ-like guitars on "Witness" only heighten the song's charm and slightly absurd theme.
Guitars are still their bread and butter, but they fold in other elements with an effortlessness that almost rivals their axe slinging. "And It Shows" is still ruled by country-fried six strings, but its slow-crawling keys and crying harmonica are welcome additions, as are the drum machines and disorienting synth interlude on "People Don't Protest Enough" and the uplifting strings on "Another Name for Loneliness." But fear not, the subtly distorted, simple guitar pop songs of their debut album still show up here with songs like "One of Us" and choruses like the punchy "Yr Old Dad." Plus, arguably the most compelling sequences on the album consist of tried and true rock 'n' roll: the stuttering, punkish "do-do-do-do-do" vocals on "People Don't Protest Enough" and the Sgt. Pepper-esque closer "Four Guitars (For Scottish Independence)."
It's not just sonic flare that sets them apart: They bring their fair share of lyrical magnetism, too. "Yr Old Dad" centers on a father who's either literally withering away, emotionally absent or perhaps both. In any case, it's not exactly an expected subject to pair with a perky pop song. "Your old dad is dying / He said son I'm growing old / 'Cause your mother can't stop crying / And your girlfriend has two homes," sings McCrory over handclaps and gloriously flamed-out guitars—anyone who thinks they've lost interest in guitar solos should tune into Andrew MacPherson's absolutely sublime shrieks on this track.
"Witness," along with other new cuts "I'm No Artist" and "Sign Here," recalls the clever quip from their 2017 single "Say Nothing" ("What do you think I think of you?"), but they take that intensely self-referential sentiment even further this time. "Witness" finds McCrory unpacking the weird dynamics of being in a band, both in terms of presentation ("I'm the uptight frontman, personality unwrote") and the industry ("Witness the upsell!"). "Sign Here" also refers to industry hijinks and the often bland music that results from bigwig schemes. "The indie-pop sweatshop is shuttering its doors / Barrels have been scraped clean but he wants to check the floor / They are out to bore you," proclaims McCrory, and it only lands because Catholic Action successfully defy indie rock orthodoxy.
Whether they're singing about the disheartening music industry or the plight of the everyday man ("One Of Us," "People Don't Protest Enough"), Catholic Action are in search of something pure and authentic, and that's best embodied by "There Will Always Be a Light." After lines about "yes-men," "Mr. P.R." and "legless horses," the band emotionally center themselves on this penultimate track, singing about a ceaseless light that "shines" and "guides." Catholic Action pride themselves on being the voice of the well-meaning underdog, which is rather fitting on an album called Celebrated By Strangers, even though the song containing the album's title ("I'm No Artist") is careful to shut down any notion of creative superiority.
Catholic Action have broadened their palette far beyond the jumpy guitar pop of their debut. While adding faint touches of synth-pop, post-punk and art rock, they've managed to retain the exuberance that sets them apart. Celebrated By Strangers offers endless, off-the-wall playfulness and lines of hopeful sincerity. Surely the only people who wouldn't want that are the characters they skewer here.