Exclusive: Confidence Man Share Spooky Video for New Single "Does It Make You Feel Good"
Photo by Jess Brohier
Music
News
Confidence Man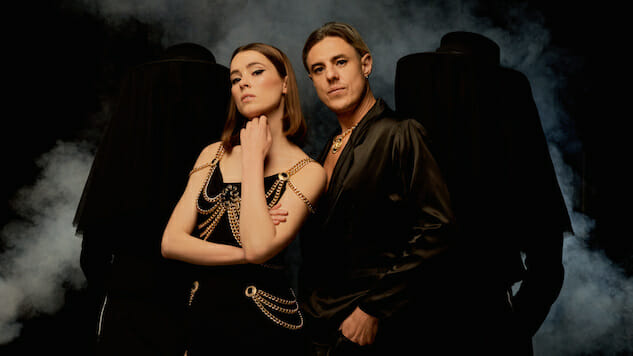 Australian electro-pop four-piece Confidence Man released their debut album, Confident Music for Confident People, last year to critical acclaim, and now they're sharing their first taste of new music. Today (Nov. 18), they've unveiled a new single, "Does It Make You Feel Good," with an accompanying video premiering exclusively at Paste.
"Does It Make You Feel Good" is invigorating dance-pop with the kind of pumping grooves that blur the line between the physical and spiritual. You can try your best to escape the clutches of their tantalizing rhythms, but paired with vibrant vocals and hypnotizing keyboards, they're especially lethal. Led by Janet Planet and Sugar Bones, Confidence Man take listeners down a neon wormhole of house, pop and disco, posing questions as if they're licensed dance music therapists.
The "Does It Make You Feel Good" music video was shot in Berlin with long-time visual collaborators Schall and Schnabel, and it sees Confidence Man take part in a number of spooky religious rituals—there are sheep, lasers, candles, levitation and creepy black-cloaked figures who confusingly know how to boogie.
Watch their new video for "Does It Make You Feel Good," exclusively via Paste. Scroll down to view their upcoming tour dates.
Confidence Man Tour Dates:
November
23 – Canberra, Australia @ Spilt Milk
30 – Ballarat, Australia @ Spilt Milk
December
19 – Perth, Australia @ Ice Cream Factory Summer Festival
28 – Lardner, Australia @ Beyond the Valley
31 – Glenworth Valley, Australia @ Lost Paradise
January 2020
24 – Melbourne, Australia @ Zoo Twilights
February 2020
08 – White Hills, Australia @ Party In The Paddock
20 – Auckland, New Zealand @ Galatos
March 2020
01-04 – Kitakyushu, Japan @ Snow Machine
11 – Sydney, Australia @ Hordern Pavilion^ (SOLD OUT)
14 – Melbourne, Australia @ Sidney Myer Music Bowl* (SOLD OUT)
May 2020
01 – Murcia, Spain @ Murcia Festival
(^ with New Order)
(*with New Order, Cut Copy)