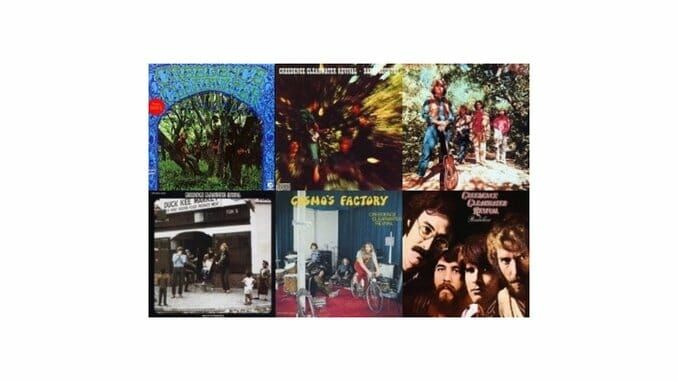 Creedence Clearwater Revival (79)
Bayou Country (94)
Green River (96)
Willy and the Poor Boys (87)
Cosmo's Factory (90)
Pendulum (68)
Four decades later, CCR's classic albums sip like the smoothest of 'shine
Creedence Clearwater Revival was a commercial juggernaut, with nine Top 10 hits between 1969-71, even outselling The Beatles in 1969. Although encamped right across the bay from San Francisco's Haight-Ashbury, CCR never injected the slightest hint of peace, love and understanding into its canon. The band had a different inspiration. The strange subterranean world of an imagined South—twisted, eerie and nefarious—inflamed John Fogerty's mind with images of voodoo ceremonies under gnarled trees dripping with Spanish moss and portent. A fan of horror flicks and Edgar Allan Poe, he urged his band to cover Screamin' Jay Hawkins' "I Put A Spell On You," penned the dirge freakout "Gloomy," and put a brittle bite into Dale Hawkins' "Susie Q," adding dirty, side-winding guitar that slithered into Fogerty's heart of darkness for an extended jam.
By the time Creedence released Bayou Country, the band had two years of hard touring under its big-buckled belts. Fogerty pared down the overwrought lyrics and psychedelic flourishes but, unfortunately, very few of the overlong jams. "Graveyard Train" and "Keep on Chooglin'" were unnervingly good songs, twitching with dread, but were diluted by being strung out too long. Creedence was best in three-minute bursts like the antebellum rumble of "Proud Mary," Bob Dylan's favorite single of 1969. But it was cautionary tale "Born on the Bayou" that really elevated this album, and—along with "Bootleg"—fired the first shots of social criticism and working-class ire Fogerty later fanned into a righteous rage on "Fortunate Son," perhaps his greatest song.
Though it only clocked in at 30 minutes, Green River documented the band at the peak of its powers. Creedence packed in as much unease and agitation as a Carson McCullers novel, with the spite and malice of "Green River," and "Tombstone Shadow," which teemed with the specter of death. On this album, Fogerty confronted his greatest fears, like the impending annihilation in "Bad Moon Rising": "Hope you got your things together / Hope you are quite prepared to die." You might miss the lyrics' gloom and trepidation given that they're submerged in rockabilly riffs and driving, single-minded rhythms, but if you listen closely it's all there, just under the surface like a shallow grave.
After a break to play the second day of Woodstock in 1969, the band was back recording Willy and the Poor Boys, the third album it would release that year. Of all Creedence's work, it's the least haunted, perhaps because of the sheer exhaustion. Aside from the leaden hopelessness of "Effigy," there's little of the apprehension and panic that characterized Green River. Fogerty seems to have cauterized his demons by penning "Fortunate Son," one of the most poignant anti-war songs ever, written by a man who'd actually done a stint in the military and knew what he was talking about. Poor Boys is where Fogerty pulls his band out of the murky swamps and sets them on a country road, from the slow-simmering "Feelin' Blue" to the pure joy of "Down On the Corner."
CCR hit its commercial peak with Cosmo's Factory, but the tight songwriting and seemingly blithe songs concealed a free-floating anxiety. A return to Fogerty's earlier paranoia, songs like "Run Through The Jungle," "Who'll Stop the Rain" and the cover of Whitfield/Strong's "Heard It Through the Grapevine," hinted at some unnamed behemoth on the horizon threatening the band's success and sanity. The tumult turned out to be in Fogerty's inner circle. He and his brother Tom were at loggerheads, and while they stayed together to finish 1970's Pendulum, that album signaled the end of this once close-knit band, with Tom leaving in a huff. Pendulum was an uneven and lackluster affair—oddly, marking the first time Fogerty ever penned songs about women. "Pagan Baby" and "Molina" were hardly a continuation of the hot-blooded "Suzie Q," but their inclusion—along with a shift in production—signaled that something had been altered. Pendulum was a minimal affair, a metaphor for this skeleton of a band, whose bones had been picked clean by infighting, label skirmishes, and constant touring and recording.
The extra songs included with these reissues were absent from the originals for good reason. Fogerty was a notorious control freak fully cognizant of his band's strengths and weaknesses. These bonus tracks, outtakes and live renderings show that he was wise not to second-guess himself.