Crumb: The Best of What's Next
A blend of '60s psych, loose jazz, and freeform indie rock into a soothing pop amalgamation.
Photo by Alberto R. Santos
Music
Features
Crumb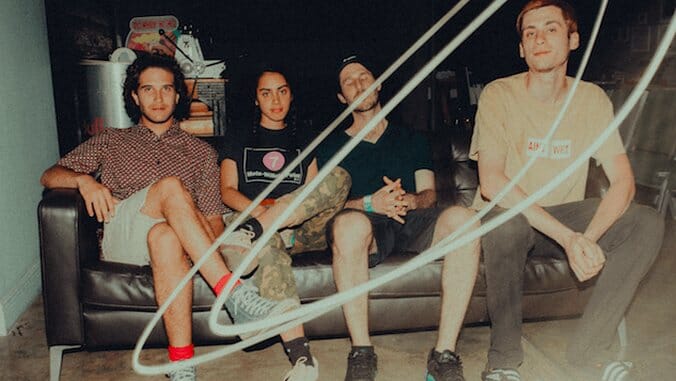 Usually, a band forms when a core songwriter seeks others to fill in their sound. It's call and response for a pre-determined plan. In a strange way, Crumb, the jazzy psych pop four-piece quickly making a name for themselves, defy that path in the most natural of ways. It wasn't an overlap in musical interests that brought the four together, but rather a desire to explore the dilation of singer/guitarist Lila Ramani's completed songs.
"Lila had these tracks that she was willingly un-protective of and let us, as a group, open them up," bassist Jesse Brotter says over the phone. "Honestly, we started playing out of a love for her songs, but then it morphed into this creative process that turned into being a band."
Perhaps their unusual formation explains their equally unexpected sound. The New York-via-Boston band melds '60s psych, loose jazz, and freeform indie rock into a soothing pop amalgamation, and with just two EPs to their name, 2016's self-titled and Locket, self-released on June 23rd, the combination sounds undeniably original.
Watch the video for "Bones" below:
Crumb and Locket are the first collection of songs Ramani ever wrote with vocal parts penned for herself. Though she credits the rest of the band for how they flesh out her material—a lucid blend of percussive jazz akin to Badbadnotgood, '60s pop in the vein of Quilt, and Tame Impala tricks which are "a new creative space for all of us," Ramani says—it's her voice, which flits between a flowery coyness and a sedative coo, that threads it all together. "It's very intimate and inspiring to hear a new artistic path from a friend, especially watching them find their signature as she's done," says Brotter. As Ramani's voice stands at the forefront, she flexes it confidently, as if she's been doing it for years.
The quartet—Ramani, Brotter, keyboardist-saxophonist Brian Aronow, and drummer Jonathan Gilad—met five years ago while studying at Tufts University in Boston. While only two of them technically studied Music (Brotter and Aronow) while the others majored in Computer Science (Ramani and Gilad), the four cross-pollinated in an assortment of funk, soul, hip-hop, and jazz outfits there, despite Tufts not being known as a particularly music-heavy college. To most college musicians, Crumb would be an experimental outlet, but for them, Crumb is the most rock-driven band they've ever been in. All the bands they were in before it acted as a natural progression to enter the indie rock realm.
"That was a moment where I created close to what I wanted to, right then and there."
Yet Crumb's unusual route stems from a roundabout exposure to influences. Living together automatically pushed the band to listen to records together, but it wasn't until they actually released their music that Crumb linked their early interest in Brazilian songs and '60s acts like Moby Grape, to modern acts like Melody's Echo Chamber and Ava Luna. "We've gotten compared to more 'indie' rock groups, who I never actually listened to much," says Ramani. "Now it's super fun to listen to those, and I think that'll influence what I write moving forward."
"Our video director showed us the band Broadcast, trying to say that we sounded like them, but we were totally unaware of that band, and now we know how amazing they are," says Aronow. "It's honestly cool to play these songs and put out music just to have people throw artists at you that you didn't know before."
That openness towards learning presents itself proudly on Locket. A handful of moments on the EP were shaped inside the studio, including the title-track's sectional change-ups. It speaks both to their strength as a live band and to their creativity on paper. They accept change wholeheartedly. "One day, I came in holding my clarinet, flute, saxophone—basically I showed up like an excited middle schooler on the first day of school—and I had this idea to record a spinning sound with these instruments. Then I hopped on this janky piano in the studio and put it through filters, giving a daydream-like feel," says Aronow, laughing. "That was a moment where I created close to what I wanted to, right then and there, much thanks to the help of everyone's encouragement."
Listen to Crumb's "Plants" below:
The '60s-styled production of Brazilian composer Arthur Verocai captivates Crumb, but that doesn't mean they're trying to create a vintage sound, emulating analog everything, because that couldn't be farther from what they do. In terms of songwriting and playing, they pour their energy into manipulating sound within a given space, both on record and live. The band doesn't sacrifice the fidelity of their work for the sake of a perfect take. Just listen to lead single "Plants," a song steeped in heady vibes and sanded keys. As Gilad explains, it's about molding their recording to a studio's style, lending itself to a unique take.
Still, Crumb find themselves evenly split between two cities: Boston and New York, but all of that will change soon. They're writing songs in a shared Google Doc, churning out ideas on tour, and preparing to move so they will all finally reside in New York City. "It's nice to know that in the pretty near future, it'll be more relaxing, even though that pressure made every opportunity to work even better," says Gilad. "Soon it'll be more honing what we're about, more live shows, more recording, and best of all, more of the unknown, which I think is what we work off of best."
_Check out all of _Paste's The Best of What's Next series here.