Dan Auerbach's The Arcs Release New Single, Announce Debut Album Release Date
Photo by Kevin Winter, Getty Images
Music
News
Dan Auerbach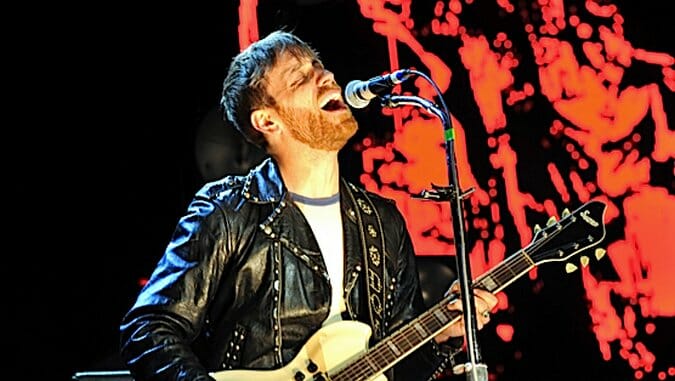 Fortunately for us, Dan Auerbach just can't seem to stop making music.
The inordinately talented Auerbach has worked with everyone from Dr. John to Lana Del Rey, all while powering one of the biggest rock bands on the planet. Now the Black Keys frontman has added a fresh entry to his extensive musical resumé: The Arcs.
Auerbach's new band has shared "Stay In My Corner," the first single from Yours, Dreamily, their forthcoming debut. The album is now set for a Sept. 4 release via Nonesuch Records. If the irresistibly polished sound of "Stay In My Corner" is any indication, The Arcs might be Auerbach's best side project yet.
"I will fight for you if you fight for me too," Auerbach croons on the boxing-inspired track, which originally went out on a 7-inch vinyl, along with another cut called "Tomato Can," on May 2, the day of the Floyd Mayweather/Manny Pacquiao bout. According to Rolling Stone, Auerbach himself is an avid boxer who often spars in his garage and backstage before shows.
"This project was about making music with some of my longest relationships in music," Auerbach told NPR. "Leon [Michels], Richard [Swift] and I have not only worked in The Black Keys together, but we have produced together, played on various projects of each other's, and we've collaborated longer than a lot of bands stay together. It just kind of came naturally." The band's full lineup includes Auerbach, Michels and Swift, plus Homer Steinweiss, Nick Movshon, Kenny Vaughan and the entire all-female mariachi band Mariachi Flor de Toloache.
"I just wanted to do my thing and get extra weird," Auerbach explained. "[Yours, Dreamily is] basically everything I love about music all wrapped up into one record—that's all!"
Preorder Yours, Dreamily here. Listen to "Stay In My Corner" below.
Yours, Dreamily Track Listing
01 Once We Begin (Intro)
02 Outta My Mind
03 Put a Flower in Your Pocket
04 Pistol Made of Bones
05 Everything You Do (You Do for You)
06 Stay in My Corner
07 Cold Companion
08 The Arc
09 Nature's Child
10 Velvet Ditch
11 Chains of Love
12 Come & Go
13 Rosie (Ooh La La)
14 Searching the Blue